Video: Republican Ted Cruz Berated at LAX Airport by Immigration Chants: 'Free The Children'
Texas Senator Ted Cruz was berated at Los Angeles International Airport Sunday as a group of people recognized him before banding together and chanting their disapproval of the Republican lawmaker.
Videos show Cruz standing in different parts of LAX airport over the weekend and smiling as several people begin gathering around him, yelling "Americans will not be silent" and appearing to criticize his immigration policies. Cruz tried to smile at the impromptu protesters throughout the entirety of the incident, although he occasionally looked over his shoulder with a concerned gaze Sunday as he waited for his flight to Austin, Texas.
Cruz, who has been vigilant in his "conservative bias" accusations against social media companies, was himself at the center of a viral video across Twitter, Facebook and Reddit. Increasingly loud chants of "Free the children, free the children" and "we will not be silent" were directed at the Texas senator who has been supportive of President Donald Trump's southern border wall demands.
"Ted Cruz pulled up to LAX and ppl demanded to free the children from the cages. this a-- hole walked around with a smile on his face," tweeted one onlooker who recorded the video Sunday at the Los Angeles Airport.
"Ted Cruz is on my flight out of LAX & people were chanting 'free the children' at him it's lit out here," wrote another person who recorded Cruz being yelled at as he waited near boarding gates. "Zodiac killer out here in LA."
Cruz's stance on undocumented migrants and border security have been slightly out of step with normal Washington discourse. The Texas Republican has proposed that drug cartel leaders including Joaquín Guzmán Loera a.k.a. "El Chapo" should have their assets seized in order to pay for Trump's border wall. Earlier this month, he called on the Department of Homeland Security to meet overcrowding demands for basic cleaning supplies by accepting charitable donations from private American citizens.
"Many Americans want to provide more direct and tangible help — they want to donate basic items such as diapers and toothbrushes to children in CBP custody," Cruz wrote in early July. "This desire is laudable, and deeply rooted in our nation's history. Americans have long banded together to form charities and faith-based organizations to aid those in need."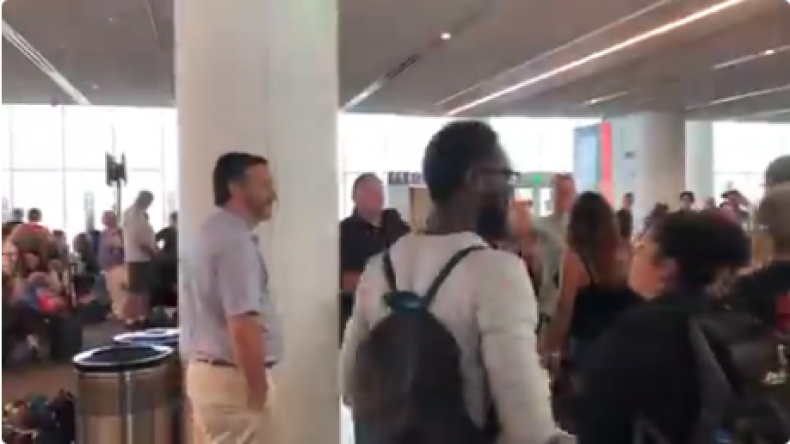 However, under the Antideficiency Act, government agencies can't accept donations or spend money that was not given to them by Congress.
At LAX Sunday, the protesters and Cruz critics tied him to the Trump policy of separating undocumented children from their parents after crossing the border. Several yelled "stop separating the kids" as Cruz tried to appear composed.
Cruz is far from the first politician to be confronted at LAX. In June 2018, Vermont Senator Bernie Sanders was harassed by Infowars conspiracy theorist Alex Jones at the Los Angeles airport in a bizarre exchange.