Ted Cruz Plans 3rd Senate Run Despite Pushing for 2-Term-Limit Amendment
Senator Ted Cruz, a Texas Republican, said he plans to seek a third Senate term despite repeatedly pushing for an amendment that would limit senators to serving just two terms in the upper chamber of Congress.
Cruz confirmed on Saturday that he plans to run again for Senate in 2024.
"I'm running for reelection in the Senate. I'm focused on the battles in the United States Senate," Cruz told reporters during a news conference at the Republican Jewish Coalition (RJC) event in Las Vegas, the Washington Examiner reported Saturday. "We need to stand and fight against these policies that are inflicting so much harm on Americans across this country."
While it's not at all unusual for senators to seek third terms—or even fourth, fifth and sixth terms—the Texas Republican has repeatedly attempted to limit the amount of time lawmakers can serve in Congress. Cruz, with the support of several other Republican senators, put forth an amendment in January of 2021 that would limit senators to two six-year terms and members of the House of Representatives to three two-year terms.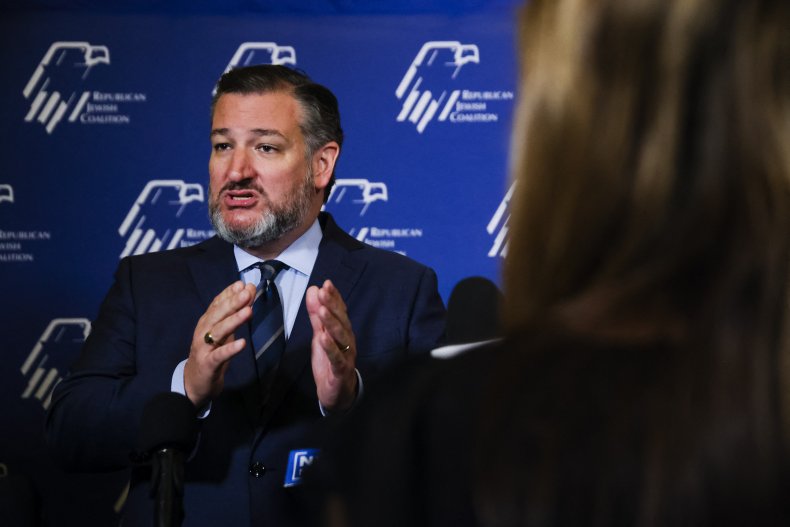 Currently, there are no term limits for either chamber of Congress. The GOP senator put forward a similar amendment in 2017 and 2019 as well. When he introduced the proposal in 2019, Cruz said that long-term politicians have "abused their power" and "created a brokenness" in Washington, D.C.
"The rise of political careerism in today's Congress is a sharp departure from what the Founders intended for our federal governing bodies. I have long called for this solution for the brokenness of Washington, D.C., and I will continue fighting to hold career politicians accountable," he said in a January 2021 statement.
A spokesperson for Cruz told Newsweek in an email that the senator "strongly supports term limits, and he has fought for a decade to pass a Term Limits Amendment to the Constitution." The spokesperson noted that Cruz "has long said he doesn't believe that one side should unilaterally term limit themselves, and he explicitly told the voters of Texas he wouldn't unilaterally term limit himself."
"The rules should apply equally to everyone," the spokesperson added.
The longest-serving senator in U.S. history was Robert Byrd, a West Virginia Democrat, who was in the upper chamber of Congress for more than 50 years. He started his tenure in January 1959 and remained in the Senate until his death in June 2010.
Cruz is also seen as a potential 2024 GOP presidential contender, after previously placing second in the 2016 Republican primary when former President Donald Trump ultimately won the party's nomination. Cruz did not rule out the possibility of another presidential bid when asked by reporters on Saturday.
"You can consider whatever you like," he said, according to the Washington Examiner. "There will be plenty of time to discuss 2024 presidential. I get that that is a lot of fun in the media to do. There will be plenty of time for that."
Relatedly, Senator Ron Johnson, a Wisconsin Republican who just won reelection to a third term in the November 8 midterm, previously promised to only serve two terms in the Senate. He defended his decision to seek a third term in January as he announced his intention to run again.
"That's not how it felt when I ran in 2016," Johnson said in a campaign video. "Back then, I intended to serve a second term and go home. But now with Democrats in total control, our nation is on a very dangerous path."
The idea of implementing term limits for members of Congress has at least some bipartisan support. Representative Ro Khanna, a progressive California Democrat, previously said he backed such a proposal.
"I support term limits so we can have new voices and new families in our politics," Khanna wrote in a 2017 Facebook post. "First Lady Bush summed it up best: 'If we can't find more than two or three families to run for office, that's silly, because there are great governors and great eligible people to run. And I think that the Kennedys, Clintons, Bushes—there are just more families than that.'"
Meanwhile, polling carried out by Insider and Morning Consult from September 8 to 10 showed that a vast majority of Americans support implementing term limits for members of Congress. The survey of 2,210 respondents showed that 84 percent would like term limits in the House and 83 percent want them in the Senate. The poll's margin of error was plus or minus 2 percentage points.
Update 11/21/22, 10:13 a.m. ET: This story has been updated with a statement from a Cruz spokesperson.