GOP Senator Ted Cruz Says It's 'Certainly Possible' That 'a Couple' Republicans Will Vote to Remove Trump
Republican Senator Ted Cruz said that some GOP senators may vote to remove Donald Trump from the White House in a pending Senate trial. However, he argued such a decision wouldn't match the facts of the impeachment case against the president.
Cruz, who represents Texas, made the remarks during an interview with Fox News' Sunday Morning Futures. He first asserted that he doesn't personally think any Republican senators will vote against the president, but then admitted that it could happen.
"It is certainly possible," the senator noted. "And there are a couple that could vote that way. But I think anyone voting on the facts, anyone voting on the law, this is a very easy vote," Cruz said. "What they [the Democrats] have alleged is not a high crime or misdemeanor," he continued, referring to the articles of impeachment passed by the House of Representatives as "weak."
A few GOP senators have expressed concern about the president's actions--as well as criticism of Senate Majority Leader Mitch McConnell, a Republican from Kentucky, and his decision to coordinate the trial with White House counsel. However, Republican lawmakers in Washington have largely remained defensive of the president, with the vote for impeachment passing largely along partisan lines in the House of Representatives, without any GOP members voting in support.
GOP Senator Lisa Murkowski of Alaska told local KTUU-TV in Anchorage last week that she was "disturbed" by McConnell's plan to coordinate with Trump's lawyers. "For me to prejudge and say there's nothing there or on the other hand, he should be impeached yesterday, that's wrong, in my view, that's wrong," she said.
Republican Senator Mitt Romeny of Utah has also publicly expressed his concern about Trump's actions towards Ukraine, which led to the impeachment inquiry in the House. Senator Susan Collins, a Republican from Maine, has shown a willingness to criticize the president as well, and has in the past parted ways with the administration along with Murkowski.
In early December, Democratic Senator Chris Coons told CNN that "a few" of his Republican colleagues in the Senate believed that President Donald Trump's actions are "demonstrably impeachable." But he noted that many were concerned about the political implications of going against the president.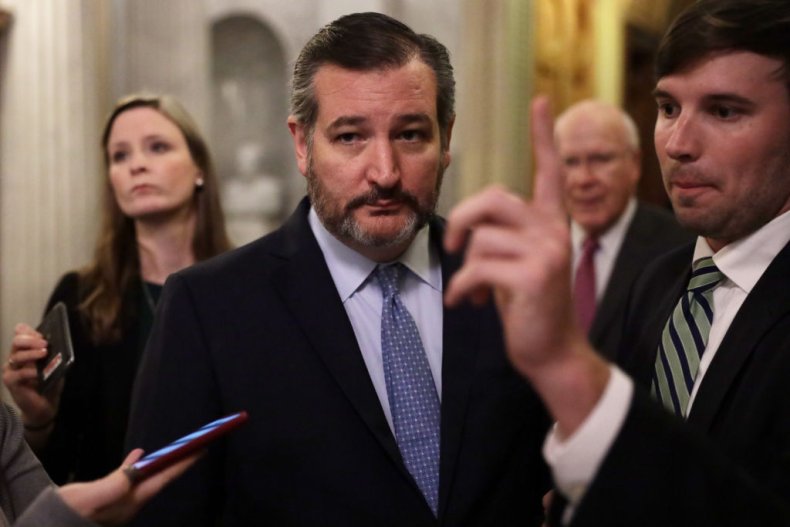 Jeff Flake, a former Republican senator from Arizona, also suggested in late September that "at least 35" of his former GOP colleagues would vote to remove Trump if the ballot was secret. He later wrote an editorial for The Washington Post arguing that "the president's actions warrant impeachment."
Even if a few Republicans voted to convict Trump along with their Democratic colleagues, it would not be enough to remove the president from office. A successful vote for removal requires a two-thirds majority of the Senate.
This would mean, with the current make-up of the legislative body, that every Democrat and the Senate's two independents, as well as 20 Republicans, would have to vote in favor of removing Trump for the measure to pass. While some analysts believe two or three GOP lawmakers could potentially vote against the president, it appears highly unlikely that even close to 20 would do so.