Ted Cruz 'Praying' for Three Houston Police Officers Shot as Standoff Continues
Police in Houston, Texas, said three officers were shot on Thursday afternoon and taken to the hospital, and that the suspect is currently barricaded in a house.
"3 HPD officers have been shot in the 2100 block of McGowen St.," the Houston Police Department wrote on Twitter Thursday.
"The suspect fled the scene in a white Mercedes and is being sought at this time. Please avoid the area," the department added.
The department later announced that all three officers injured were in stable condition and taken to the city's Memorial Hermann Hospital. According to Houston Mayor Sylvester Turner, one of the officers was shot in the foot, one was shot in leg, one was shot in the arm.
Delivering an update about the shooting around 7 p.m. Eastern time on Thursday, Houston Police Chief Troy Finner said that in the afternoon, officers arrived at a residence, and the suspect spotted the officers and "took off in a vehicle."
Officers followed the suspect, and eventually the suspect crashed. When officers got out of their vehicle, the suspect "immediately fired upon the officers," striking three of them.
The officers returned fire, but Finner said it's unknown if the suspect was hit. The suspect then "carjacked" a white Mercedes-Benz at gunpoint, and other officers followed him to a home and surrounded the property.
The suspect fired multiple times, but didn't strike any officers. "Officers returned fire. Again, we don't know if that suspect is injured. He's still in the home. We treat it as a barricaded suspect."
"The last update I received a few minutes ago—he's still in the home. We're trying to negotiate to get him out," Finner stated.
At 8:42 p.m. ET, Houston Police tweeted that the suspect had been taken into custody.
At 9:39 p.m. ET, KRIV reporter Matthew Seedorff named the suspect via Twitter and provided information on his condition.
"The suspect, Roland Caballero, left the barricaded home with his hands up about an hour ago. He has a gunshot wound to the neck and was taken to a local hospital," Seedorff wrote.
Writing on Twitter Thursday, Texas Sen. Ted Cruz said he and his wife Heidi are "praying for the 3 officers shot in Houston this afternoon."
"May God's healing hand be upon them, and His Grace be upon their families," he said.
"We are in close contact with local officials & we will continue to actively monitor the situation," he added.
In a statement, Republican Texas Governor Greg Abbott wrote, "The state of Texas grieves at the news of yet another violent attack on our law enforcement officers... Violence against the police will never be tolerated in the Lone Star State."
Abbott said that his office would ensure to equip Houston and its police department with support "to ensure swift justice for the perpetrator."
"Please join [my wife] Cecilia and me in praying for the officers who were shot and injured, as well as for the safety of all law enforcement who serve and protect our communities across the state," his statement concluded.
According to Houston news station KPRC, Turner released a statement about the officers who were shot on Thursday: "My thoughts and prayers go out to them, and I will be at the hospital soon to check on their recovery, thank them for their service and speak to their families," Turner said.
"I ask everyone to pray for the officers who were shot and for every law enforcement officer working on the streets of Houston. We live in dangerous times, and it will take all of us working together to make our city safe," he added.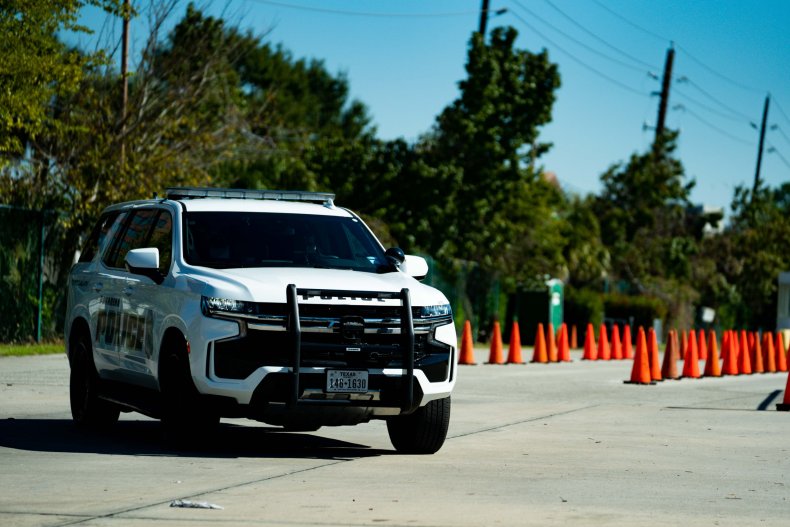 Harris County Judge Lina Hidalgo also addressed the incident on Thursday.
"I am saddened and absolutely outraged over this latest attack on our police. Gun violence is out of control and weapons of war have NO place on our streets. I'm in touch with Mayor Turner and he has our full support for anything he or HPD needs," Hidalgo stated.
The incident on Thursday marks the second time law enforcement officials have been shot in Houston in recent days. Oscar Rosales, 51, was captured in Mexico this week, and accused of shooting and killing Harris County Pct. 5 Constable Corporal Charles Galloway on Sunday.
Rosales was arrested on Wednesday, and has been charged with capital murder.
The Houston Police Department could not be reached for comment or further details about the investigation.
Update (1/27/2022, 9:30 p.m.): This article has been updated to include that the suspect is in custody.
Update (1/27/2022, 11:20 p.m.): This article has been updated to include the suspect's name and medical condition.