Ted Cruz Presses Joe Biden to Fix 'Road-sized Holes' in Levees Left by Donald Trump's Border Wall Contractors
President Joe Biden's decision to halt border wall construction may have provided a contract loophole that enabled construction workers to leave gaping holes in a Rio Grande Valley levee system, according to a Texas county official.
The U.S. Department of Homeland Security (DHS) last month announced plans to address damages to the flood barrier system, which the DHS noted provides flood protection for residents in the low-lying Hidalgo County. The DHS attributed the damage to construction undertaken during former President Donald Trump's administration, which the DHS said "blew large holes" in the levees.
Hidalgo County Public Affairs Division Director Carlos Sanchez told Newsweek local officials first learned about the "major breaches" within the last month. He said the levee gaps are significant in size.
"These were not little holes," Sanchez said. "These were road-sized breaches—and there were at least four of them."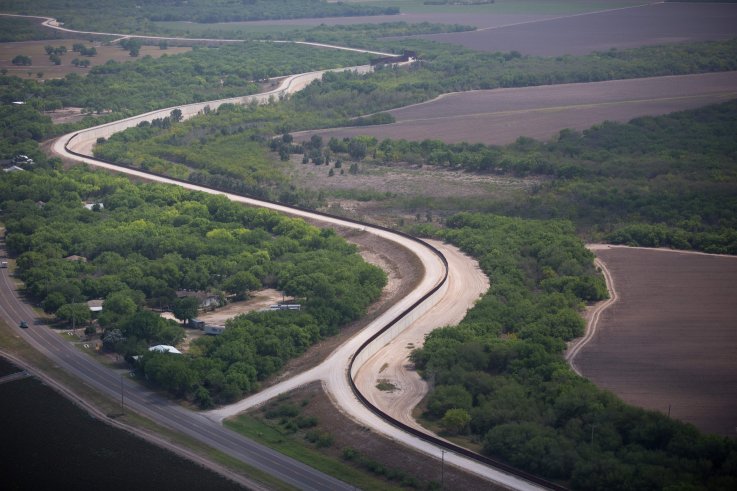 A border wall, which acts as a levee with bollard fencing on top, is pictured on March 27, 2018 in the Rio Grande Valley Sector, near McAllen, Texas.
LOREN ELLIOTT/AFP via Getty Images
According to Sanchez, contractors in the region work under a contingency clause that says if a levee is breached, there must be a plan to repair the breach within 48 hours.
"But there was this technicality that emerged," Sanchez said. "When Biden ordered the halt to construction, basically all the contractors sent their workers home. There was no construction happening."
Sanchez said local officials are working to piece together the timeline of when exactly the levees were breached and said there are "still a lot of unanswered questions."
"Construction did occur under the previous administration, and the breaches were likely to have been dug at that point," he told Newsweek. "Where the concern arose is when the contractors left the area under the Biden administration. Technically, they were arguing that they were no longer having to fulfill the conditions of the contract, which stated you have to fill this breach within 48 hours."
As Hidalgo County began exploring local solutions for the damaged levees, their concerns soon caught the attention of local media outlets, as well as of state and federal officials.
On April 21, Republican Senator Ted Cruz of Texas sent a letter to Biden calling for his administration to "immediately commence" construction to fix the levees.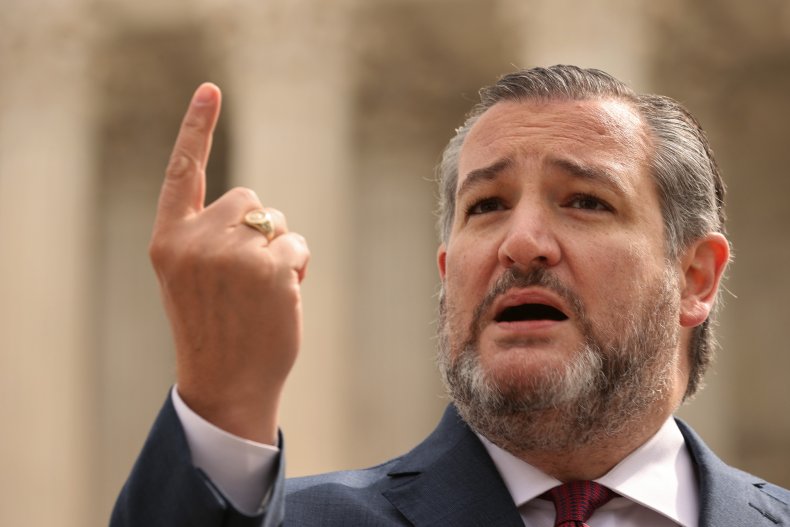 "Your decision to halt levee wall construction when you halted border wall construction has left hundreds of thousands of residents vulnerable in the Rio Grande Valley," Cruz's letter said.
Referencing the approaching hurricane season, Cruz wrote that repairing the levees was "a matter of urgent public safety."
Republican Sen. John Cornyn, also of Texas, sent a similar letter to DHS Secretary Alejandro Mayorkas a few days earlier.
On April 30, Hidalgo County Judge Richard Cortez posted a statement on Twitter saying the federal government "does not seem to have the same sense of urgency that I have" regarding the damaged levees. After the DHS announced its intent to make the repairs later that day, Cortez posted a second statement celebrating the "welcome news."
Last week, Brig. Gen. Christopher Beck with the U.S. Army Corps of Engineers told Newsweek the late April green light from the DHS to move forward with repairs enabled workers to assemble quickly. The large gaps in the levees are expected to be repaired within six weeks, Beck said, though a larger stretch of the levee system that was partially excavated during border wall construction—which Beck said is about 13 miles long—will take six to nine months to repair.
In the meantime, Beck told Newsweek there are emergency plans in place to protect nearby areas from flooding.
"We continue, through those emergency flood protection plans, to evaluate based on the threats and the risks to be sure that we understand those high-risk areas in all cases—and if the work is not yet completed, to mitigate those appropriately," Beck said.
Construction of the border wall became a primary campaign promise for Trump ahead of his win in the 2016 presidential election. Two weeks before Trump left office, former DHS Acting Secretary Chad Wolf announced 450 miles of the wall had been built.
The border wall remains a partisan issue, with those in favor arguing it acts as a deterrent to people who may try to cross the U.S.-Mexico border illegally. Opponents argue it poses environmental and wildlife threats, and does not guarantee migrants won't try to cross into the U.S. by tunneling under or climbing over the wall.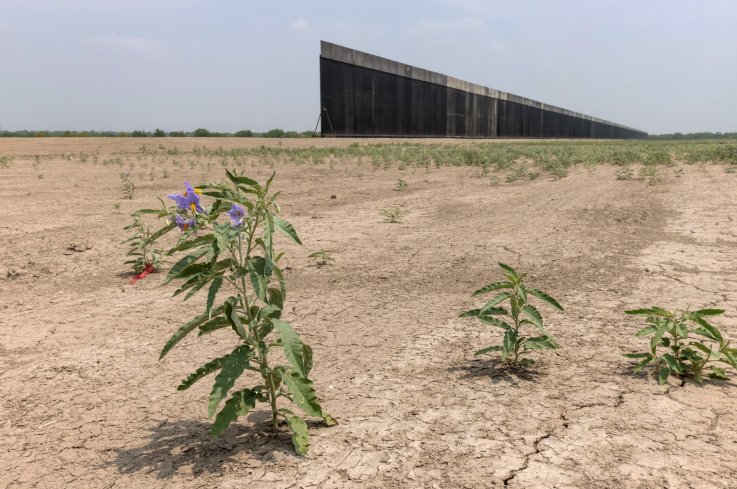 A portion of U.S.-Mexico border wall stands unfinished on April 14, 2021 near La Joya, Texas. President Joe Biden paused wall construction by executive order upon taking office in January, 2021.
John Moore/Getty Images
On his first day in office, Biden announced he was halting the wall's construction, with exceptions in place when funding was specifically appropriated for the wall by Congress and for "urgent measures needed to avert immediate physical dangers."
Before Trump, Sanchez said officials in Hidalgo County worked with former President George W. Bush's administration on its wall-building efforts, with the goal of using the wall to fortify existing flood barrier systems.
"There is a long history of worry and efforts to maintain this levee system," Sanchez said.
Sanchez told Newsweek Cortez recently went for a flyover visit to view the damaged levees and was "pleasantly surprised" to see two work crews beginning construction to fill the gaps. Though he said there were some "disconcerting moments" for local officials during what he said initially appeared to be a lack of urgency about needed repairs, work is now quickly proceeding.
With hurricane season just around the corner, fixing the large gaps is a primary concern for Hidalgo County residents, Sanchez said. Even so, any vulnerabilities to the levee system could trigger flooding in the region.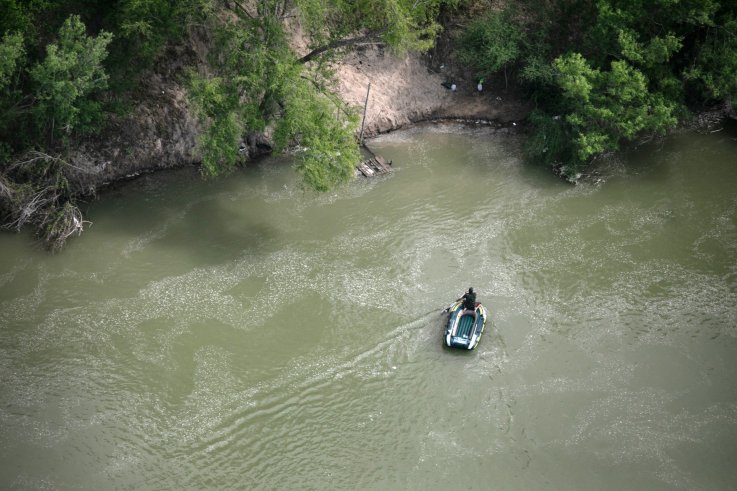 iA smuggler crosses the Rio Grande back into Mexico after delivering asylum seekers to the Texas side of the river, as seen from a Texas Department of Public Safety helicopter near the U.S.-Mexico Border on March 23, 2021 in McAllen, Texas.
John Moore/Getty Images
"If the levee system is weakened, the potential of the levee itself collapsing or being breached by floodwaters is very real. And I think that is the overriding concern," Sanchez said.
Last July, Hidalgo County faced heavy rainfall, high winds and flooding as a result of Hurricane Hanna. Though hurricane season doesn't officially start until June 1, the first named storm of 2020 formed in mid-May, and Sanchez noted the season seems to grow longer with each passing year.
"The county, and all the way east to the Gulf of Mexico, is an extremely low-lying region," Sanchez said. "It doesn't take much for these regions to flood."
In addition to extreme weather events that may come to Hidalgo County, Sanchez said local officials also worry that storms in Mexico could cause the Rio Grande River to overflow, triggering flooding on the north side of the border.
"There's a variety of ways for flooding to hit this region, but the ultimate impact is massive flooding," Sanchez said.