Texas Republican Senator Ted Cruz criticized Representative Alexandria Ocasio-Cortez for correcting Vice President Mike Pence on Twitter by telling him that he should address her as "Congresswoman" during the vice presidential debate on Wednesday evening.
Pence, during the face-off with vice presidential nominee Senator Kamala Harris of California, referred to Ocasio-Cortez by using just her initials, "AOC." The vice president criticized Harris for co-sponsoring the Green New Deal environmental policy legislation "with AOC when she submitted it in the Senate."
Ocasio-Cortez, who sent out a series of Twitter posts commenting on the debate, responded by writing, "For the record @Mike_Pence, it's Congresswoman Ocasio-Cortez to you."
On Thursday morning, Cruz jumped in with his own tweets to defend Pence and criticize the progressive Democrat from New York.
"Uh, no. No Vice President in history has ever addressed a member of Congress as 'Congresswoman.' That's just silly," the GOP senator wrote.
A few minutes later, Cruz wrote a follow-up post explaining his remark.
"Several commentators asked 'why?' Because we serve in a collegial body, where almost everyone addresses each other by our first names. Notice 'Joe,' 'Mike,' 'Kamala,'" he wrote. "The one exception is POTUS, where everyone says 'Mr. President,' not 'Barack' or 'Donald.'"
Newsweek reached out to Ocasio-Cortez's press secretary for further comment, but she did not immediately respond.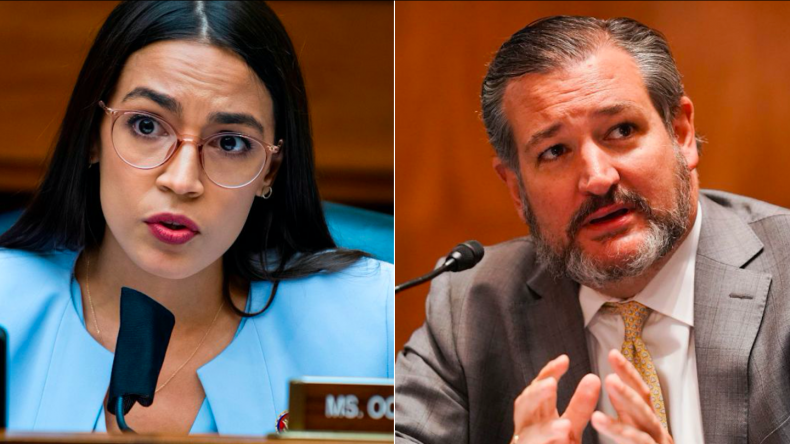 During the debate, Ocasio-Cortez was highly critical of Pence. In a separate tweet, she suggested the vice president was acting in a sexist manner. "Pence demanding that Harris answer *his* own personal questions when he won't even answer the moderator's is gross, and exemplary of the gender dynamics so many women have to deal with at work," the representative wrote.
Ocasio-Cortez also asked: "Why is it that Mike Pence doesn't seem to have to answer any of the questions asked of him in this debate?"
The New York Democrat additionally defended the Green New Deal, which Pence criticized when he used just her initials to refer to her.
"The Green New Deal is and has been lied about nonstop, and yet is STILL popular. It's a massive job-creation and infrastructure plan to decarbonize & increase quality of work and life," she tweeted. "It's okay to call the GOP out on those lies just as we call them out on all their other lies."
Cruz and Ocasio-Cortez have routinely engaged in Twitter banter and clashes since the congresswoman entered the House of Representatives in 2018. Last week, the Democrat called out the GOP senator after he suggested that Ocasio-Cortez and other progressives were actually leading Biden's campaign.
"Biden may be the Democrat Party's nominee, but we know who is driving the train," Cruz tweeted on October 1. He included an image of Representatives Ilhan Omar of Minnesota and Ocasio-Cortez, as well as Senator Elizabeth Warren of Massachusetts and others, in the front windows of a train.
Retweeting Cruz's remark, Ocasio-Cortez wrote, "I must say, Ted Cruz making poorly executed memes while riding in the quiet car of the White Supremacist Express is pretty on brand for both him and 2020."