Ted Cruz Says Critical Race Theory is 'Every Bit as Racist as Klansmen in White Sheets'
Senator Ted Cruz on Friday compared critical race theory to the Ku Klux Klan, saying the curriculum is "every bit as racist" as the white supremacist hate group.
The Texas Republican made the remarks during the Faith & Freedom Coalition's Road to Majority Conference. Cruz, former Vice President Mike Pence, Florida Senator Rick Scott and other GOP leaders will address the conference, aiming to build momentum ahead of the 2022 midterm elections.
"Critical race theory says every white person is a racist," the senator said. "Critical race theory says America's fundamentally racist and irredeemably racist. Critical race theory seeks to turn us against each other and if someone has a different color skin, seeks to make us hate that person."
Cruz continued, "And let me tell you right now, critical race theory is bigoted, it is a lie and it is every bit as racist as the Klansmen in white sheets."
The remarks were met with applause from the audience.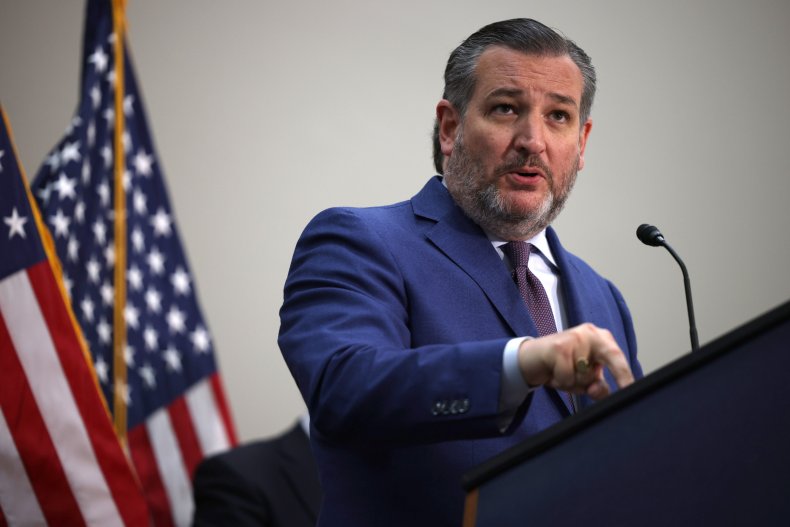 The National Association for the Advancement of Colored People (NAACP) pushed back on Cruz's statements.
"Critical race theory is an academic and legal framework that examines the impact of systemic racism on American society," the NAACP tweeted. "Refusing to examine our history denotes that nothing is wrong with our systems or history."
Democratic National Committee chairman Jaime Harris also criticized Cruz for the comparison, writing on Twitter: "Yes because critical race academics who study the impact of systemic racism are sneaking around at night burning crosses in the yards of Americans, pulling folks from their homes, lynching folks & destroying communities."
Critical race theory, which examines the way race and racism intersect with culture, law and politics, has gained prominence over the past year amid a nationwide reckoning on issues of racial justice.
Republican lawmakers across the country are aiming to get critical race theory—along with The New York Times' "The 1619 Project"—banned from schools, stating it's teaching children to hate their country.
In Congress, Republicans have reintroduced the Saving American History Act to cut off federal funding for public schools that teach critical race theory. The bill's sponsors include Senators Tom Cotton of Arkansas, John Boozman of Arkansas, Marsha Blackburn of Tennessee, Cynthia Lummis of Wyoming, Thom Tillis of North Carolina and Senate Minority Leader Mitch McConnell.
Last week, Florida became one of the latest states to ban the curriculum. The state's Board of Education voted unanimously on June 10 to prohibit the teaching of critical race theory and "The 1619 Project," which reframed American history around the date of August 1619, when the first slave ship arrived on America's shores.
Senator Scott said during Friday's Faith & Freedom conference that school boards across the U.S. "are trying to teach critical race theory, trash our history [and] present our founders as racist."