Ted Cruz Says Democrats 'Assume What Trump Wants' Out of a Supreme Court Justice
Texas Senator Ted Cruz said in a Monday interview with Axios on HBO that Democrats make assumptions about what kind of justices Republicans want on the U.S. Supreme Court.
Cruz, a staunch Trump supporter, criticized the behavior of Democrats during the Senate hearings for Justice Amy Coney Barrett, who was confirmed Monday night. Some Democrats have opined that Barrett's presence on the Supreme Court would help conservatives overturn certain health care rulings, such as the 1973 Roe v. Wade decision which made abortion on demand in the U.S. legal. Cruz told Axios on HBO interviewer Jonathan Snow on Monday what he was looking for in a Supreme Court justice.
"There is a real difference between what Democrats and Republicans are looking for in a Supreme Court justice," Cruz said. "Democrats are outcome oriented at the core. They want their guys to vote their way. They assume what Trump wants and a Republican senate wants is a justice that's gonna vote for Donald Trump."
"What I want the justices to do if we have that is to resolve the cases according to the law and the constitution," Cruz continued. "I'm looking for a justice who will follow the law."
Cruz said he believed that the U.S. Senate had a role in pushing back against appointees who may not follow the constitution.
"So it's entirely consistent to say if you got a president who's appointing the one, I'm gonna fight to confirm them," Cruz continued. "If you've got a president who's appointing the other, I'm going to fight not to confirm them."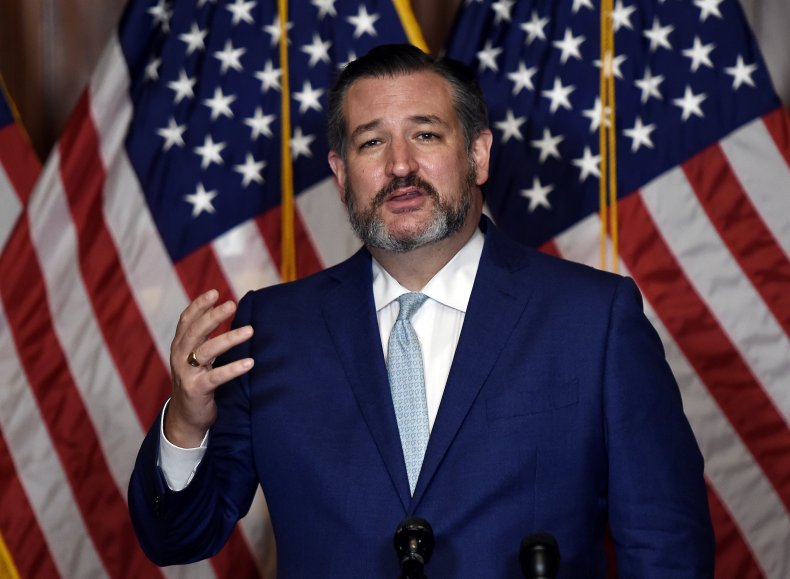 Justice Barrett was appointed to a lifetime seat on the U.S. Supreme Court after a contentious confirmation process that many Democrats deemed unfair. Some Democrats said that Barrett should not be confirmed until after the November presidential election.
Before the vote was taken, Senate Minority Leader Chuck Schumer said that Americans would "never forget this blatant act of bad faith."
However, Barrett was confirmed by a 52 to 48 margin, with only Maine Republican Senator Susan Collins breaking ranks to vote against Barrett.
Democratic vice presidential nominee Kamala Harris said in a tweet after Barrett's confirmation that the process was "illegitimate." Harris added that Barrett's confirmation was an effort by Republicans to overturn the Affordable Care Act (ACA). Millions of Americans have purchased health insurance through the ACA which the Trump administration has asked the Supreme Court to overturn. Barrett, a Trump appointee, is expected to vote on the ACA.
"We won't forget this," Harris wrote. Newsweek reached out to Democratic presidential nominee Joe Biden's campaign for comment.
After a swearing-in ceremony at the White House, Barrett attempted to calm Democrats by saying she would not allow her personal belief systems to influence her voting record.
"The oath that I have solemnly taken tonight means, at its core, that I will do my job without any fear or favor, and that I will do so independently of both the political branches and of my own preferences," Barrett said.