Cruz Says Democrats Embracing Mob Violence 'to Further Political Agenda'
Texas Senator Ted Cruz (R-TX) has claimed Democrats have embraced mob violence in order to further their political agenda.
The Senator made the claim during the Friday, August 5, episode of Verdict with Ted Cruz, a program he co-hosts with conservative commentator Michael Knowles.
Cruz responded to Knowles' concern about rising crime rates across the U.S. and claimed the increase was due to leftists. Among the movements Cruz blamed for the violence were Antifa and Black Lives Matter, both associated with leftist politics.
He also lashed out against abortion-rights activists who demonstrated outside the homes of Supreme Court Justices after a leaked draft opinion that suggested Roe v. Wade would be overturned was shared online.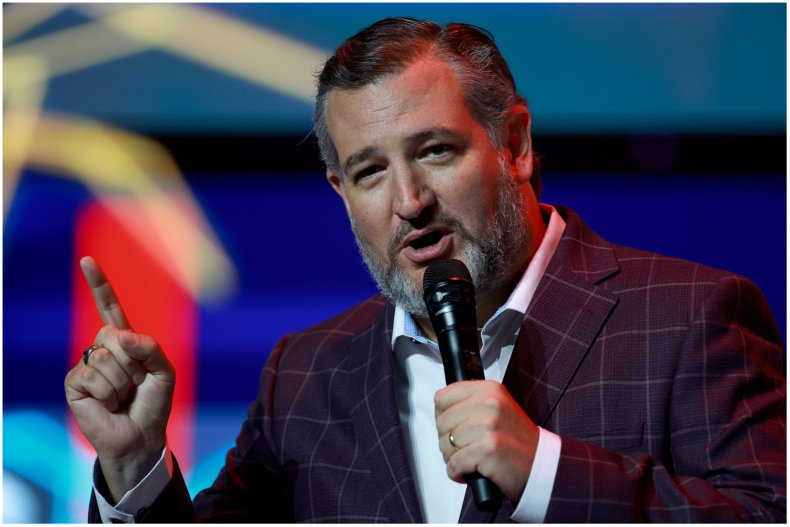 During the segment, Cruz said: "Well, sadly the left embraces violence now. You look at this Department of Justice, Joe Biden's Department of Justice has become thoroughly political.
"We saw that with [U.S. Attorney General] Merrick Garland ordering the FBI to investigate parents as domestic terrorists. We saw that with Merrick Garland refusing to prosecute protestors at the homes of Supreme Court Justices, despite an explicit federal criminal statute that makes it a crime to protest at a judge's house while a case is pending."
The Texas Senator then referred to an apparent attempt to assassinate Brett Kavanaugh.
Cruz added: "These are protestors that are inherently threatening violence being at the home while your spouse is there, while your children are there and sleeping there. And we saw the violence escalate all the way up until someone arrived and being arrested for the attempted murder of justice Brett Kavanaugh.
"And throughout it all, the Democrats have continued their path which is to embrace mob violence to further their political agenda."
Cruz has previously made the generalization when he accused abortion-rights campaigners and left-leaning protestors of being violent.
Following the protests outside the Supreme Justices' homes, then-White House Press Secretary Jen Psaki said President Biden supported the right to protest but added: "Violence, threats and intimidation have no place in political discourse."
Newsweek has contacted Cruz for comment.
Following the storming of the Capitol on January 6, 2021, Cruz initially described the event as a "violent terrorist attack."
He later retracted and apologized for his remarks during an interview with Fox News host Tucker Carlson. Cruz said the comments he made were "sloppy" and "frankly dumb."