Ted Cruz Calls Senator Sherrod Brown 'Complete A**' Over Face Masks Complaint
Republican Senator Ted Cruz called Senator Sherrod Brown a "complete a**" after the Democratic lawmaker complained about GOP colleagues not wearing face masks while speaking during a Senate hearing on Monday.
Reacting to a viral clip of the exchange, Cruz said his Democratic counterpart was being "idiotic" and only wearing a face mask as he spoke to signal "fake virtue" as he railed against Republican senators in the upper chamber.
The GOP senator of Texas added that his colleague Sen. Dan Sullivan of Alaska (R)—who presided over the Senate floor yesterday evening—was far more than 6 feet away from Brown in adherence with social distancing guidelines.
Posting a clip of Brown's complaint on social media, Cruz said: "This is idiotic. Sherrod Brown is being a complete ass. He wears a mask to speak—when nobody is remotely near him—as an ostentatious sign of fake virtue. Dan Sullivan was over 50 feet away, presiding. Last I checked 50 feet is more than 6 feet."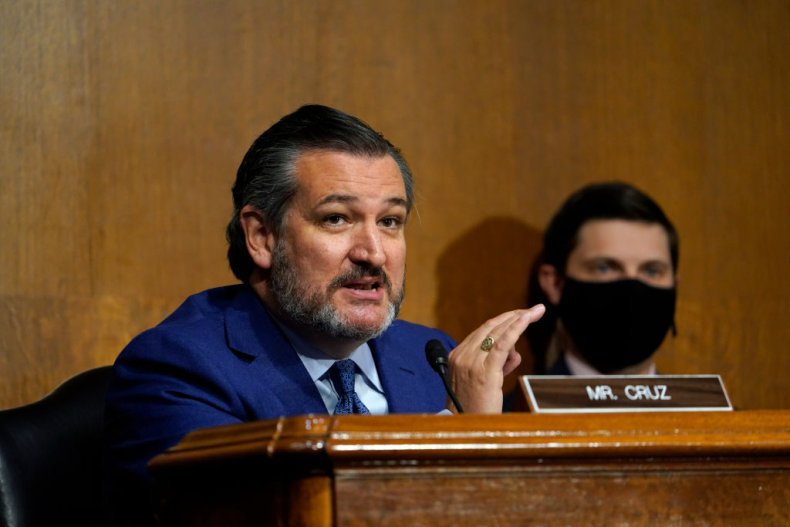 Newsweek has contacted Sen. Brown's office for comment. This article will be updated with any response.
A video of the tense exchange between Brown and Sullivan went viral on Monday night, and had been viewed more than 250,000 times by the early hours of Tuesday morning.
After being called on by Sullivan as the presiding officer, Brown said: "I'd start by asking the presiding officer to please wear a mask as he speaks. And people below him are, I can't tell you what to do, but I know that, uh, behaviors—"
"I don't wear a mask while I'm speaking like most senators," Sullivan interrupted. "I don't need your instruction."
"I know you don't need my instruction, but there clearly isn't much interest in this body in public health," Sen. Brown replied. He then complained that people working in the upper chamber who "can't say anything" were being exposed to the virus.
"We have a majority leader who calls us back here to vote on an unqualified nominee, and at the same time to vote for judge, after judge, after judge," the Ohio senator added. "Exposing all the people who can't say anything, I understand. The people in front of you and the presiding officer, and expose all the staff here, and the majority leader just doesn't seem to care."
Under the Centers for Disease Control and Prevention (CDC) social distancing guidelines, Americans are told to keep at least 6 feet between themselves and others who are not from their household to prevent the spread of COVID-19.
The latest row over the use of face masks in the Senate erupted as recorded COVID-19 cases in the U.S. continued to climb this week, with the CDC reporting that more than one million new cases have been reported in the last seven days.