MSNBC's Morning Joe slammed Senator Ted Cruz on Tuesday morning after the Texas Republican defended conspiracy theorist Alex Jones. The day prior, Jones and his website Infowars had been barred from many major platforms such as Facebook and Apple.
Cruz has routinely defended Jones, tweeting late last month, when Facebook previously suspended his account for 30 days: "Am no fan of Jones—among other things he has a habit of repeatedly slandering my Dad by falsely and absurdly accusing him of killing JFK—but who the hell made Facebook the arbiter of political speech? Free speech includes views you disagree with."
The senator re-upped his support after the slew of bans this week, citing the famous poem by Martin Niemöller about those who ignored the Nazi's rise to power in Germany.
"As the poem goes, you know, first they came for Alex Jones. That does not end well," Cruz said to reporters, according to The Texas Observer. He added, "There's a reason I picked someone who has been nasty to me: to illustrate this is not about defending someone I agree with.... This is a First Amendment principle that everyone has a right to speak, and people can sort out those who are making sense from those who are full of crap."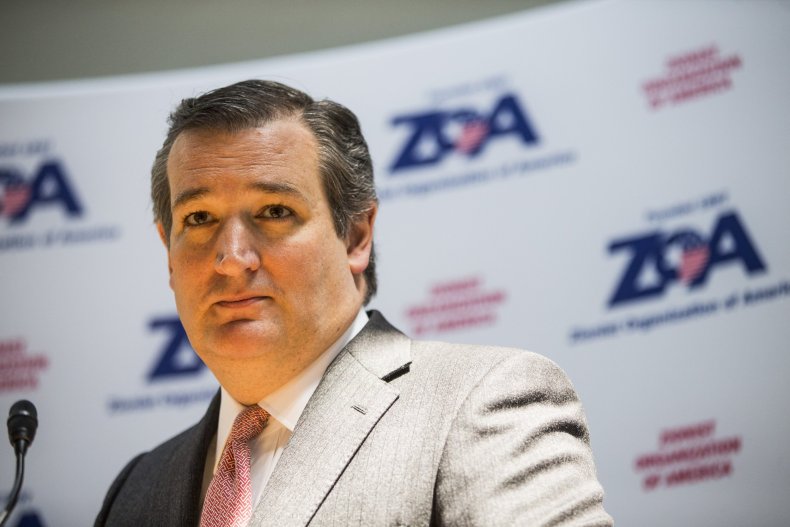 Joe Scarborough, host of Morning Joe, slammed Cruz for defending Jones, a conspiracy theorist who has—among many other wild claims—said the tragic school shooting at Sandy Hook that left 20 small children dead in 2012 was a hoax.
Scarborough said, via a clip posted to Mediaite:
"Somebody like Ted Cruz would come out defending Alex Jones. Saying—[it's] really repulsive—quoting the first line of a poem talking about the Holocaust, 'First they came for Alex Jones.' I don't know if Ted Cruz is familiar with the content in Infowars? I would think most of the people he sits in church with would be deeply offended. The content is extraordinarily vulgar. His language is beyond repulsive. And, again, the conspiracy theories. And the suggestion that former FBI directors be assassinated. Every day it's a new shocking attack against some foundation of our culture, of our civilization and Ted Cruz is going out there comparing that to people that were sent away in the Holocaust?"
Political analyst Elise Jordan joined in and slammed Cruz after Scarborough, claiming the senator was chasing Jones's followers amid his re-election campaign.
"You've got give it to Ted Cruz, just because he does take pandering to new lows," she said, via the Mediaite clip. "Whether it's his own wife. His own father. He was so quick to, you know, cower back, grovel back to Donald Trump. That's the same thing that he's doing with Alex Jones and it's so craven, so transparent."