Ted Cruz Slams Hong Kong's Carrie Lam after Canceled Meeting: 'It's a Sign of Fear of the Protesters in the Streets'
GOP Sen. Ted Cruz has hit out at Hong Kong leader Carrie Lam after she scrapped a meeting between the two scheduled for Saturday.
Cruz has been a vociferous critic of Lam's leadership throughout the anti-government protests, which have now entered their 19th week and show no signs of slowing as masked protesters continued to pour into the streets.
The Texas senator, who was wearing black in solidarity with the protesters, was supposedly requested to keep his meeting with Lam confidential, but the plans were scrapped when Cruz told reporters in Hong Kong.
"She seems to misunderstand how free speech operates, and also how freedom of the press operates," Cruz said, reported Reuters.
"Ms. Lam's canceling the meeting is not a sign of strength. It's a sign of weakness. It's a sign of fear of the protesters in the streets of Hong Kong."
Cruz's arrival into the semi-autonomous city marked one week since Lam invoked powers from the colonial era to enact an anti-mask law.
Lam argued the law would only target those who hide their identities while acting violently as "an effective deterrent to radical behavior," however the move only seemed to galvanize protesters further.
They claimed that the law was further evidence of Hong Kong's slide into authoritarianism and raised fears about how China—which has sovereignty over the region—used facial recognition software in a pervasive surveillance network to track down dissenters.
Thousands took to the streets in face masks directly after the announcement to enact the law and thousands more turned out on Saturday.
"We came to protest against the mask law," a protester named Emily told Hong Kong Free Press. "I feel like Hong Kong is no longer normal like the past—it's already damaged. We're not afraid [of arrest]."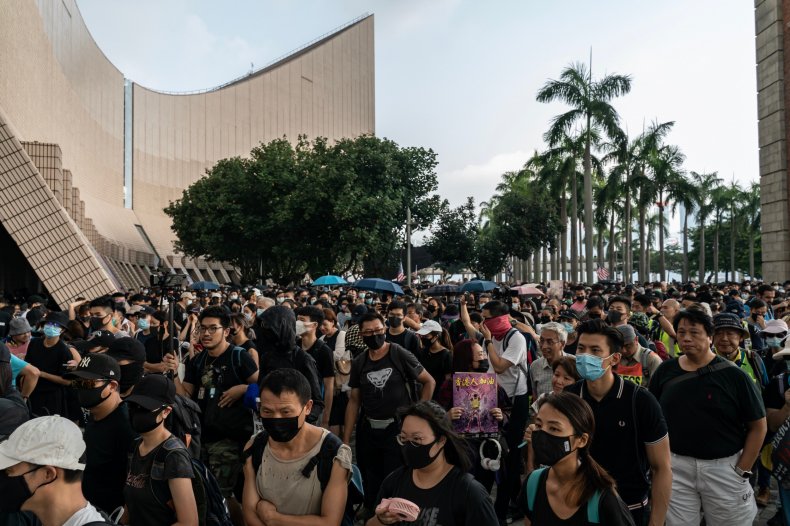 Cruz's criticism of Lam also followed strong words he had for the National Basketball Association (NBA) after they found themselves caught between China and free speech following tweets by Houston Rockets General Manager Daryl Morey in support of the Hong Kong protesters.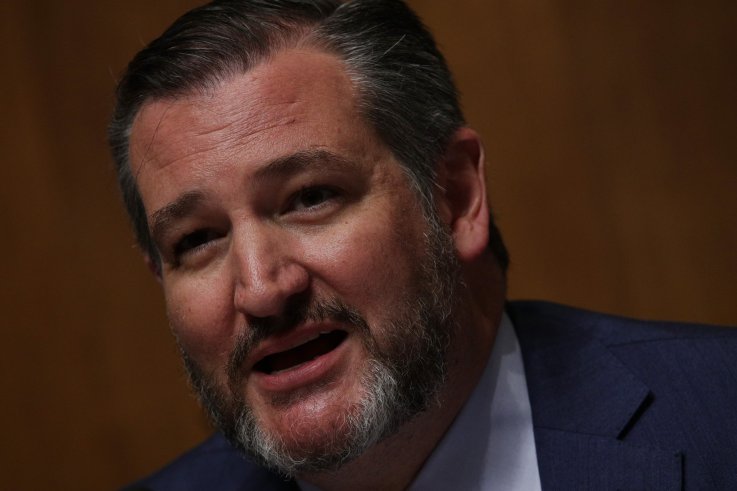 GOP Sen. Ted Cruz, from Texas, speaks during a hearing before the Constitution Subcommittee of Senate Judiciary Committee July 16, 2019.
Getty
Morey later deleted the post and issued a public apology, but many took issue with the NBA's handling of the controversy—seemingly censoring its staff and associates so as to not upset customers in the league's biggest external market.
Cruz fired out a number of tweets and later issued a bipartisan letter with New York Rep. Alexandria Ocasio-Cortez in condemnation of the NBA, accusing the league of a "betrayal of fundamental American values" in the chase for profit.
"Unless American businesses aggressively confront this intimidation campaign, the Chinese government will increasingly punish free speech outside China's border," the letter read.