For Ted Cruz, It's Win Texas or Go Home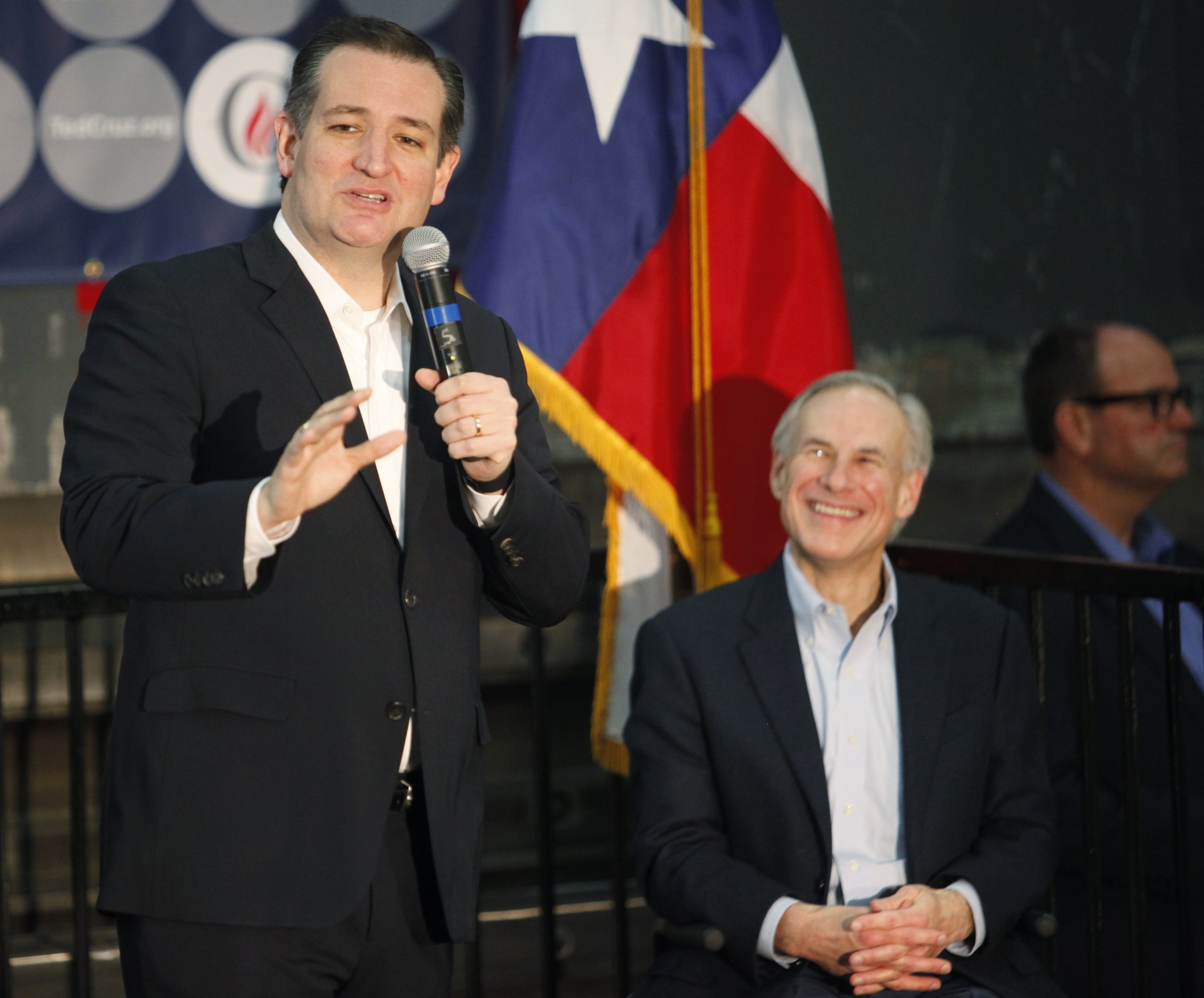 On March 1, the Ted Cruz campaign will be doomed or he'll live to fight another day. That's the date of Super Tuesday, when 12 states will award 595 Republican delegates, about a quarter of the total. Of those, about a quarter—155—will come from Texas, Cruz's home state and the second most populous state in the nation.
Texas has always been an important part of Cruz's path to the White House. But his strategy—to rack up delegates in evangelical-heavy Southern states while using his home state's heap of delegates to cushion his lead—looks increasingly precarious. And now even Texas doesn't look like a sure thing anymore. If Cruz can't win in Texas, it's hard to see him winning the nomination.
While a new poll released Thursday by Monmouth University shows Cruz with a comfortable lead, "Trump could still win," says Matthew Dowd, a Texas-based GOP political consultant and chief strategist of the successful Bush-Cheney presidential run in 2004. If Cruz loses in Texas, it will be for the same reason he lost in South Carolina, Dowd says: Donald Trump will galvanize blue-collar whites, and evangelicals won't turn out in force for Cruz. "There is no path for Cruz without a win in Texas," Dowd says.
It's a possibility Cruz is clearly prepared for. According to The New York Times, at a campaign stop in Houston on Wednesday, Cruz quoted from William Travis, leader of the Alamo defenders. "I am determined to sustain myself as long as possible and die like a soldier who never forgets what is due to his own honor and that of his country," Cruz said. "Victory or death."
The defenders of the Alamo did not achieve victory—at least not in their lifetimes—which leaves the other option.
But even assuming he wins in Texas, Cruz's strategy is still tenuous, Dowd says. "Cruz is fast becoming the Huckabee of this cycle, where he can win among a small group of social conservatives in Iowa but can't expand his constituency. His only real chance is if Rubio implodes, Kasich falls off, and he is one-on-one with Trump. And the chances of that happening are tiny."
Not to mention that even if Cruz wins in Texas, he won't get all of the state's 155 delegates. In Texas, the Republican Party awards three delegates for each of its 36 congressional districts—108 total—plus 47 "at-large" delegates, which are allocated based on statewide totals. If a candidate gets more than 50 percent of the vote in a district, he receives all three delegates. If no candidate gets 50 percent or more but at least one gets 20 percent or more, the candidate with the most votes gets two delegates and the runner-up gets one. If no candidate receives 20 percent or more of the vote, the top three each get one delegate.
The process repeats itself for each of the state's 36 districts. The 47 "at-large" delegates are awarded based on statewide totals. If a candidate receives 50 percent or more of the vote statewide, he gets all 47 delegates. If nobody has a majority, each candidate who gets over 20 percent splits the delegates.
Applying Monmouth's recent statewide numbers to each of the state's 36 districts (which is a faulty way to do things, but we don't have polling for each district), Cruz ends up with 90 delegates, Trump with 47 and Marco Rubio with 10. Ben Carson and John Kasich split the remaining eight delegates.
But, if Cruz loses in Texas, it won't be because he took the state for granted. His campaign has hustled for some of the state's biggest endorsements, including former Texas governor and two-time presidential hopeful Rick Perry and Texas Governor Dan Abbott. And, according to The Texas Tribune, he's recruited 27,000 volunteers and district co-chairs in each of the state's 36 congressional districts.
Maybe Texas will be another Iowa for the Cruz campaign. Maybe his superior organizing will hold up against the battering ram of sheer nationalist enthusiasm that is Donald Trump—as one Trump supporter in Houston told The New York Times, "Nationalism is the new thing, man." Or maybe not. Either way, we'll know March 1.