Ted Cruz Took His Kids to Cancun to Be a 'Good Dad,' Confirms Return to Texas This Afternoon
Senator Ted Cruz has broken his silence on his trip to Cancun, Mexico, while his home state of Texas suffers power outages and freezing temperatures after two winter storms hit the area over the past five days.
"This has been an infuriating week for Texans. The greatest state in the greatest country in the world has been without power. We have food lines, gas lines, and people sleeping in the neighbors' houses. Our homes are freezing and our lights are out. Like millions of Texans, our family lost heat and power," Cruz wrote in a statement.
He continued, "With school cancelled for the week, our girls asked to take a trip with friends. Wanting to be a good dad, I flew down with them last night and am flying back this afternoon. My staff and I are in constant communication with state and local leaders to get to the bottom of what happened in Texas. We want our power back, our water on, and our homes warm. My team and I will continue using all our resources to keep Texans informed and safe."
Backlash had been building over Cruz's trip after photos of the GOP lawmaker boarding a flight went viral on Wednesday night. The Texas Democratic Party has called on Cruz to resign, calling his actions "disturbing and disappointing."
Beto O'Rourke, who ran against Cruz in the 2018 election, told MSNBC that Cruz "is vacationing in Cancun right now when people are literally freezing to death in the state that he was elected to represent and serve."
Millions of Texans were left without power for days after an unprecedented winter storm devastated the Lone Star State's energy grid. Although power is starting to be restored, millions of residents have been advised to boil their water before drinking it. At least a dozen people have died because of weather-related fatalities.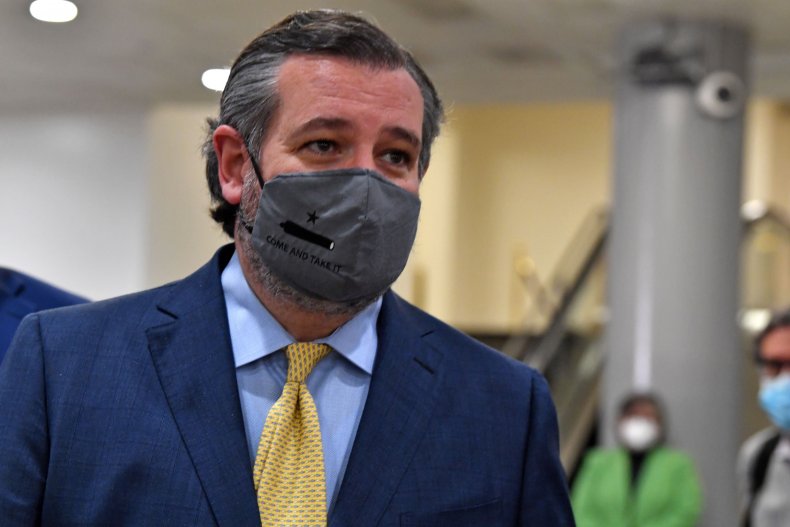 Republican Governor Greg Abbott was granted a Federal Emergency Declaration for Texas from the White House after making the request on Saturday for assistance in response efforts related to the storm.
Homeland Security Adviser Liz Sherwood-Randall provided an update on the federal government's response to the extreme weather in Texas and other areas of the South. She noted that the events demonstrate that "climate change is real and it's happening now."
According to Randall, the Federal Emergency Management Agency has provided Texas with 729,000 liters of water, more than 10,000 wool blankets, 225,000 meals, 60 generators and fuel for hospitals and water facilities, and other supplies requested by Abbott.
In an interview Monday with radio host Joe "Pags" Pagliarulo, Cruz said he was fortunate not to have lost power at his Houston home and urged his fellow Texans to stay home because of the danger posed by the storms.
"So don't risk it," Cruz said. "Keep your family safe, and just stay home and hug your kids."