'Emasculated' Ted Cruz Submitted to Trump's Authority Ahead of Houston Rally, CNN Panel Says
Critics continued to ridicule the personal insults President Donald Trump lobbed at Senator Ted Cruz, Cruz's wife and even Cruz's father during their nasty 2016 campaigns, as the two Republicans prepared for a Houston rally Monday evening.
A CNN panel called Cruz's warm embrace of Trump a submissive move after the then-GOP presidential candidate mocked Cruz's wife's appearance, claimed his father was involved in the 1963 assassination of JFK and labeled him something now–Democratic Senate opponent Beto O'Rourke called him last week: "Lyin' Ted."
Host Alisyn Camerota led the Monday discussion about Trump and Cruz's newfound friendship. The segment began with CNN playing several clips of Trump mocking Cruz's family, and Cruz responding by labeling Trump a "sniveling coward." The panel used a Game of Thrones reference to sum up this Republican relationship.
"Cruz has basically bended the knee and submitted to Trump's authority," said political analyst Joshua Green. "And in return he's being rewarded with a trip that will presumably help him gin up Republican enthusiasm."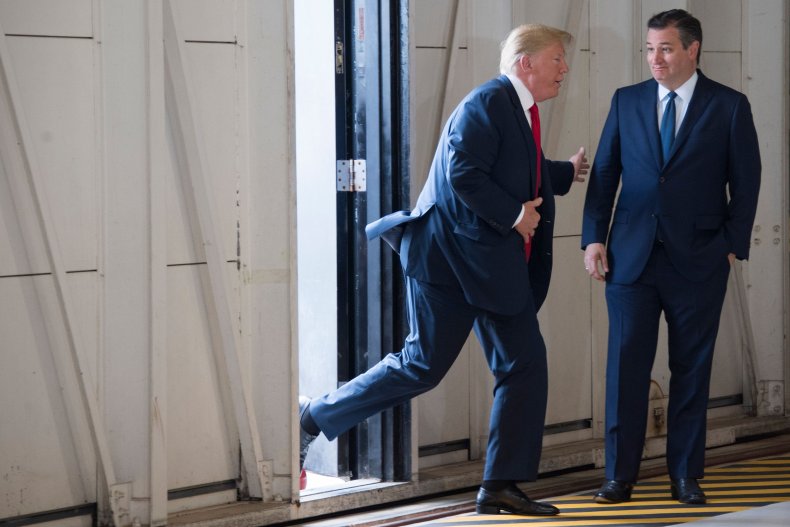 Hundreds of people had already lined up Sunday evening to hear Trump speak at the Toyota Center in downtown Houston Monday at 7 p.m. local time. The president is campaigning for Cruz in his heated U.S. Senate race against Democrat Beto O'Rourke. In August, Trump tweeted he would hold a rally for Cruz at "the biggest stadium in Texas we can find." The 18,000-seat venue is far from the largest stadium in the Lone Star State, with Texas A&M's Kyle Field holding more than 100,000 people, as does the AT&T Stadium.
Another CNN panel member, New York Times reporter Jonathan Martin, said he couldn't believe there wasn't bad blood between the two Republicans after their exchange of insults.
"He did insult the looks of Senator Cruz's wife," Martin said. "You can't explain that away…that is what it is. Being emasculated like that is just part of the cost of doing business if you're a Republican elected official who wants to get close to Trump. They've got to swallow hard, as I imagine Ted Cruz did."
In 2016, Trump ridiculed Cruz's wife, Heidi, retweeting an unflattering photo of her next to a glossy photo of Melania Trump with the caption, "A picture is worth a thousand words."
At the time, Cruz responded to Trump in his best parental tone, "Donald, real men don't attack women. Your wife is lovely, and Heidi is the love of my life."