Ted Cruz Tweets About Cancun Flight Prices as Texas Braces for Brutal Storm
As Texas gears up for another harsh winter storm, state Senator Ted Cruz received backlash on social media Wednesday for a tweet referencing his much-maligned trip to a luxury resort in Cancun, Mexico, during the state's debilitating and deadly storm last February.
The Republican's visit to Mexico last year came when a freak winter storm hit Texas. The state's power grid became overwhelmed during the storm, and millions of Cruz's constituents were left without electricity. Cruz's departure was widely condemned, especially after text messages from Cruz's wife were leaked to the media that indicated the family's trip was planned as a hasty getaway from the frigid conditions.
"Inflation is out of control," Cruz tweeted on Wednesday. He indicated gas, food and lumber prices had also increased by typing the phrases with an accompanying symbol of an upwards arrow.
He ended the message by adding: "And tickets to Cancun are up 32%!"
The message was met with immediate disapproval by social media users, many of whom noted the upcoming storm threatening Texas.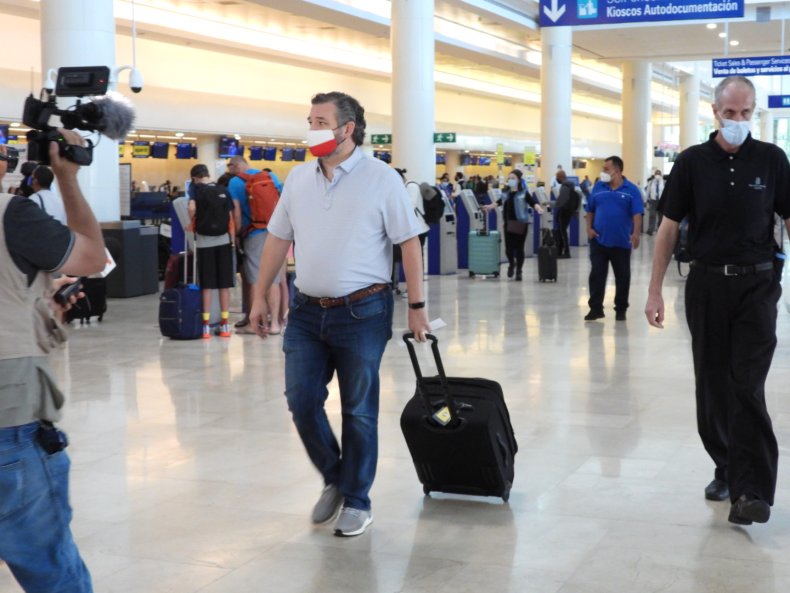 "The Cancun Cruz missile thinks it's hilarious that more than 700 Texans died from the cold the last time he fled the country," one Twitter user wrote in response to the senator's tweet.
Another writer advised that since another storm is approaching, Cruz "best book your airline tickets now."
Cruz's tweet can be seen below.
Sawyer Hackett, who co-hosts the podcast Our America with Julián Castro, wrote in response: "As Texas braces for another winter storm with a broken power grid, Ted Cruz is joking about Cancun. 3 days ago his PAC collected $100,000 from an oil lobbyist."
The storm is forecast for Texas as soon as Wednesday night, and there have already been warnings that the state's main power grid could once again be tested.
The Electric Reliability Council of Texas (ERCOT), which manages the grid, has issued a winter storm watch through Sunday, but Texas Governor Greg Abbott has said he doesn't anticipate the grid will experience widespread issues like it did last year.
Even still, Cruz's message was ridiculed for its timing, with one Twitter user re-sharing a clip of the senator walking through Cancun International Airport last year.
When Cruz left his state during the last storm, many people took exception to his absence during the state's crisis before his quick return. After arriving back in Texas, Cruz admitted the trip was "obviously a mistake" when speaking to reporters. He claimed he had agreed to go to help his young daughters, who he said had experienced a "tough week."
"On the one hand, all of us who are parents have a responsibility to take care of our kids, take care of our families," Cruz said at the time. "But I also have a responsibility that I take very seriously of fighting for the state of Texas."
Whether they believed his explanation for his trip last year, many people didn't see the humor in making the reference on Wednesday.
"People froze to death when the grid went down last year, but hey, Ted Cruz got jokes," another critic of the senator wrote.
"All this joke about Cancun does is remind us that you went to Cancun when Texas needed you most," another person commented. "Well played."
One person warned that the joke might not age well, writing: "When it's 22 degrees in Dallas tonight and the grid fails, I'm sure this joke will keep your constituents warm."
Others took issue with the overall message of the tweet, leaving beside the Cancun controversy.
A Twitter user argued: "It's almost like we are recovering from a worldwide pandemic or something ... "
"And you can easily afford ALL of those price hikes, but still do nothing to help those who can't," read another person's complaint.
Newsweek contacted Cruz for comment but did not hear back in time for publication.