Donald Trump's Comments 'Have No Basis in Reality': Heidi Cruz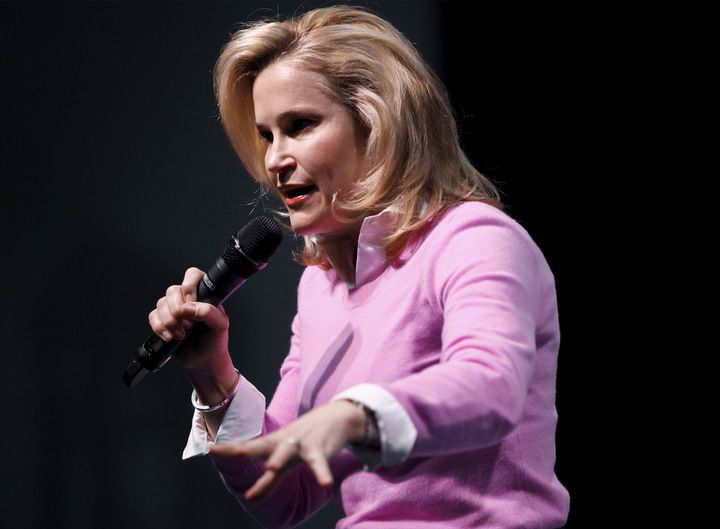 Heidi Cruz, the wife of Republican presidential candidate Ted Cruz, was asked Wednesday about her reaction to Donald Trump's threat on Twitter to "spill the beans" about her.
"You probably know by now that most of the things that Donald Trump says have no basis in reality," she told reporters on the campaign trail in Wisconsin. She added that she's not worried and instead is focused on ensuring that her husband wins the presidential race.
As Republican voting was underway in Arizona and Utah on Tuesday night, Trump, the GOP front-runner, and Cruz, his closest competitor, got into a Twitter fight about their wives, Melania and Heidi. It started when Trump falsely criticized Cruz for an advertisement his campaign didn't create, which included an image from Melania Trump's photo shoot with GQ magazine in 2000. In the photo, she had posed naked on a fur carpet.
An anti-Trump super PAC created the ad to encourage conservative voters to support Cruz in Tuesday's contests. Cruz fought back:
Trump tweeted again about the photo on Wednesday morning. It's unclear what he was alluding to in his earlier tweet that mentioned Cruz's wife. But speculation has focused on a heavily redacted police report that explains how, in 2005, a police officer responded to a call about a woman with her head in her hands sitting just feet from an expressway in Austin, Texas. The woman reportedly identified herself as Heidi Cruz. She hasn't elaborated much on the incident, but she told The New York Times earlier this year that "we all have rough patches."
A year before the reported incident, Cruz left her role in the George W. Bush administration to join her husband in Texas; he wanted to pursue an elected position there. She had worked for the U.S. trade representative's office, the Department of the Treasury and on the staff of the National Security Council. Now she is on a leave of absence from her position as a managing director at Goldman Sachs in Houston while her husband seeks the Republican nomination.
Trump ended Tuesday with a win in Arizona, and Cruz saw an overwhelming victory in Utah, where the New York billionaire had failed to gain support among Mormons.
"This is a pattern with Donald Trump. When he's unhappy, when he's scared, he lashes out," Cruz said Wednesday on the Today show. "Donald is unhappy that he got clobbered last night in Utah."
He went on to call his opponent a "bully."
"Donald's trying to threaten my wife," Cruz said, "speaks volumes about character."