Ted Cruz Shuns Corporate Donations as Conservatives Turn On 'Woke' Capitalism
Texas Senator Ted Cruz said Wednesday he will no longer take "woke" corporate political action committee (PAC) donations anymore.
In a Wall Street Journal op-ed titled "Your Woke Money Is No Good Here," the Republican said he was done accepting donations from corporate PACs after several major corporations such as Coca-Cola came out in opposition to the new Georgia voting law.
"In my nine years in the Senate, I've received $2.6 million in contributions from corporate political-action committees," Cruz wrote. "Starting today, I no longer accept money from any corporate PAC. I urge my GOP colleagues at all levels to do the same."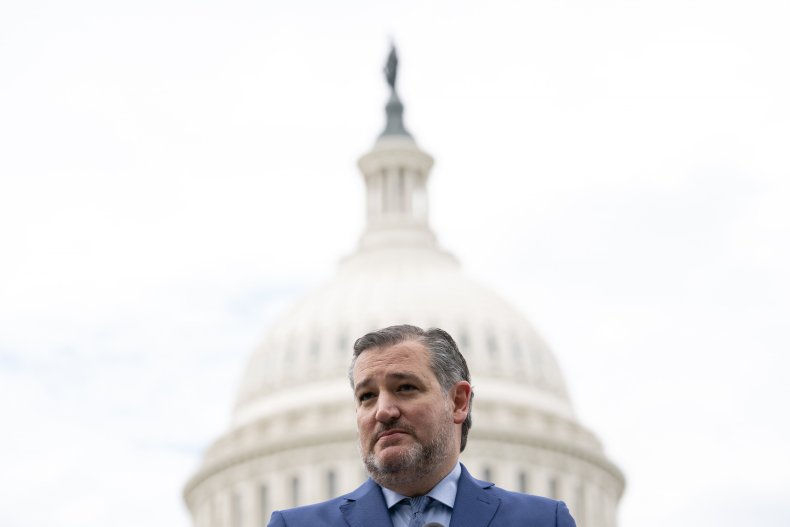 Cruz continued, "For too long, woke CEOs have been fair-weather friends to the Republican Party: They like us until the left's digital pitchforks come out. Then they run away.... Enough is enough. Corporations that flagrantly misrepresent efforts to protect our elections need to be called out, singled out and cut off."
The senator went on to focus his criticism on Coca-Cola CEO James Quincey, who said that he opposed "measures in the bills that would diminish or deter access to voting."
In response, Cruz asked what specific measures Quincy was opposed to, writing, "The ones that allow several forms of identification, which the state provides free of charge, to request or cast a ballot? Or the measures that expand the number of days of early voting?"
Cruz also spoke about his decision to refuse corporate PAC money during an interview with Fox Business on Wednesday night.
"All of us have been seeing the rise of woke corporations of giant companies, their CEO's deciding they're gonna get in bed with the far left, that they're gonna be the woke political enforcers of the Democrats," Cruz said.
"We saw a bunch of CEO's blasting the Georgia voter integrity law, the Texas voter integrity law. CEO's who hadn't bothered to read the bills. They didn't know what was in there, but they made the decision to give in to the angry mob on the left instead. And I'm fed up," Cruz said.
He continued, "I said enough is enough, and so I've announced as of this week I will no longer accept even one penny from any corporate PAC."
Cruz's remarks in the op-ed come as a number of conservative lawmakers have turned on the idea of "woke" capitalism. Shortly after Cruz's announcement, GOP Representative Matt Gaetz showed his support and wrote in a tweet, "Welcome to the club, @TedCruz."
"Last year, I became the first Republican in Congress to swear off all federal PAC money. The American people should be our one and only special interest," Gaetz added.
Several other Republican lawmakers have been critical of big corporations following their opposition to the voting bill passed in Georgia.
Florida Senator Marco Rubio made similar comments in a recent New York Post op-ed titled "Corporations that undermine American values don't deserve GOP support."
"Historically, corporate America played an integral role in building thriving communities, stable families and a strong nation.... To help our corporations fulfill their patriotic role, the GOP especially enacted business-friendly policies," Rubio wrote. "Today, corporate America routinely flexes its power to humiliate politicians if they dare support traditional values at all."
Rubio continued, "No policymaker would allow a company to dump toxic waste into a river upstream of a thriving town he is charged with governing. Yet corporate America eagerly dumps woke, toxic nonsense into our culture, and it's only gotten more destructive with time. These campaigns will be met with the same strength that any other polluter should expect."
Senator Josh Hawley also criticizes woke capitalism in his new book, The Tyranny of Big Tech. The Missouri Republican writes about the backlash he faced following his objection to the results of the 2020 presidential election and noted that he was "branded a 'seditionist' and worse."
"But like many others attacked by the corporations and the left, my real crime was to have challenged the reign of the woke capitalists," he writes in a book excerpt published by The Guardian.
After reaching out to Cruz's office for comment, Newsweek was directed to his op-ed and interview with Fox Business News.
This story was updated to note that Cruz's office directed Newsweek to his op-ed after it reached out for comment.