After 'Chappaquiddick,' What Kennedys are Still in Politics?
Chappaquiddick, a movie about the fateful night in 1969 when Massachusetts Senator Edward (Ted) Kennedy drove a car off a small bridge, killing his passenger, Mary Jo Kopechne, 28, a former Robert F. Kennedy staffer, hits theaters Friday. Kennedy alleged that he accidentally drove the car off the bridge after leaving a party attended by several people who worked for his brother Robert F. Kennedy. He did not report the accident until the next day. Kennedy pleaded guilty to leaving the scene of an accident, but despite that—and a woman drowning in the Senator's presence—the people of Massachusetts nevertheless sent him back to Washington in 1970 and he served in the Senate until 2009.
The political dynasty of the Kennedys took a dark turn that summer: Ted Kennedy's presidential dreams were dashed, and a young woman lost her life. Still, it didn't end the Kennedy family's tradition in politics—which continues to this day.
Currently, there are two Kennedys who still hold political office. Joseph Kennedy III, named after the family patriarch, serves as a congressman from Massachusetts. The 37-year-old Democrat represents the 4th District of Massachusetts, a similar district to the one that his father, Joe Kennedy II, represented as a congressman for more than 10 years. He's also the grandson of Robert F. Kennedy, former Attorney General and U.S. Senator from New York who was assassinated in 1968. The rising star of the Democratic Party was selected this year to give his party's rebuttal to President Donald Trump's State of the Union address.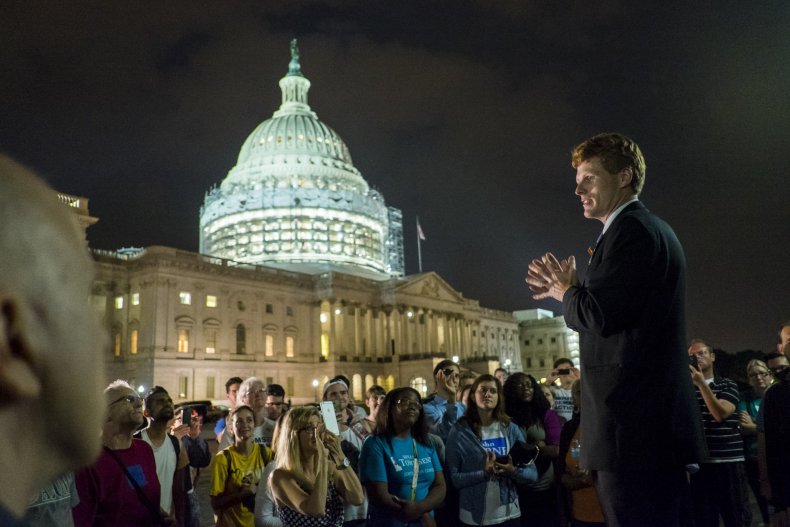 Ted Kennedy's son, Edward Kennedy Jr., serves in Connecticut's Congress, as a Democratic State Senator representing the 12th District. He was first elected in 2014. Ted Kennedy's other son, Patrick, served as a U.S. congressman representing Rhode Island's 1st District from 1995 until 2011.
Caroline Kennedy, daughter of former President John F. Kennedy, who was assassinated in 1963, served in the Obama Administration as the ambassador to Japan for four years. She left the post in 2017 after Trump took office.
Other members of the Kennedy family have served in smaller roles and as activists for different causes.