Ted Lieu Doesn't 'Understand Why Mike Pence Is Even Talking' To Donald Trump After Capitol Riot
Democratic California Representative Ted Lieu has said that he "doesn't understand" why Republican former Vice President Mike Pence "is even talking to" Republican former President Donald Trump after the January 6 Capitol riot.
Lieu made his comment while appearing on the Friday installment of the MSNBC news discussion program The Reid Out, hosted by Joy Reid. Before interviewing Lieu, Reid mentioned Pence's recent comment that he doesn't think he and President Trump "will ever see eye-to-eye" on the January 6 capitol riot.
Noting that Pence followed his recent comments about Trump and the riot by praising Trump's presidential accomplishments, Reid asked Lieu, "What is it about [Trump] that's so enthralling that he can get away with trying to lynch Mike Pence and Mike Pence still takes the knee?"
"We are watching the radicalization of the Republican Party in real time," Lieu said. "And specifically on Mike Pence, I just have to say that for most normal people, if one of my work colleagues incited a bunch of people to try and kill me, I wouldn't talk to them anymore—I would try to get that person prosecuted."
"So I don't even understand why Mike Pence is even talking to the former president," Lieu said. "He should be trying to put this person in a prison or some sort of asylum."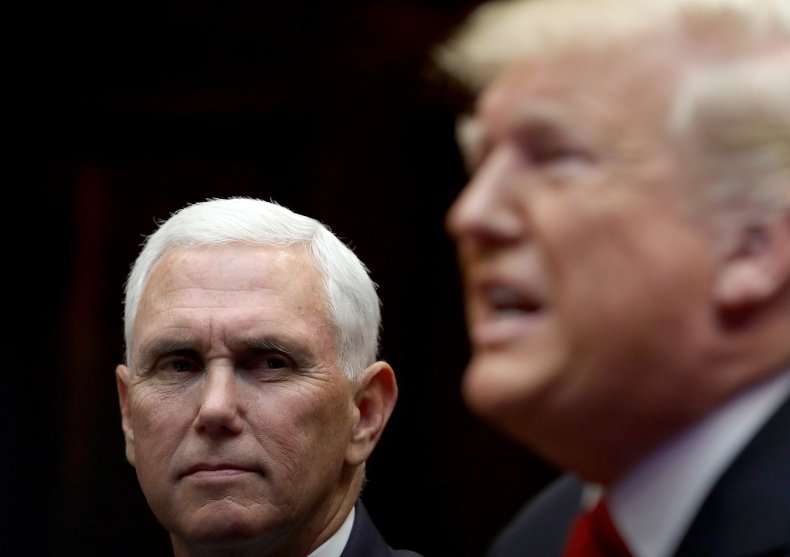 Lieu added that he considers it "very disturbing " to watch the Republican party enter a "cult-like state" and "deteriorate" around its continued support of Trump.
In January, the House impeached Trump for inciting the riots. Trump had repeatedly and baselessly claimed that the 2020 election had been stolen from him by an unprecedented nationwide conspiracy of widespread voter fraud.
Hours before the riots, Trump spoke to a crowd of thousands of supporters at a "Stop the Steal" rally. In his speech, Trump said that if Pence simply refused to certify the election's results in Congress, it would make Trump president.
Trump's statement was factually incorrect. But Reid pointed out that Trump's supporters turned on Pence. They assembled a gallows with a noose outside the Capitol and chanted "hang Mike Pence" as others attacked police and ransacked the federal building to disrupt the election's certification.
Nearly an hour after the riot began, Trump tweeted, "Mike Pence didn't have the courage to do what should have been done to protect our Country and our Constitution." Pence was reportedly "very upset" with Trump afterwards.
In late May, Lieu publicly criticized Republican Georgia Representative Andrew Clyde for claiming that the rioters looked like visitors on a "normal tourist visit" to the Capitol.
In response, Lieu retweeted a photo that appeared to show Clyde helping others barricade the House Chamber during the riot.
"Dear @Rep_Clyde: Is that you in the picture? Do you remember? Insurrectionists were trying to stop the election certification. This was not, as you now say, a 'normal tourist visit,'" Lieu wrote on Twitter. "140 police officers were injured, some severely. You should apologize to law enforcement."
Five people died during the insurrection and roughly 140 police officers were injured. The police injuries include a broken spine, a lost eye, lost fingers, brain damage and multiple cases of PTSD. Two Capitol Police officers have died by suicide since the insurrection.
While ransacking the Capitol, the rioters shattered windows while trying to access congressional chambers, smeared feces in the hallway and stole computer equipment, potentially constituting a national security breach.
Newsweek contacted Pence's office for comment.