Democrat Ted Lieu Uses Ham Sandwich Analogy to Argue Mueller Believes Trump Obstructed Justice, But Can't Say So
Representative Ted Lieu argued that Special Counsel Mueller had indeed determined that President Donald Trump obstructed justice, but that Mueller can't say those exact words. The Democratic congressman even deployed a ham sandwich analogy to make his case.
Lieu on Thursday quote-tweeted a post by NBC News anchor Alison Morris stating that he established three elements of obstruction of justice but that Mueller said he did not subscribe to what the congressman was attempting to prove.
"Analogy: Mueller gives us a slice of bread, puts ham on it, and then another slice of bread," Lieu tweeted, using three food items as placeholders for the three obstruction elements. "We say that's a ham sandwich. Mueller says I didn't make a determination whether or not it's a ham sandwich because I was instructed I can't call it that."
Lieu concluded: "It's still a ham sandwich."
Mueller in his testimonies to the House Judiciary and House Intelligence committees on Wednesday refused to provide any information other than what was in his 448-page report redacted and released in April. But Lieu's questioning in the House Judiciary Committee hearing Wednesday produced one of the more interesting responses by the special counsel.
The California congressman asked Mueller if the Office of Legal Counsel guidance against indicting a sitting president was what led him not to charge Trump with obstruction of justice. Mueller initially said, "correct." But the special counsel then seemed to walk back on his statement, saying, "As we say in the report and as I said at the opening, we did not reach a determination as to whether the President committed a crime."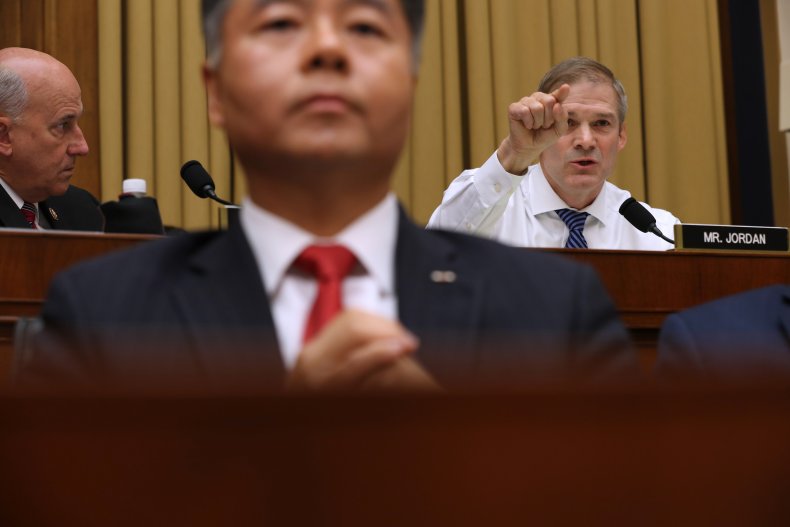 On CNN's Anderson Cooper 360 later that day, Lieu said he thought Mueller "fully understood my question" and "it's what he actually believes."
"It was a logical extension of me getting him to establish the three elements of obstruction of justice were met and I think it's what he actually believes," Lieu told anchor Anderson Cooper. "I think he may have walked it back because he understood that what that means is we got a felon in the White House and that's what the hearing showed today, that Donald Trump committed multiple acts of obstruction of justice."
Lieu said that Mueller said "yes" on the first two elements of obstruction and that regarding the third element, intent, the Congressman read Mueller's statement from the report the there was substantial evidence of corrupt intent.
"That meets all three elements, so you can call it whatever you want," Lieu said, "But every person who looks at it including over 1,400 prosecutors—everyone calls it."