California Congressman Seeks Answers From White House About Cybersecurity Staff Exodus
Ted Lieu, a Democratic congressman from California, has written a letter to White House Acting Chief of Staff Mick Mulvaney about a large exodus of cybersecurity staff. The letter, obtained by Axios, seeks answers on measures the White House is taking against national and cyber security threats.
On Wednesday, Axios reported that an internal White House memo informed, "the White House is posturing itself to be electronically compromised once again." The memo was penned as a resignation from White House cybersecurity director Dimitrios Vastakis.
Vastakis detailed that Office of the Chief Information Security Officer was being targeted by Trump officials. The OCISO was created following a Russian hack of White House servers in 2014 to develop a secure network for the White House. He also informed staff that "it is highly concerning that the entire cybersecurity apparatus is being handed over to non-PRA entities."
PRA refers to the Presidential Records Act, which requires that all presidential records be preserved.
Lieu's letter referenced Axios' article and raised concerns that it laid out on Wednesday. Along with those issues, Lieu noted that the targeting of White House staff and seeking to hide information was par for the course with President Donald Trump.
"Additionally," he wrote, "the apparent effort to move cybersecurity operations into an office exempt from the Presidential Records Act fits the President's history of obstructing and hiding transcripts and government business by manipulating internal bureaucratic procedures."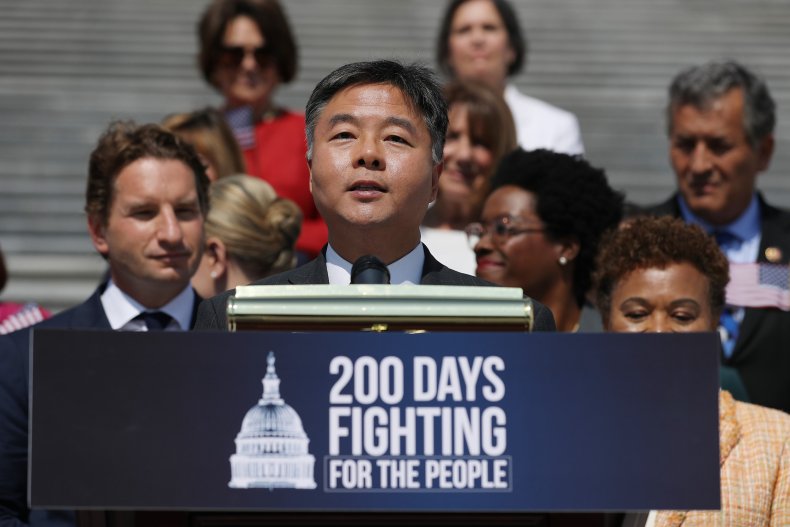 Before offering Mulvaney a series of questions, Lieu added that "a White House data breach would give our adversaries an untold advantage in almost every foreign policy and national security matter," due to the increased possibility of a cybersecurity breach.
Lieu's questions for Mulvaney echoed Vastakis' concerns about OCISO members being targeted and forced to resign. The first two asked if Mulvaney is aware of the OCISO targeting and if they are seeking qualified replacements for the staff that left.
The congressman also asked straightforwardly why cybersecurity responsibilities have been delegated to a department that is not covered by the Presidential Records Act, the Office of the Chief Information Officer (OCIO). Lieu also inquired if the White House will provide Congress with documents that detail why OCISO has been usurped by OCIO.
Lastly, Lieu asked Mulvaney if he's been communicating with the Office of the Director of National Intelligence and the National Security Agency to discuss the cybersecurity and national security concerns that Vastakis' memo provided.
Lieu apparently is the first member of Congress to address the White House of these findings, according to Axios.