Ted Lieu Trolls Mo Brooks With Photo of Password Advice Taped to Laptop Screen
Democratic Rep. Ted Lieu of California on Monday trolled Republican Rep. Mo Brooks of Alabama with a photo of password advice after Brooks deleted a tweet that appeared to accidentally reveal his Gmail password.
"At today's House Foreign Affairs hearing," Lieu tweeted, alongside a photo off his laptop screen with passport advice taped to the screen.
"Password: Never tape PW to computer. Pin: Don't choose 1234," the tape read.
Lieu's post came one day after Brooks tweeted about his wife being served with a lawsuit organized by California Rep. Eric Swalwell, which alleges that he played a role in inciting the Capitol riot on January 6.
".@EricSwalwell Well, Swalwell FINALLY did his job, served complaint (on my WIFE). HORRIBLE Swalwell's team committed a CRIME by unlawfully sneaking INTO MY HOUSE & accosting my wife! Alabama Code 13A-7-2: 1st degree criminal trespass. Year in jail. $6000 fine. More to come!" Brooks tweeted, alongside a picture of his computer screen showing the Alabama law.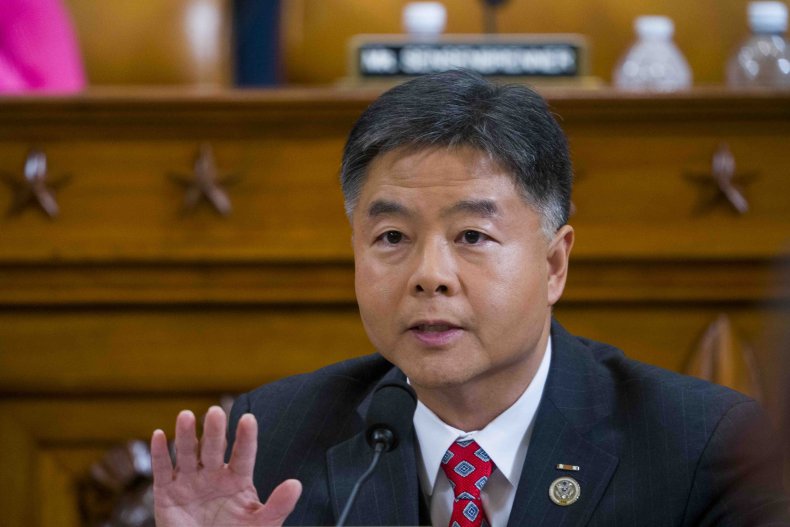 Social media users quickly noticed that a small sticky note was taped to the screen in the picture that appeared to include his Gmail password and an unknown PIN. Brooks—who serves on the House Armed Services Subcommittee on Cyber, Innovative Technologies, and Information Systems—later deleted the post and reshared its contents with the password cropped out.
Newsweek reached out to Brooks' office for comment. This story will be updated with any response.
Swalwell's lawsuit lists Brooks, former President Donald Trump and lawyer Rudy Giuliani as its co-defendants, and is largely based on speeches delivered by the men at rallies before the insurrection.
"Today is the day American patriots start taking down names and kicking ass," Brooks told a pro-Trump crowd gathered in Washington D.C. on January 6.
"The horrific events of January 6 were a direct and foreseeable consequence of the defendants' unlawful actions," the lawsuit states. "As such, the defendants are responsible for the injury and destruction that followed."
The lawsuit was filed four months ago, but Swalwell asked a federal judge to grant him a 60-day extension last week after failing to locate Brooks.
Last week, Brooks taunted Swalwell as he attempted to serve the lawsuit, telling an Alabama radio station, "Swalwell, if you're out there, I'll see you the next time we're in Washington."
On Sunday, Philip Andonian, Swalwell's attorney, told HuffPost that the lawsuit was "validly served" and "no one entered or even attempted to enter the Brooks' house."
"In response to his juvenile Twitter trolling over the past few days, we offered to meet him somewhere to get him the papers," Andonian explained. "Instead of working things out like an adult, he continued to evade service and make a mockery of this incredibly serious case seeking to hold him accountable for the siege on the Capitol."