Ted Nugent, Investigated for Threatening Obama, Says NRA Board Must Be 'Squeaky Clean'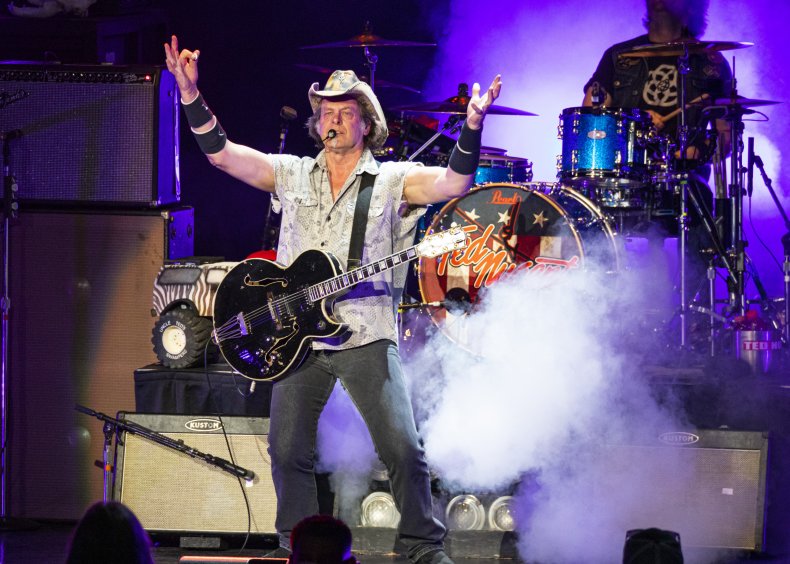 Ted Nugent—the rock guitarist and National Rifle Association board member who frequently threatened former President Barack Obama with violence—sent a letter to the NRA's entire board of directors ahead of the board's meeting in Washington, D.C., on Friday calling for transparency and reform at the gun-rights group.
"Representing the direct pulse of many thousands of NRA members across America face to face and on social media, it is more than obvious we must dedicate all our efforts to make this historical American civil rights organization 100% transparent and compliant with all legal considerations and ethical responsibilities," Nugent wrote in an e-mail distributed Thursday night, a copy of which was obtained by Newsweek.
Nugent is a highly provocative figure, controversial even within the nation's most prominent Second Amendment advocacy group. During a concert in 2007, while brandishing two machine guns, he proclaimed that then-presidential candidate Barack Obama was "a piece of s***."
"I told him to suck on my machine gun," he said on the Feather Falls Indian Casino stage in Oroville, California. "Hey Hillary, you might want to ride one of these into the sunset, you worthless b****."
In 2012, Nugent told NRA members at the group's annual gathering that he would either "be dead or in jail" if Obama won a second presidential term. Those comments were widely interpreted as a threat on Obama's life, and they prompted a Secret Service investigation.
Nugent has previously claimed that he "never made any threats of violence towards anyone," though the rock star has acknowledged calling for Hillary Clinton to be hanged and has referred to Obama as a "communist-nurtured subhuman mongrel" and a "chimpanzee."
While Nugent may be most recognized for his diatribes against Obama, Thursday's letter could indicate a broader shift in how some otherwise disengaged board members are responding to the group's financial crisis.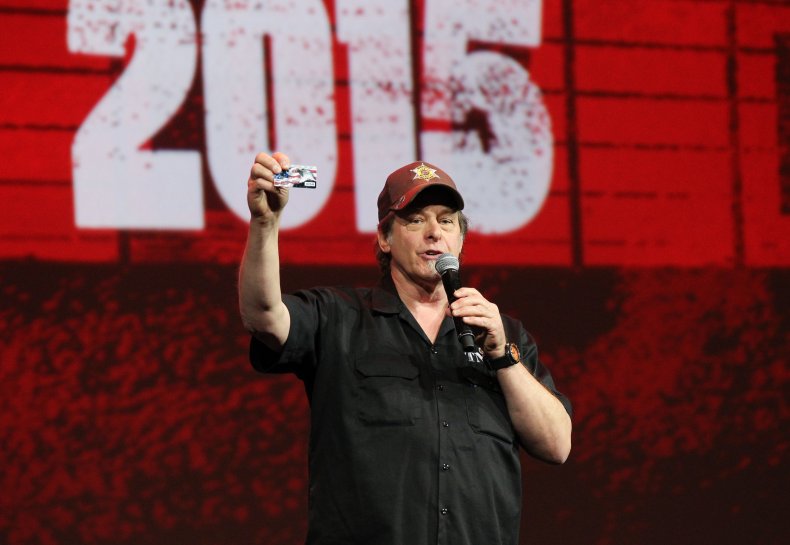 "We must show the world we are absolutely unafraid to expose every possible detail, fix anything wrong, and make certain no conditions exist within our organization to ever allow any mistakes again," he pleaded to the board. "If anyone is guilty of such mistakes or wrongdoing, they must be eliminated and we must move forward with procedures that leave no room for error."
The NRA is currently embroiled in a high-stakes financial and governance scandal that has seen the defection of seven board members in recent months and the removal of outspoken directors from their positions of oversight. Critics of CEO Wane LaPierre's tenure have also been ousted, including Lt. Col. Oliver North, the group's former president, and Chris Cox, the group's former chief lobbyist.
In his letter, Nugent made reference to an "independent outside audit," the results of which he said would help accomplish transparency. It was not immediately apparent what audit he may have been referring to. As a non-profit, the NRA's finances are regularly audited by its accountants, but many board members have apparently not found these reviews sufficient.
An NRA spokesperson did not immediately return a request for comment about the existence of an independent audit.
In a July letter to the entire board of directors and NRA leadership, five board members called for an independent, confidential audit into "allegations of financial misconduct." Three of these board members resigned their posts shortly thereafter, and in their resignation letter complained that efforts to conduct appropriate oversight of the NRA were being thwarted.
The group is already under scrutiny from multiple state regulators, attorneys general and a congressional committee. Dozens of current and former board members have reportedly been subpoenaed by New York State Attorney General Letitia James as part of her office's investigation into the NRA's tax-exempt status. North was deposed by her investigators last month, providing testimony that the NRA had unsuccessfully tried to block.
"The NRA must prove beyond all shadows of doubt or accusations that we are squeaky clean in our mission to safeguard the sacred Second Amendment as well as the reputation of our membership," Nugent wrote on Thursday. "Our NRA is more important now than ever. It is bigger and more significant than any one person or group. We must bulletproof our battleship for the assaults on very rough seas ahead."
A representative for Nugent did not immediately return a request for comment.