Pandemic Denier Ted Nugent Tests Positive for COVID: 'I Thought I Was Dying'
Pandemic denier Ted Nugent has revealed he has tested positive for COVID-19, four months after he said said the coronavirus crisis was "not a real pandemic."
The musician, 72, said on Monday that at one point he "could hardly crawl out of bed" after being struck with harsh symptoms of the disease.
In a Facebook Live broadcast, the "Wango Tango" singer said: "Everybody told me that I should not announce this.
"I have had flu symptoms for the last ten days. I thought I was dying," he explained. "Just a clusterf***. I was tested positive today."
He said that he had a "stuffed up head" and "body aches."
"My God, what a pain in the ass. I literally could hardly crawl out of bed the last few days... So I was officially tested positive for COVID-19 today," the singer added.
In an earlier Facebook Live on Christmas Day 2020, Nugent downplayed the COVID-19 pandemic and mocked vaccines against the disease.
"We don't earmark a safety net during a scamming pandemic," he said. "It's not a real pandemic, and that's not a real vaccine."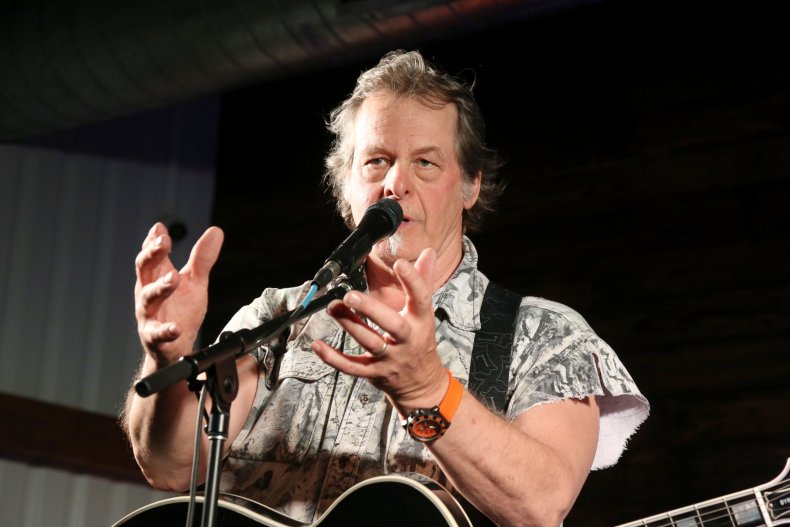 Nugent's positive test comes less than two weeks after he asked: "'Why weren't we shut down for COVID-1 through -18?'" during an April 7 Facebook Live, in which he lamented the cancellation of his tour.
The name for the COVID-19 disease, which is caused by a novel coronavirus called SARS-CoV-2, did not originate from a sequential list.
Originally termed the "coronavirus disease 2019," it was officially renamed COVID-19 (an abbreviation of the earlier name) by the World Health Organisation on 11 February 2020.
"You know, this year's tour is canceled again," Nugent said at the time. "Are you kidding me? The production companies won't let us tour again this year."
He later calls the production companies that canceled the events "dirty bastard, lying, scam, smoke-and-mirrors COVID-19 freaks."
In another Facebook live stream last month, he also questioned the reported statistic of how many people have died from the virus, saying: "They claim five hundred thousand people have died from COVID-19.
"Bulls***. I believe that medical examiners in all 50 states have gone, 'I put down on the death certificate that he died of asphyxiation, but they made me put COVID.'"
There have been 545,471 deaths attributed to COVID-19 on Death Certificates in the U.S. as of April 14, according to the Centers for Disease Control and Prevention.
"In an estimated 91 percent of these deaths, COVID-19 was listed as the underlying cause of death, the CDC states. "In the remaining 9%, COVID-19 was listed as a contributing cause of death."
Nugent has previously said he would also refuse a COVID-19 vaccine when offered, citing the speed at which these vaccines have been approved.
Half of all American adults, about 130 million people, have had at least one vaccine dose, the CDC reported on Sunday.
No significant issues have been found, although a "pause" has been placed on the rollout of Johnson & Johnson's shots over reports of very rare bloods clots.
Among the more than 7 million people who have had Johnson & Johnson's COVID-19 vaccine, at least seven have experienced blood clots.