Ted Sarandos' High-Stakes Gamble to Save Netflix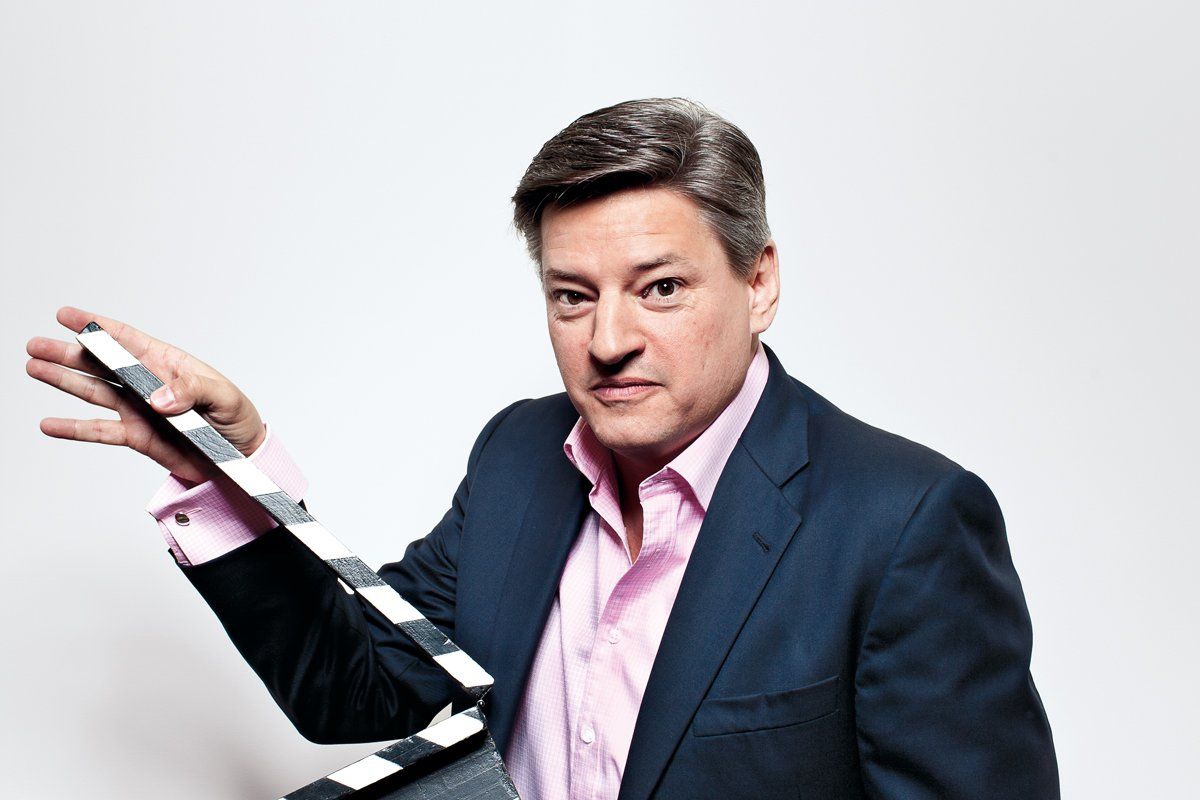 A man waving around money in Hollywood does not want long for attention: usually the talent comes to him. One Saturday morning early last year, Ted Sarandos went to the talent.
The chief content officer of Netflix is an atypical Hollywood player. He's 47, gregarious, polite, well liked, and shy about dropping names. But as Netflix has grown from a fledgling DVD-by-mail service into the largest streaming video platform on the planet, Sarandos has become the single largest buyer of movies and TV series in Hollywood. What brought him to the office of David Fincher last March was a desire to start making his own programming from scratch.
After two Academy Award nominations for best director, Fincher was shopping a television project, a political thriller about a conspiratorial congressman. With Kevin Spacey playing the lead, it was the kind of high-gloss, Emmy-shoo-in series that viewers expect to find on HBO. Sarandos wanted it to premiere on Netflix.
He knew Fincher was likely to greet him with skepticism—Netflix had zero experience in TV development, and even the companies that did, fail at launching shows all the time. But Sarandos also had money, and, more important, an appetite for risk. He gave Fincher's proposed House of Cards an unheard-of commitment—two full seasons, before a single frame had been shot, at a rumored price tag of $100 million.
"There's a million reasons not to do this at Netflix, and I wanted to give them one rock-solid reason to do it," Sarandos says today. "I wanted him to understand that this wasn't a toe in the water—that we were really moving forward on original series, and that we were going to do it well by not doing what everyone else does."
Fincher bit, and in the next year Netflix went on to acquire four more original programs. One has already debuted; the rest stream in 2013. Sarandos promises that more are on the way.
They had better be good. Other Internet video services are beginning to create original content, too—Hulu debuted its first series in February, and Amazon began soliciting projects this month—but nowhere are the stakes higher than Netflix, which last fall lost 810,000 subscribers and $12 billion in value when a plan to split its DVD and streaming products in two went haywire. Creating hit original series is crucial to restarting Netflix's subscriber growth, the figure that Wall Street analysts examine before all others to determine the health of the company.
Whether it works depends on someone The Hollywood Reporter recently described as "the man everyone in Hollywood wants a meeting with." Having a fat wallet is no guarantee you can make a hit show, of course. But it will make things fun to watch.
For Sarandos, professional life now includes meetings with Steven Spielberg and dinners with Sean Penn. But his career began in a strip mall. As a teenager, in Phoenix, he talked his way into a job at one of the first video-rental stores to open in the state of Arizona. He wrote out receipts, alphabetized videocassettes, and often locked up early, when the very last tape had been rented. Before long he was managing the store, then several others; a planned transfer from community college to Northern Arizona University never happened. Instead Sarandos dropped out and began an orderly climb up the home-video-industry ladder. The local rental chain's supplier, a videotape distributor called ETD, offered him a job; soon he was running its Phoenix warehouse. Then Denver, then half the United States. If you rented a movie from Blockbuster west of the Rockies before 1998, chances are good Ted Sarandos helped get it to you.
In 2000, Netflix was a fledgling DVD-by-mail service in Los Gatos, Calif. It had only just begun to sell paid subscriptions. CEO Reed Hastings read in a trade publication about an innovative revenue-sharing deal that Sarandos had pioneered, and began courting him to take over the startup's licensing department. Sarandos declined, repeatedly. By then he was an executive at Video City, a chain in the middle of a painful 300-store merger, and felt he was needed there.
Hastings wasn't having it. "Well, Mother Teresa needs you in India feeding starving children. Why aren't you doing that?" he asked one night over the phone, as both men recalled. Sarandos took the job. Early victories—like convincing DVD manufacturers to change the paints they used so that discs wouldn't chip in the mail—turned into nine-figure deals with movie studios.
From its earliest days, Netflix's business model has been a cycle of momentum: more paying subscribers means more revenue for more content, which means more paying subscribers. But by 2010 Sarandos was beginning to notice that Netflix's suppliers were getting stingier, demanding that their titles stream on rival platforms, or declining to sell to Netflix entirely so that they could do the streaming themselves. HBO had always refused to make its programs available; then, in early 2011, Showtime balked at renewing a deal for Californication and Dexter.
"I was becoming increasingly concerned that the people who were selling to us wouldn't want to sell to us for long," Sarandos says. The trend continues: a pivotal contract with Starz—which provided titles from Disney and Sony—just expired, and another with Epix, which handles Lionsgate, Paramount, and MGM, will become nonexclusive this fall. Deals to replace those holes have come with higher costs, as rivals like Hulu and Amazon bid up prices. Without exclusive content, Netflix would become just another video middleman.
Worse, all of this was occurring as Netflix's DVD-by-mail business was shrinking, with more homes getting faster broadband to access convenient streaming content. Hastings had always planned for the company to eventually ditch DVDs and focus on digital delivery. Last July 12, he got impatient, and announced that Netflix would begin charging separately for its DVD and streaming products, raising prices on some subscribers by 60 percent. This went well. For a day. Netflix stock hit an all-time high on July 13, then shed half its value as irate customers decided to quit rather than pay more. Hastings doubled down, announcing plans to split Netflix into two companies, with the DVD venture to be renamed Qwikster, only to see subscribers depart in greater droves. The crisis did not subside until Oct. 10, when a humbled Hastings canceled the spinoff.
With the company still reeling, Sarandos's original programming initiative is vital—a way for Netflix to both control costs and create exclusives that none of its competitors will ever be able to carry, drawing subscribers onto its rolls, and off of theirs. That's why its shows need to be not just passable, but critically acclaimed.
"People keep saying, 'Oh, you're going to become like HBO?'?" Sarandos said over lunch in Las Vegas in April, before an event at which he unveiled the first footage from House of Cards. "I say, 'No, no, no. HBO is going to become like Netflix.' We just have to get really great at original before they get really great at all the stuff that we do."
To get there, he relies heavily on Netflix's trove of data, the more than five billion ratings it has collected from users over the years. This is the fertile pile that turns out ultra-niche recommendations for users ("cerebral foreign spy dramas," say), and gives Sarandos insight into what movies and TV shows to license. Netflix has proprietary algorithms that take in variables—actors, genre, box office, etc.—and spit out predictions for how a given title will fare in the Netflix library.
This same approach, he says, can be used for creating original shows. "We have built regression models that would, say, produce a risk profile of a show," Sarandos says. "So, if the show comes out at the superhigh end like The Sopranos, it'll perform like this, and if it's just mediocre, it'll perform like this. And the economics are along that glide path."
Really? Can he plug in things like past Oscar wins?
"Oh, we absolutely do," Sarandos says. "Because it actually does make a big difference. A great movie that has all the characteristics of an Oscar nominee, but doesn't get nominated, actually does underperform."
So far, the company's algorithms have helped to pick House of Cards, Hemlock Grove, Orange Is the New Black, and Arrested Development [see sidebar], all of which will stream in 2013. Then there's Lilyhammer, a dramedy about a mafioso on the lam in Norway, which premiered in February. It's somewhat of an outlier, because it had already been shot when Sarandos acquired the rights. But it will go down as Netflix's first original series, and so far, critics have not been kind.
To writers and producers, some of Netflix's inexperience at programming is an asset—there are no intrusive notes from network suits, because Netflix doesn't employ any. Netflix is not subject to the FCC's broadcast regulations or cable carriage disputes. Because everything on its service streams on demand, there is no programming grid—no worries about going up against Monday Night Football. Most significant, when Netflix makes a series available online, it posts all the episodes at once: no more parceling out the drama week by week. That is a fundamental change in the way "television" series can be created.
"The viewing habits have changed," said Eli Roth, who is adapting the werewolf novel Hemlock Grove into a Netflix horror series. "I don't think people necessarily want to have a show stretched out for six months. People would much rather have it stretched out over six days. When I watch a show, I DVR them, and sit down and watch them all at once."
"Here's what I realized is so great about online streaming content," Roth continued. "Let's say in Episode 3, there was one story segment that we were certain would work, but the fans went crazy. Why the hell couldn't we just pull it, re-edit it, and put it back up? If there's an editorial change we want to make, and we have data to show that people are turning off at this point, we just recut it. There's no reason you couldn't do it. Think about that. There's no physical DVD to reproduce; there's—nothing! It's right there instantaneously. You want to tweak something later, you just do it. Who cares?" Sarandos, who was standing nearby and hearing this for the first time, shrugged: why not?
Other showrunners are just grateful that Netflix is buying full seasons and promising to stay out of their way. "Their position was, 'You know how to make TV shows, we don't, go do what you do.' It's incredibly, incredibly freeing, and delightful," says Jenji Kohan, the creator of Showtime's Weeds, who is now making the women's-prison comedy Orange Is the New Black.
While Netflix says it will spend just 5 percent of its content budget on original programming, the strategy has far more than 5 percent to do with the fate of the company. "When we started it a year ago, we viewed it as a strategic experiment," Hastings says. "Now we view it as a strategic direction." Tony Wible, an analyst with Janney Montgomery Scott, described it as "a race against time."
As Sarandos crunches the numbers on originals, Wall Street is crunching the numbers on Netflix. His extreme expenditures on content—a planned $3.7 billion over the next five years—represent either a massive protective moat or a hole deep enough to drown in. "That kind of sums up the Netflix story," says Piper Jaffray analyst Michael Olson, who favors the stock. "There are major risks, and major opportunities. From the Wall Street perspective, it's one of the most black-or- white stories out there. You're totally on board, or you think that the story is totally unraveling."
In Las Vegas, in April, Sarandos took the stage at the National Association of Broadcasters' annual conference to explain Netflix's bet on originals, and to trot out some of the talent he had amassed, including nearly the entire cast of Arrested Development. Afterward, over oysters and king crab legs at the Wynn casino, the actors reflected on the strange fact that it was Netflix, of all outlets, that had brought their show back from the dead. Mitch Hurwitz, the show's creator, said that fans had begged him to pick Netflix over another suitor, Showtime. He wanted to write the densely layered show even more intricately because it was on Netflix, he explained, where subscribers would be able to re-watch episodes instantly—and repeatedly—to catch the jokes they'd missed.
He was grinning maniacally at actor Jeffrey Tambor, who wore a hangdog expression—his usual look, familiar to fans of the show. "This is the new thing, the next thing," Hurwitz said, playing at pepping Tambor up. "They coulda gone with someone else. But we're in it! We're in it!"
Netflix's Coming Attractions
Lilyhammer
In the first Netflix series to stream, Steven Van Zandt plays a mobster in witness protection. Every episode went online at once.
House of Cards
Executive producer David Fincher and star Kevin Spacey make this political drama Netflix's prestige program.
Hemlock Grove
A horror series from Eli Roth, starring Famke Janssen and based on the werewolf novel by Brian McGreevy.
Orange Is the New Black
Jenji Kohan, the creator of Showtime's Weeds, is behind this comedy set in a women's federal prison.
Arrested Development
Jason Bateman and the Bluth family are back, in new episodes of this cult hit (canceled by Fox in 2006).