Mother Reunited with Teddy Bear Containing Her Baby's Ashes
A Florida woman has been reunited with a stuffed animal containing the ashes of her late son.
Vanessa Reid's son, Azaiah, was born in 2015 with severe kidney problems and lived for just two days. Reid, who lives in Port St. Lucie—about 90 miles north of Ft. Lauderdale—wanted a special way to remember her child.
"They cremated him and they put his ashes in, like, a little heart. And they put it inside the teddy bear," she told WYFF.
During a trip to Duffy's restaurant in May, Reid's 2-year-old daughter left the bear behind. It was soon put in the eatery's lost and found, according to assistant general manager Brandon Cooper. "It was brought to our office that evening, and it sat in there for a couple of weeks and we almost discarded it."
But then the staff saw what was inside the bear.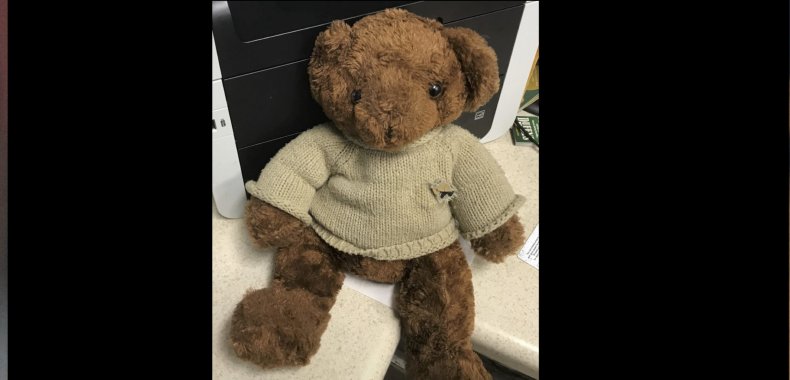 The wife of an employee posted about the doll on Facebook, hoping to find a lead on its owner. "This special bear contains the ashes of a loved one as per a container found on the inside," she wrote. "I know this bear is of significant value to someone. Please help us find his owner!"
Shared nearly 4,000 times, the Facebook post finally reached Reid's sister in June.
"She was like, 'Hey, is this your teddy bear you have been looking for?'" recalls Reid. "I was like, 'Yes! My God,'"
A grateful Reid went back to Duffy's to pick up the bear.
"I'm just grateful for them, you know?" They didn't have to reach out, and it was nice of them," Reid said. "I feel better and I got my baby back."
The restaurant shared news of the homecoming in a followup Facebook post.
"Our genuine thanks and heartfelt love goes out to everyone involved in this special reunion... Because of you all, the mother this bear belongs to has been found. Thank you for helping this precious baby boy be reunited with his mom and his home. I'm sure we can all share our deepest condolences for this Mother's loss and understand the significance of this bear to his mother."
Teddy bear cremation urns have grown in popularity as a tool to help children cope with the loss of a loved one. According to the Neptune Society, one of the largest cremation services in the U.S., "Most children are very familiar with the idea of a teddy bear, and teddy bear urns can allow them to learn about the concept of losing someone in a way they can understand."
The bears can given children, "something tangible they can snuggle and hold while coping with their grief."