Teen Arrested After Mom Reports Seeing Him Carrying Gun Into School: Police
A Texas teenager was arrested Friday morning after his own mother reported him for seemingly attempting to take a gun to school.
Police in Lubbock, Texas, confirmed the incident to local news station Everything Lubbock, reporting that the mother had been dropping her 15-year-old son off at O.L. Slaton Middle School around 9 a.m. At this time, police said she then noticed that her son was carrying a firearm with him and reported him to law enforcement.
In response, the middle school was temporarily put into lockdown while several police agencies responded to the scene. The boy at one point attempted to flee the scene, but was later apprehended by officers with the Lubbock County Sheriff's Department and the South Plains Auto Theft Task Force.
"The juvenile never made it inside the building and no threat was made to the school or anyone inside the school," a statement from the Lubbock Police Department read, according to Everything Lubbock. "The juvenile was located in the 3300 block of Avenue P just before 10:00 a.m. and was taken into custody."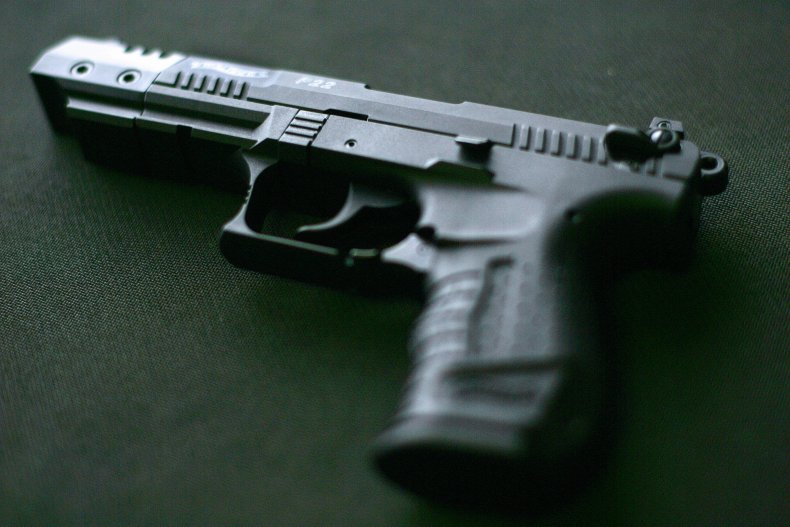 The boy, whose name has not been publicly disclosed due to his status as a minor, was booked at the Lubbock County Juvenile Justice Center. He currently faces a third-degree felony charge of "place weapon prohibited."
"We want to reiterate no threat was made to O.L. Slaton or anyone inside the building," the police department's statement continued, according to Everything Lubbock. "The school was placed on a lock-out for a total of eight minutes. Any additional information about the lock-out will need to be directed to Lubbock ISD."
The identity of the mother, who reported her son, has also not been publicly disclosed at this time. It is unknown what sort of firearm her son was allegedly attempting to bring to school.
With a population of around 257,000, Lubbock is the 11th most populous city in Texas, and is located roughly 320 miles west of Dallas.
Newsweek reached out to the Lubbock Police Department for comment.
O.L. Slaton Middle School has not been a stranger to grim news in recent years. In April 2017, a female eighth-grade student was found unresponsive behind the stage curtains in the school's auditorium, according to KCBD News. EMS workers responding to the scene were unable to revive her and she was pronounced dead at the scene. Police at the time did not suspect foul play in her death.