LAPD Arrests Teenage Protester Dangling Donut on a String Outside Mayor's Home
A teenager was arrested in Los Angeles after dangling a donut on a string in front of police officers during a protest outside Mayor Eric Garcetti's home.
Hundreds of protesters had gathered outside Garcetti's home in the city's Windsor Square neighborhood on Saturday, The Los Angeles Times reported, demanding he cancel rent amid the ongoing coronavirus pandemic.
The Los Angeles Police Department (LAPD) took three people into custody and cited two others for being a "pedestrian in a roadway" during Saturday's demonstration, an LAPD spokesman told the newspaper.
One person was arrested on on suspicion of battery on a police officer, another was arrested on suspicion of resisting arrest, and a third person was arrested for allegedly trying to free an arrestee.
Newsweek subscription offers >
Ian Carr, an organizer with grassroots nonprofit Ground Game LA, said one of the people detained was a teenage boy who had dangled a donut on a piece of string in front of police outside Garcetti's home.
Newsweek subscription offers >
Carr told The Times that the teenager had run backward away from officers, but they had grabbed him and held him down in the back of a vehicle. Carr said he didn't see the teenager harm any officers.
Jordan Blakeman, a protester who writes for Knock.LA, a journalism project launched by Ground Game LA, said other protesters were screaming that the teenager has epilepsy.
"He was absolutely being hurt, from the pitch of his screaming," Blakeman told the newspaper.
Congressional candidate David Kim wrote on Twitter that protesters were forced to leave thee area after LAPD officers started kettling them.
But protesters again gathered outside Garcetti's home early Sunday morning, calling for the police department to be defunded—a call that has been echoed at protests that have taken place across the county since the death of George Floyd, a Black man, in Minneapolis police custody in May.
"If we don't get no justice, then you don't get no sleep," Ground Game LA tweeted alongside a picture of the scene.
The LA chapter of Black Lives Matter tweeted: "We're in front of@MayorOfLA's mansion RIGHT NOW. Early Sunday morning wake up call on the heels of his announcement that he's chartering a new, permanent LAPD Bureau appropriating our call to #ReimaginePublicSafety #DefundThePolice doesn't mean fund the police."
The LAPD, Ground Game LA and Garcetti's office have been contacted for additional comment.
Activists across the U.S. have been calling for rent payments to be canceled after millions of Americans were thrown out of work and left struggling financially amid the ongoing coronavirus pandemic.
In California, Gov. Gavin Newsom banned the enforcement of eviction orders with an executive order in March, but many said it didn't go far enough to help people unable to afford to pay their rent.
And with the moratorium set to expire, many fear an eviction crisis is looming and are demanding action to prevent renters from losing their homes.
Last month, Garcetti introduced a new emergency rent assistance program for Los Angeles residents.
The program allocated $103 million to provide a rent subsidy to Los Angeles City renters impacted by the COVID-19 pandemic and was anticipated to assist 50,000 households.
Garcetti billed it as the "largest rent assistance program in the country," saying it would provide $2,000 to the hardest hit households, according to CBS Los Angeles. "It gives financial relief not only to those who rent, but those who rent to them," he said.
Garcetti said the program's funds weren't going to be allocated on a first come, first served basis so renters need not worry. But according to the program's website, the window for applications is already closed.
"Unfortunately, due to the economic impact of COVID-19 on Angelenos, the demand for rental assistance exceeds the available funds," a statement on the program's website said.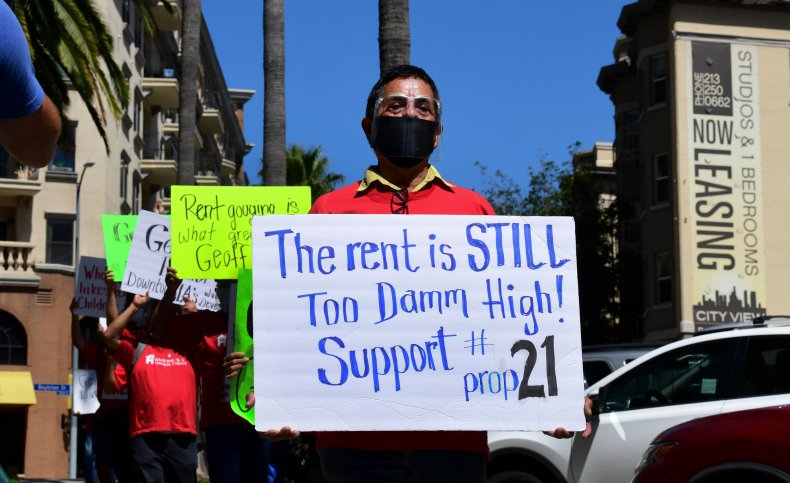 LAPD Arrests Teenage Protester Dangling Donut on a String Outside Mayor's Home | U.S.