A video of a teenager asking his girlfriend to prom with braille made from chocolate has gone viral, amassing more than a million views on Twitter. The video resurfaced this week after originally gaining widespread attention in February 2020.
The video sees Jake Schwartz, who was a high school junior at the time, ask his girlfriend, Paige Drury, who is blind, to go to prom with him by getting her to read what he had written in braille.
Drury reads the message made from Hershey's Kisses and says: "Wait, that's a 'P'...'R'...'O'..." before gasping when she realizes Schwartz is asking her to prom.
When the video first went viral last year, Today reported that the couple from Glastonbury, Connecticut, had been dating since ninth grade.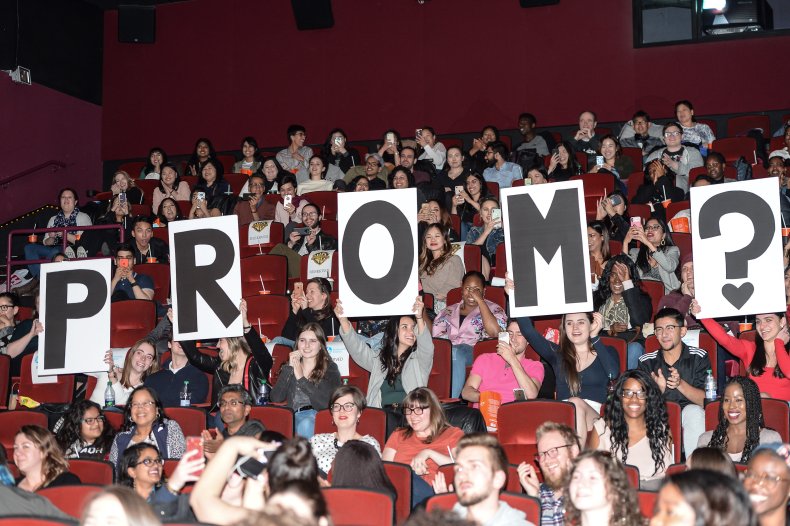 Schwartz said he initially told Drury that he wanted to exchange Valentine's Day gifts during a play rehearsal at the high school, but instead surprised her with the proposal.
Schwartz told Today: "It felt like the cutest thing to do. I've seen very cute promposals from upperclassmen at my school, and not to be outdone, I wanted to do something similar. I decided to write a message in braille because I felt it would be more personal."
He said that after the proposal, they were met with applause from the rest of the cast, and described the moment as "pretty surreal."
Drury told Today: "I thought the promposal was really awesome. Since it's only February, I really wasn't expecting it to happen at all, which made it even better. It makes me feel so happy that someone cares about me enough to make the moment as special as possible."
Newsweek has contacted Drury for comment.
The video of the promposal resurfaced this week when it was reposted on Twitter by @buitengebieden_, an account that shares heartwarming videos, before being reshared by Rex Chapman in a tweet that has amassed more than 28,000 likes. At the time of writing, the video has been viewed a million times.
Erika Schwartz on Twitter, who says she is Jake's mom, replied to the viral video and said: "Sadly they didn't go last year due to COVID, but they are still together as seniors and hoping for a 'prom like' celebration in a few weeks!"
Viewers were delighted by the video, like journalist Jeremy St. Louis who said: "The joy in him that she said 'yes' is just ... I felt that when I was his age. This brought back a few things, Rex."
Twitter user @IamHarmony said: "Just by watching the video, I could sense how pure their love is. It's gentle and sweet. The young man really loves her. I hope they will have a wonderful prom," while Twitter user @Sherriqotu said: "This was the sweetest thing! (Pun not intended!) I loved the way he hugged her when he asked if that was a yes!"