Teen Captures Extremely Detailed Image of the Moon by Combining 50,000 Different Photos
One talented teen has become a favorite online after sharing his impressive and extremely detailed photo of the moon itself. Prathamesh Jaju, a 16-year-old resident of Pune, India, says the image is a composite that took more than 50,000 shots and over 40 hours to create.
The crystal clear photograph uses components of thousands of shots taken over a four-hour period and then processed for another 40. First shared on Reddit by Jaju, the photo shows craters, textures, dips, shadows, and a variety of colors among other details the naked human eye isn't able to see.
"On May third, I went on my terrace at around 1 p.m. and took multiple shots of the moon on different portions and stitched them together," Jaju told Newsweek. "I have a telescope which is automated, it tracks the objects according to the earth's rotation, I used it to capture the moon's movements."
Jaju, a sophomore in high school, introduced himself on Reddit as an "amateur astrophotographer." He said he taught himself astrophotography by watching Youtube videos.
"This is my most detailed and clearest shot and my best work of the third quarter Mineral Moon. I captured around 50,000+ images over 186 GigaBytes of Data which almost killed my laptop with the processing," he wrote in his Reddit post.
He shared the processing details in the same thread, giving a list of software he used. "Captured in Sharpcap, Stabilized, and Debayered in PIPP, stacked in AutoStakkert, Sharpened in Registax and IMPPG, Stitched and Post-processed in Adobe Photoshop. Local Adjustments made in Lightroom and Snapseed."
The teen credited the advanced setup to his father, who works with computers at his job.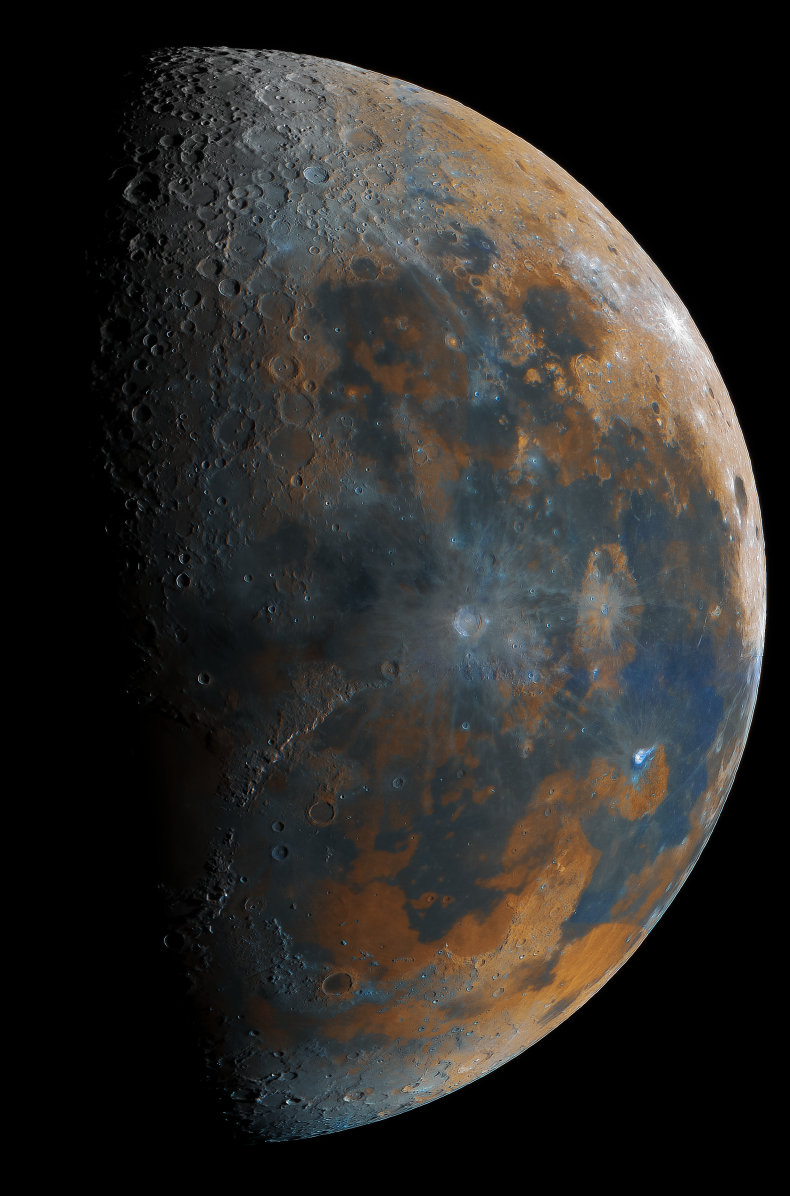 A fascination with Star Trek and Star Wars initially led Jaju to become interested in astronomy, and he eventually joined an astronomy club called Jyotirvidya Parisanstha (JVP) at the age of 12, where his photo-taking aspirations began.
"JVP is India's oldest association of amateur astronomers that organize stargazing sessions and astronomy exhibitions," he told Newsweek. "It was there where I learned almost everything about astronomy."
To capture his amazing shot, Jaju studied the moon's positions and determined May 3 to be the ideal time to shoot.
"There are four quarters, the first quarter is the first half-moon then the full moon then the third quarter, and then this is the last quarter moon," he explained to Newsweek. "It was my plan to shoot the moon in November, but because of my school exams, I couldn't do it."
Jaju said he has been receiving calls from notable photographers and requests for prints from all around the world since this original post. One commenter on Reddit suggested he submit the photo to National Geographic's community photos campaign, while others suggested he send the photo to multiple annual photography contests.
"I was gonna say "do you work for NASA?" before I saw your comment. no, you do not. you are 16 years old. and you did this on your laptop. this is mindblowing, amazing work!," commented one user on Reddit.
Jaju plans to keep photography as a hobby and pursue a career in physics.