Teen Dies After Being Thrown From Bull and Crushed at Rodeo
A teenage boy died as a result of a cardiac arrest after he was reportedly thrown by a bull at a North Carolina rodeo.
The victim, named by his family as Denim Bradshaw, 14, reportedly fell from the animal at the event before it crushed him.
Emergency Medical Services (EMS) in Stokes County were alerted to reports of a cardiac arrest at a Rafter K Rodeo Company, LLC event in King at about 8:24 p.m. on Saturday, January 28.
Despite two EMTs performing life-saving measures at the scene, the teenager was taken to a nearby hospital where he was later pronounced dead, according to Fox 8.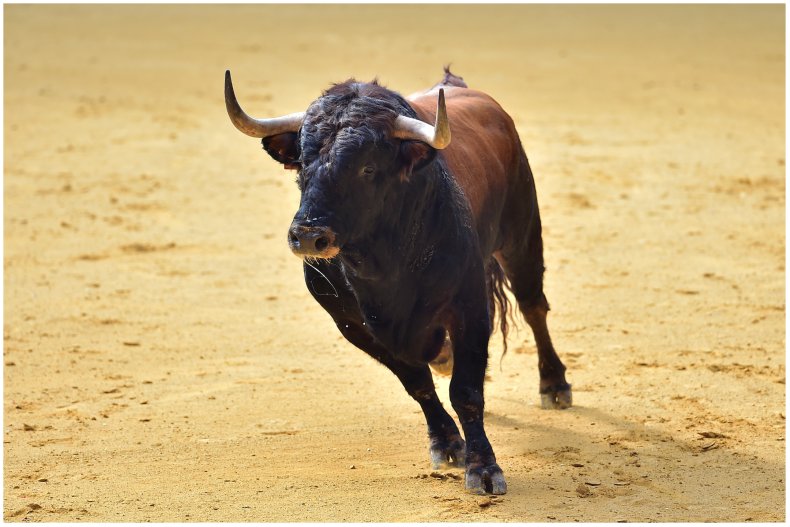 A photo shared online showed several people kneeling at the rodeo in a sign of respect after Bradshaw suffered the cardiac arrest.
Bradshaw's mother Shannon Bowman paid tribute to her son in a Facebook post following his death.
She said: "Last night was the longest night of my life!! My beautiful handsome 14-year-old son had went to be with the Lord. I awoke in a nightmare for the rest of my life.
"I hate myself for this call but he was loving every second of it I never seen him so happy as I had seen him last night before his departure.
"Denim baby you did it. You did that. I'm so proud of your braveness and your courage. My lil cowboy, I will love and miss you so much and I know God will take care of you."
Bowman then called for there to be on-site EMTs at rodeo events.
Bradshaw's uncle, Shaun Renn, said in a Facebook post on Sunday: "Well my mother just called and my little nephew then I wanted to go for the bull riding contest and he fell off and then the bull came and crushed him and he just passed away rest in peace denim Bradshaw I'm so sorry it happened to you you're too young."
A spokesperson for Rafter K Rodeo Company, LLC said in a post uploaded to Facebook on Sunday that there were EMTs at the event: "Everyone here at Rafter K Rodeo Company, LLC would like to give our sincere condolences to the family and friends of the bull rider, Denim Bradshaw.
"Our sport is truly a family and we are so thankful for everyone that was there to help. We are thankful for our on-site EMTs, paramedics, and law enforcement that work so hard to care for the cowboys.
"This is a tragic event and words cannot describe the pain felt by this loss. We ask everyone to come together and pray for his family for comfort and healing in this difficult time."
Several other organizations paid tribute to Bradshaw and offered their condolences to his family.
The Sauratown Trailblazers Horse Club said: "The Sauratown Trailblazers send their condolences and prayers for the family and friends of Denim Bradshaw, the 14-year-old bull rider who lost his life last night at the rodeo in King.
"We also are thinking of the people who were there and saw it, along with the first responders who did their best to help."
Rodeo Injuries
A June 2022 study published in the Kansas Journal of Medicine stated it had identified 70 patients who had been injured at rodeo events over a 10-year period.
It added: "Half were injured by direct contact with rodeo stock and 34 by falls. Head injuries were most common, occurring in 38 (54.3 percent). Twenty injuries (28.6 percent) required surgery. Sixty-nine patients (98.6 percent) were discharged home. There was one death."
The study also found serious head injuries occur in rodeo athletes at a rate of up to 15 per 1,000 rides. In comparison, the study stated professional football players suffer serious head injuries at a rate of 5.8 per 100,000 players.
A GoFundMe campaign has been arranged on behalf of Bradshaw's family following his death.
The campaign, organized by Bradshaw's sibling, Persephone Bowman, said: "He got to ride his first bull on January 28th, and his excitement was palatable. None of us could believe that this first ride would cause his death, and we are beyond devastated. Our sweet 14-year-old boy lost his life during what was the most exciting moment of his short life, and we are now lost without him.
"Denim always had a sparkle in his eye and a smile on his face lighting up every room he walked into. He had dreams of becoming an officer with his dog Aphora. To know Denim was to love him."
Since being set up on Sunday, the GoFundMe campaign has raised more than $5,000 out of a $15,000 goal.
Bradshaw is survived by his mother, Shannon Bowman, his father Billy as well as his siblings, Braxton Knight, Triston Knight, Persephone Bowman, and Daylin Scott.
Newsweek has contacted Bradshaw's family and the Stokes County EMS for comment.
Updated 01/30/2023, 10:25 a.m. ET: This article was updated with additional comments from Bradshaw's mother and details about the cardiac arrest.