Teen Admits Dumping Deer Heads Near Biden and BLM Signs Was 'Really Stupid,' Police Say
A teenager who left severed deer heads near Biden/Harris and Black Lives Matter signs in Oregon last year has told police it was a "really stupid" move.
Police in Lake Oswego said the two deer heads, which were dumped on lawns in the Palisades neighborhood, were reported to police hours apart on October 29.
The following month, the department announced that 19-year-old Thomas Jakmauh had been charged with two counts of second-degree disorderly conduct and two counts of offensive littering.
Jakmauh pleaded guilty to one count of disorderly conduct in Clackamas County Circuit Court last week. The other charges were dismissed.
He was sentenced to a year of probation and must complete 40 hours of community service by August.
Jakmauh initially denied dumping the deer heads near the signs when questioned by officers on November 3.
He claimed he had brought the deer heads to a friend's house to cut off the antlers after returning from a hunting trip in Saddle Mountain, and said he discarded the heads in the trash.
According to a transcript of the police interview, Jakmauh later admitted his involvement after an officer indicated that he wasn't being honest.
"It was me," he told police. "I-I-I put the deer heads out in front of the Joe Biden signs. I did not put it in front of the Black Lives Matter sign," he said. "It may have been next to the Black Lives Matter sign, but it was meant to be in front of the, uh- uh, Biden Harris signs."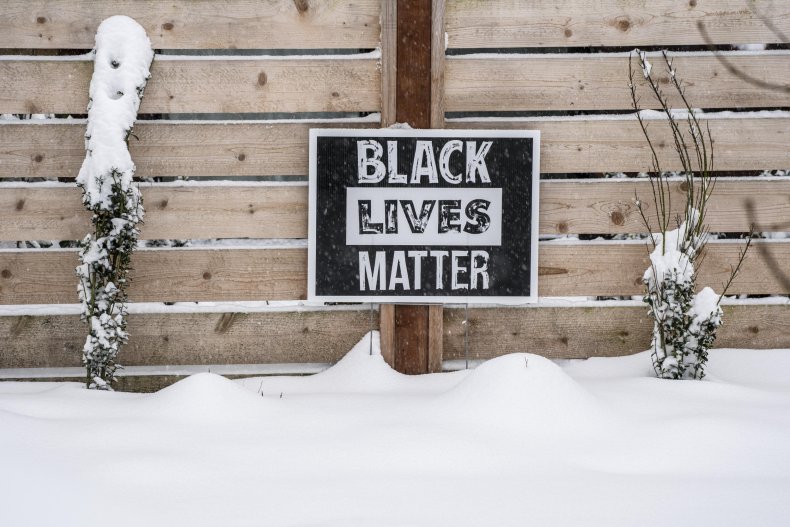 Police learned that Jakmauh dumped the deer heads on two properties while giving his friend a ride home on October 28.
The friend had urged him not to do it, but Jakmauh said he left the heads where he did because he doesn't like Joe Biden. He admitted that he had drunk too much that evening and called it "just a really stupid decision."
Jakmauh told police he was "not thinking straight" and felt bad about what he had done the following morning.
He said he later told his mother about what had happened. Asked about her reaction, Jakmauh told police she "chuckled" and "thought it was a little funny," but was then "pretty upset with me."
Kathleen Lant, who had a deer head dumped near her Black Lives Matter and Biden/Harris signs, told Oregon Live that she was disappointed by the outcome of the case.
She said she doesn't believe the incident was political, but a hate crime since one of the deer heads was placed right next to a Black Lives Matter sign.
"What Mr. Jakmauh had done was racist, violent, and threatening," Lant wrote to the court. Lant is white, but said she has two Asian American daughters who have experienced racism in school.
Lant could not immediately be reached for additional comment. The Clackamas County District Attorney's Office and the Lake Oswego Police Department have been contacted for comment.