Teen Girl Died From 'Chewing Too Much Gum,' Devastated Mom Claims
A teenager's devastated family claims that her life might have been taken by her addiction to chewing gum.
In the days leading up to the 10th anniversary of the tragic death of Samantha Jenkins of Felinfoel, South Wales, her mother voiced her own opinions that excessive gum chewing is what killed her daughter, citing the autopsy's discovery of "four or five bright green lumps" of gum in her system at the time of death.
Jenkins was just 19 when she suddenly died on June 3, 2011. According to a report from Media Wales, she had gone out with her sister for lunch and a soda on a particularly "boiling" hot summer day.
"I remember it like it was yesterday," her mother, Maria Morgan, told the outlet. "Sam—as a typical 19-year-old—had skimpy shorts on and a T-shirt. They went to lunch and came home. Sam came downstairs and came into the living room. As the evening went on, she said: 'I don't feel well' and then she said 'I have been to the Co-op and I bought myself pop and it's gone right through me.'"
Morgan offered some tea and water to hydrate her daughter, but Jenkins reportedly could not "even pick [her] bottle up, it [kept] falling on the floor." When she went upstairs to grab a blanket, panic set in when Morgan heard a massive thud from her daughter's bedroom.
Morgan even claimed her daughter morosely asked, "Is this what it's like to die?" before her family rushed her to Llanelli's Prince Philip Hospital.
"[The doctors] took her up to the ward and she started convulsing," Morgan told Media Wales. "They called me in and said because she was fitting so much, they couldn't get the medication into her that they needed and so they put her into an induced coma. They said her salts were so low and they needed to get them back up because they thought that was why she was fitting."
Tragically, Jenkins' condition only worsened, and she was ultimately transferred to the hospital's neurological wing before her untimely death.
"They took her off the machine, but she had gone into a coma herself," Morgan told Media Wales. "We were basically told as far as they could see that something had poisoned her. It was just about trying to fathom out what it was so they could possibly save her."
She was pronounced legally brain dead and extraordinary measures of life-sustaining care were withdrawn.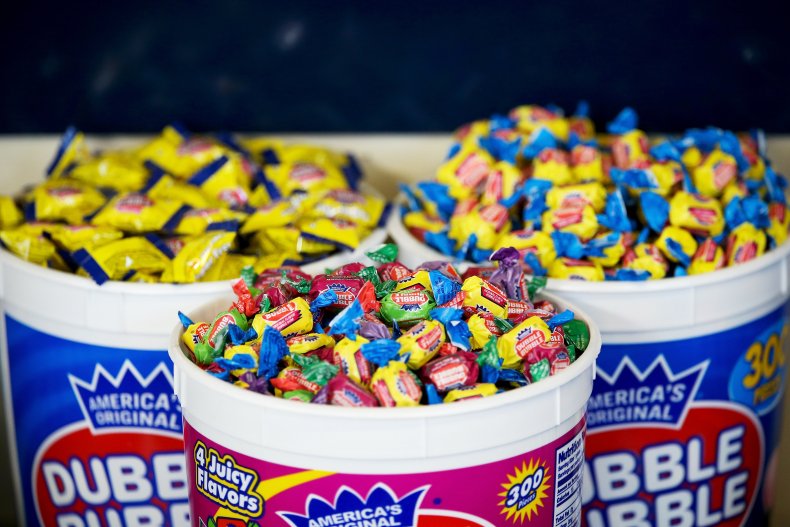 In light of her death, Morgan and her family tried brainstorming what could have "poisoned" Jenkins as the doctors had believed. They went back and forth between logical explanations, before Morgan's other daughter, Sophie, mentioned that she had seen her sister using an increased amount of chewing gum.
"Me and my daughter went into her bedroom and just emptied everything and went through everything in her bedroom to see if I could find something," Morgan told the outlet. "Every bag that she had and every drawer in her bedroom there were chewing gum wrappers, empty chewing gum boxes. Every handbag had receipts at the bottom of it where she would buy chewing gum.
"I didn't realize that she was chewing every single day of the week and as many as she was, but then, even if I did, I don't even know if I would have been alarmed by it."
In 2015, a formal inquest into Jenkins' death was honored, and the formal autopsy believed the official cause of death was "cerebral hypoxia caused by convulsions and electrolyte depletion," according to the report obtained by Media Wales. She also "had a severe magnesium, potassium, sodium and calcium deficiency," which Morgan believes is connected with her chewing gum habit.
According to a report from Healthline, excessive gum chewing can lead to a host of health problems, including irritable bowel syndrome, temporomandibular disorder, migraines and oral hygiene issues. Morgan noted that in light of Jenkins' death, she felt her Facebook posts about poor sleeping habits and headaches were directly connected to the gum chewing.
Morgan also claimed that because it could not be definitively proved to have caused her daughter's death, the chewing gum was said to have "aided" in her death.
Sunday will mark 10 years without Jenkins, who would have turned 30 this year. Morgan recalls her daughter as a "bubbly, vivacious, fun-loving" person, according to Media Wales.
"I still can't get my head around it 10 years down the line....It is just so maddening that she didn't know what she was doing to herself," Morgan said.
She also noted in her statement to Media Wales that she has not touched chewing gum since, and since her daughter's death, she has suffered from "anxiety and...nerves."
"It's been horrendous," she said. "Before she died, I was very similar to Sam, very bubbly, laid back, but I'm the opposite now."
Newsweek was unable to reach Morgan for additional comment.
Morgan is not the only person suspicious of the effects of chewing gum. In 2018, an increase in a deadly superbug known as clostridium difficile was connected to the processed sugar found in chewing gum and other sweet packaged goods. Another study in 2019 showed that humans inadvertently consume thousands of microscopic pieces of plastic particles annually, in part due to certain types of gum.