Teen Girl Pleads Guilty for Plan to Attack Black Church
Georgia teenager Caitlyn Pye entered a guilty plea on Thursday for planning an armed attack on a Black church in Gainesville.
Pye had created plans to attack members of the Bethel African Methodist Episcopal Church in November 2019. School resource officers were alerted to the notebook's existence and placed Pye into custody. Along with the notebook, two t-shirts were discovered emblazoned with references to white supremacist ideology and convicted mass shooter Dylann Roof. According to Gainesville police, Pye had already secured the knives she planned to use during the attack. Pye had visited the church twice on nights when no services were occurring.
"I am very sorry," Pye said during Thursday's sentencing. "I want to let you know it was a mistake."
Pye pleaded guilty to one count of criminal attempt to commit a felony. Now 17, Pye was ordered to be placed in detention at the Department of Juvenile Justice until she turns 21, after which she is expected to serve 10 years of probation. Pye was also ordered to stay away from AME churches in Georgia.
Prelate of the Sixth Episcopal District of AME Churches Bishop Reginald T. Jackson said during the hearing that they did not carry hostile feelings towards Pye.
"While we are angered and frustrated by this incident, we do not hold hostility against this defendant," he said, according to the Gainesville Times. "While she apparently hates or hated us, we do not hate her and do not wish to nullify her future and do not give up on her."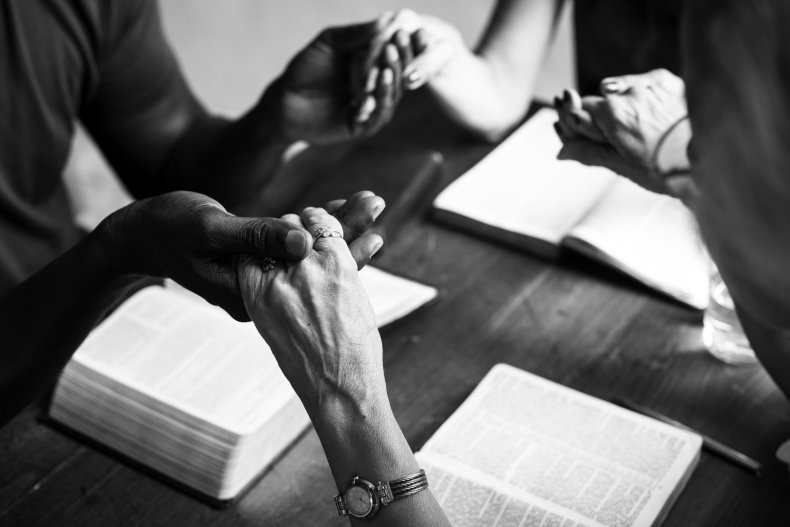 "The sentence imposed in this case is significant and reflects that hate, racism and white supremacy have no place in Gainesville, GA," Northeastern Judicial Circuit District Attorney Lee Darragh said in a statement emailed to Newsweek on Friday. "Through the eloquence of the pastor of Bethel AME and the Bishop, we all are reminded of the deep impact that these unwelcome concepts have on the black community. I am thankful that no one was injured physically by Ms. Pye. It is my fervent hope that the Bethel AME church may always be able to worship in peace."
Dylann Roof, whose name was found written on a t-shirt in Pye's possession, was sentenced to death after fatally shooting nine Black members of the Emanuel AME Church in Charleston, South Carolina in June 2015. Roof was the first individual to receive a federal death sentence for committing a hate crime.
In a journal discovered by investigators, Roof wrote that he "would love for there to be a race war."
Roof was allowed to act as his own legal counsel during his trial after firing his lawyers. In his January 2017 closing arguments, Roof told the court that he felt like he "had to" go through with the shootings "and I still feel like I had to do it."
In January, a legal team representing Roof filed an appeal with the U.S. Court of Appeals for the 4th Circuit which claimed that Roof was mentally ill and should not receive the death sentence. According to the filing, Roof was a "22-year-old, ninth-grade dropout diagnosed with schizophrenia, autism, anxiety, and depression, who believed his sentence didn't matter because white nationalists would free him from prison after an impending race war."
Updated (6:51 p.m. EST, 10/23/2020): This story has been updated with a statement from Northeastern Judicial Circuit District Attorney Lee Darragh.