If you grew up a few decades ago, chances are you'd spend your evenings lying on your bed chatting to your friends on your flip phone, or writing in your diary with a fluffy pen.
Nostalgia for the 1990s and early aughts is at an all-time high, with the fashion coming back, as chunky sandals, hair clips, bucket hats and wide-legged trousers soar in popularity.
And before the internet (yes, there was such a time) you had magazines, which you'd trade with your friends.
Bus rides, lunch breaks and nights-in would be spent flicking through the latest edition, reading celebrity gossip, romantic dramas and wardrobe must-haves.
A woman, named Jade Buchanan, has been delving through the back catalogue of classics from the era, including Seventeen, Girlfriends L.A. and YM.
Buchanan, from North Carolina, told Newsweek she's been collecting 90s nostalgia and Y2K pieces for years, and she's always on the lookout for more to add to her collection.
"I have hundreds of vintage magazines in my collection, including issues of Sassy, YM (my favorite magazine!), Seventeen, Teen Magazine, CosmoGirl!, Teen People and Tiger Beat. Many of them I've kept from when I was a teenager, but I also regularly scour eBay/estate sales/antique or thrift stores/Poshmark etc. for back issues that I'm missing."
The 38-year-old explained she started sharing clips to her TikTok account during the pandemic, and now has hopes of transitioning from her job as a retail manager to creating content full-time, and recently set up a YouTube account, @shinypretties.
She added: "I think my audience enjoys the magazine throwbacks/flip-throughs as much as I do, because it launches us back into our most formative, hopeful, & stress-free years; when the entire world was in the palm of our hands and everything was exciting and new! Each generation feels that way about their youth, but I can't help but feel that Millennials have even more of a soft spot for nostalgia. You can see it in marketing, across social media, just about everywhere! And, while we navigate through these insane times, we need that little shred of joy, no matter how big or small.
"Fortunately, I've been able to also appeal to Gen Z, as SO many trends from the 90s/2000s are now coming back; they love to see the accuracy of what was actually happening as opposed to a corporate reimagining of it which is why I believe the Delias/Girlfriends LA videos do so well! I enjoy sharing my collection more than anyone could realize!"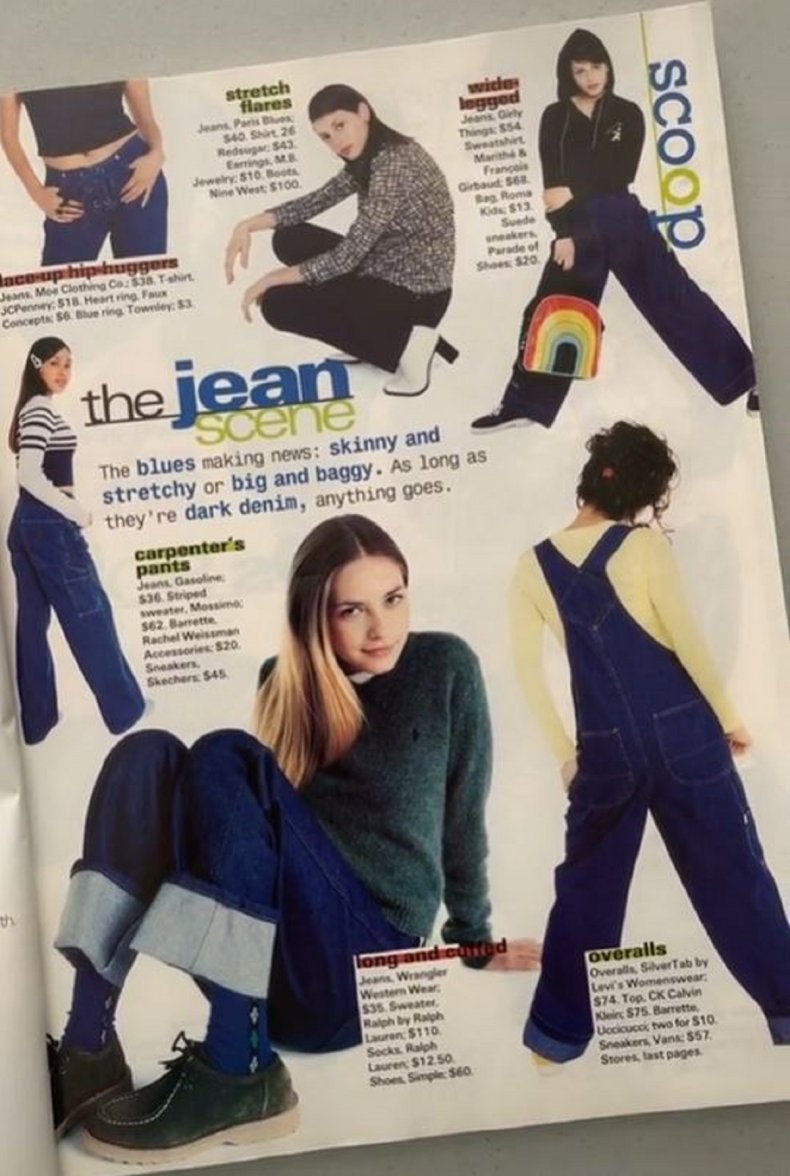 Buchanan, whose TikTok account, @shinypretties, states she's a "magazine queen" dedicated to "80s/90s/2000s Nostalgia," shared a video on Monday as she flicked through a 1996 copy of Seventeen.
"This was my favorite issue of @seventeen magazine, hands down," she captioned the video, with the cover revealing the issue was packed with "my surprise summer love," "must have jeans," "hair fresh new looks" and "everything cool for school."
Buchanan narrates the clip, saying: "Let's take it back 25 years, I've got an issue of Seventeen from August 1996. This is our massive fashion issue, you know it's got to be good.
"Let's take a look and see what was going on. So many ways to wear blue jeans, I'm here for it. Square toes and chunky heels have all of us in a choke hold."
"Very important question, which Charlie girl were you?" she says, referring to the iconic ad for perfume.
Continuing to flick through the page, she says: "So many tech accessories. So many lip flavors. This was such a specific genre of jewelry, like if you know, you know.
"I got this exact brush tangled in my hair in 8th grade. Have not recovered mentally or physically. Who remembers Hang Ten?
"Very specific but this Coke ad always looked like so much fun. Duncan Sheik, need I say more. I know for a fact you still remember this ad," she says pointing to an L.A. Gear ad.
She carries on through the mag, saying: "The 1996 Teen Pac is finally here, thank god. Hard Candy was the nail polish. You got this little ring, the colors were so cute.
"Not much has changed in the way that I still want to wear my boots like this every single fall."
The clip, which can be seen here, amassed more than 100,000 views, as people commented on how much it reminded them of their youth.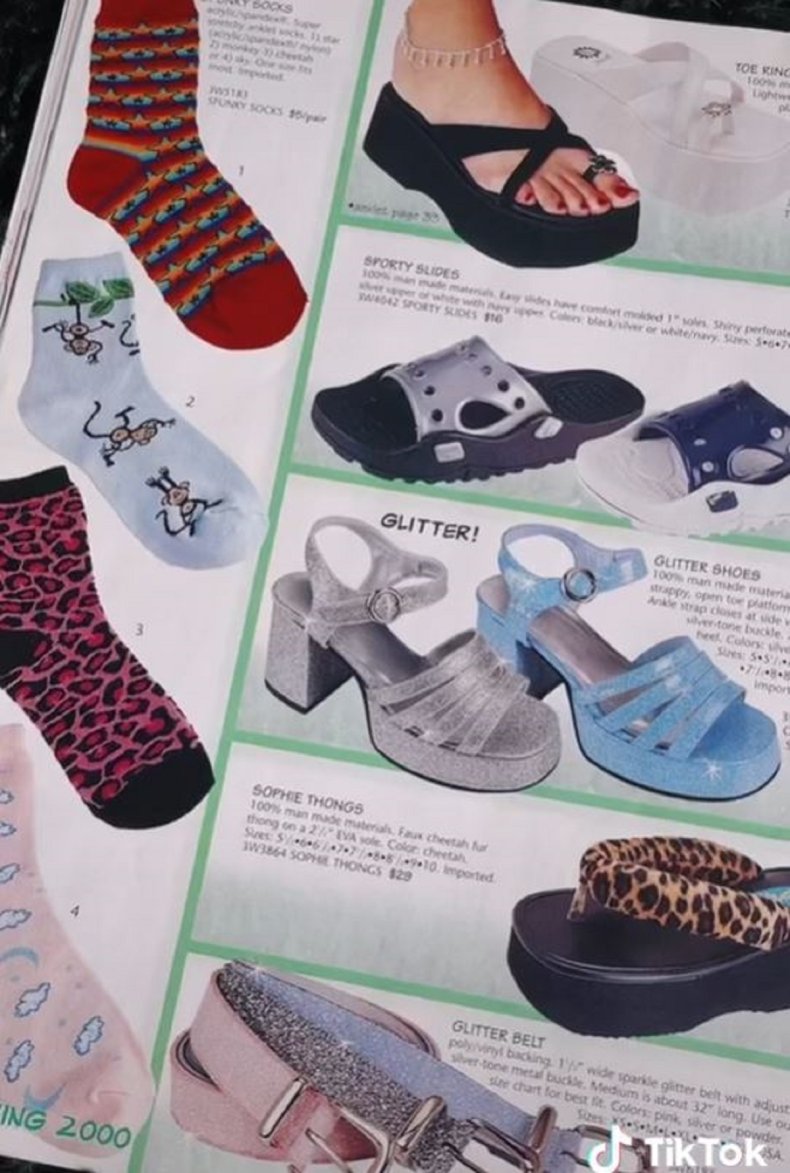 Birdie joked: "Ma'am, the cover of that magazine is a great example of why I now have no eyebrows 25 years after graduation."
"In my mind me and my sister were flipping through these only ten years ago, I don't want to acknowledge the math," @mrseightieslovin wrote.
Summerjakaitis1984 said: "This whole magazine brings back major memories for me. I remember pouring over this issue over and over and I kept it for years."
Ameliavin97 added: "Wow I'm seeing a lot of this back in the fashion industry today."
An edition of Girlfriends L.A. from spring 2000, which has amassed more than a million views, shows off bucket hats, printed T-shirts and "Y2K cottage core," Buchanan explained.
She says: "These little long skirts with tees, a match made in heaven. This was definitely around the time when things had just got very business casual for some reason, but we were here for it... The footwear, honestly, immaculate, dangerous, but immaculate."
In another clip Buchanan shared earlier this month, she is looking through a 1997 copy of Seventeen, which she captioned: "Let's take it back to #1997 again, y'all!" The cover reveals inside are "hot holiday looks" and "guy expectations how to get what you want."
Inside she gushes over a cute manicure set, and a competition to win tickets to the 1998 MTV Video Music Awards in New York.
"Look at these cute holiday dresses," she says, spanning a page of strappy camisole-esque frocks. And she goes on to describe an ad for Dream Phone, Girl Talk and Mall Madness as the "absolute building blocks of the perfect slumber party."
A September 1997 version of Seventeen has a photo of Leonardo DiCaprio on the cover, while the cover promised to answer questions such as "is he boyfriend material?"
As she thumbs through the pages, she stops at the fashion, saying: "So many toe rings. So many butterflies.
"I mean this was it. This was the look. A lot of sweaters and a lot of stripes... These little bucket hats. Sensible brown and plum. They were having their day in the sun. And we were seeing a lot of 70s prints too."
Teen People from 2000 has Justin Timberlake, Eve and Mandy Moore on the front, as the edition is dedicated to the 25 hottest stars under 25.
"This is honestly an accurate depiction of teen fashion during this time," she says, as she also declares cinnamon-flavored cereal was enjoying its heyday, along with jelly candles, while she stops at an interview with American Pie stars Jason Biggs and Mena Suvari.
An Us Weekly from 2002 has Britney Spears on the cover, with the headline: "Britney & Justin. Did she betray him?"
YM from January 2001 has Jessica Simpson on the cover, Gwen Stefani graces the front in March that year, while Mandy Moore appears on the cover in May.
UPDATE 10/01/21, 11 a.m. ET: This article was updated with comment, video and pictures from Buchanan.