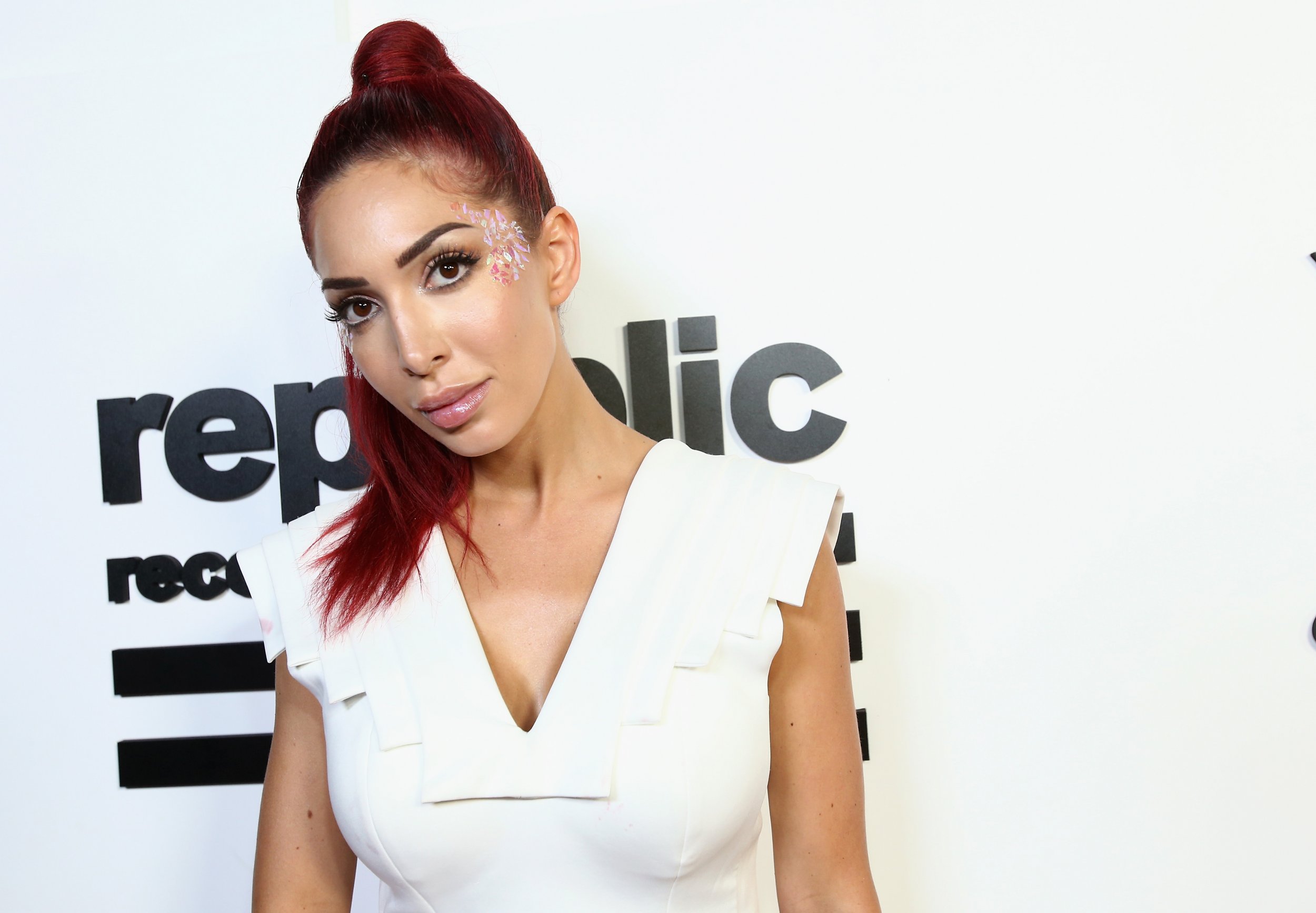 Farrah Abraham has responded to Teen Mom OG filling her spot with Bristol Palin, Us Weekly reported Thursday.
"Who cares!" Abraham said, explaining to the publication that her family was dealing with a loss. "I don't care, as there's no replacement for me, as we all know."
Abraham was part of the cast of 16 and Pregnant in 2009. She then joined its spinoff, Teen Mom, that year and was on the show for its four seasons. The series was renamed Teen Mom OG for its fifth season in 2015 and has had spinoffs: Teen Mom 2, Teen Mom 3 and Teen Mom: Young and Pregnant.
Teen Mom 2 premiered in 2011 and is in its eighth season; Teen Mom 3 premiered in 2013 and had one season. Teen Mom: Young and Pregnant premiered earlier this year and is airing its first season. Abraham was part of the OG cast for three seasons until she quit during a March episode.
"Viacom let me go because as a Business Mogul I act like an adult and part take [sic] in adult promotions and activities that other adults do for FREE or in private," she wrote on her Facebook page in October 2017.
In another Facebook post, two days later in November, she wrote that she hadn't been fired or "breached [her] contract."
Palin, a 27-year-old mother of three, will be part of Teen Mom OG when it airs in the fall, Variety said Thursday. The MTV reality series follows its cast members as they deal with the challenges of being young mothers. Palin had her first child, Tripp, at 17 with ex-fiancé Levi Johnston in 2008. The news of Bristol's pregnancy first broke during Sarah Palin's unsuccessful run for vice president with John McCain in 2008.
The family loss Abraham referred to in her statement on Palin's casting was her dog, a Pomeranian named Blue. "Tonight we lost a best friend, a little brother to my daughter.… Having Blue in our lives for 5 years now brought such a sense of love, support, relief, joy, fun and so much more," she said in a caption to an emotional video on Instagram Thursday.
"As a single mom this little guy has been my right hand man through everything and you all have shown so much love to BLUE over the years that's [sic] it's surreal we are even having to say he passed away tonight at around 8:35 p.m.," she wrote.
Blue died with "no noise! no signs!" and Abraham's 9-year-old daughter, Sophia, saw "him just stop moving" on Wednesday. The day before, Abraham dared her daughter to prank her friends in a Snapchat video on Tuesday by telling them their dogs died. It was for her daughter's web series, Kids Dare, "a mix between Punk'd and America's Funniest Home Videos," she told RadarOnline.com.