Teen Pilot Aims to Beat Sister's World Record in Ultimate Sibling Rivalry
The competition is soaring between two world record-breaking teenage pilots, who also happen to be siblings.
British-Belgian Mack Rutherford, 16, aims to be the youngest person to fly solo around the globe. His announcement on February 15 at London Biggin Hill Airport came less than a month after his sister Zara Rutherford became the youngest woman to fly around the world alone at 19 years old on January 20, according to Guinness World Records. Mack's flight is scheduled to take off on March 17.
The sibling rivalry is far from bitter. Mack drew inspiration from his sister, as he told Newsweek: "I always knew I wanted to do something special in my life in aviation but I wasn't quite sure what I wanted to do, it was only when my sister flew around the world that I knew this was what I wanted to do." Zara Rutherford will help guide Mack and keep him safe from afar, sending her advice online.
With two pilot parents, the teens found their passion for flying early in life. Mack became the youngest pilot in the world when he qualified for his license at 15. His father Sam Rutherford flew for Britain's Royal Air Force before becoming a professional ferry pilot, and his mother Beatrice De Smet is a private pilot. She told The Guardian: "When Mack first told us that he wanted to fly across the world, I said: 'No way.' I didn't want to hear about it because I thought he was too young." But the 16-year-old wrote her a letter that finally changed her mind, explaining his passion for setting the record.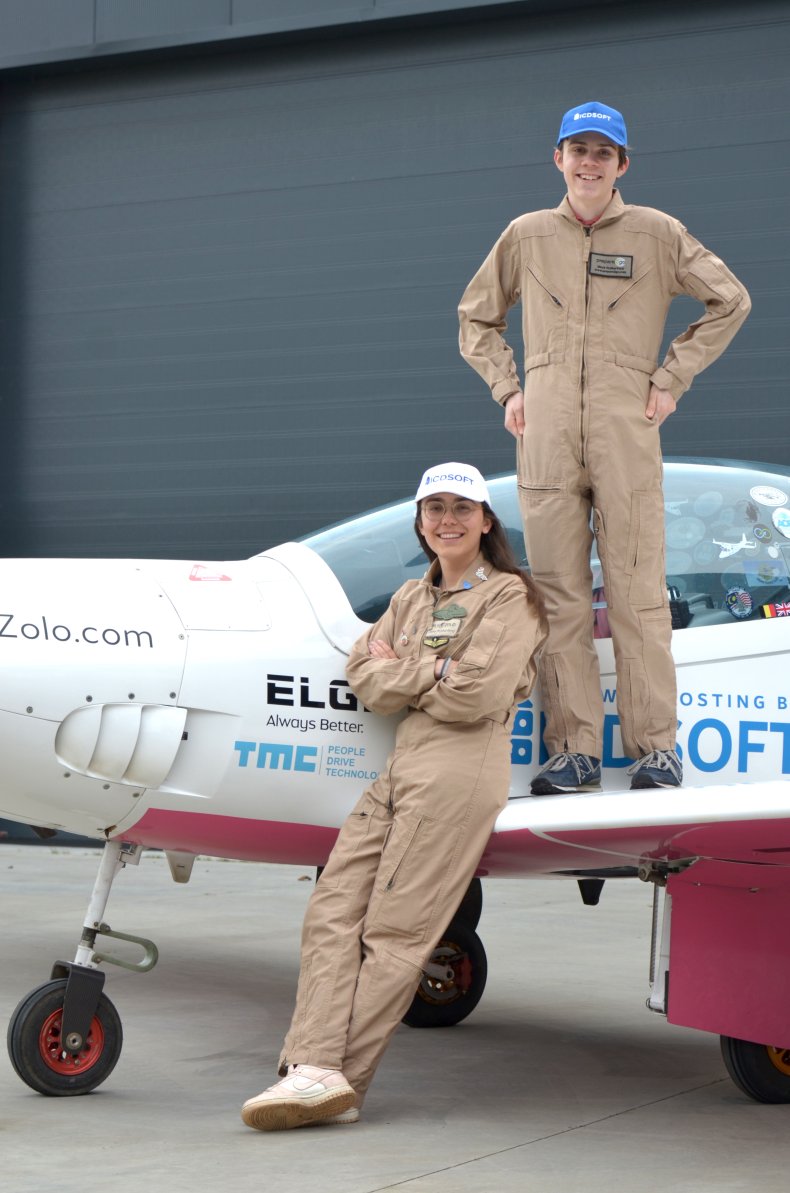 The international aviation industry is expecting a severe pilot shortage on the horizon, with management consulting firm Oliver Wyman estimating a worldwide shortage of at least 34,000 commercial pilots, almost 10 percent of the workforce, by 2025. The two teen pilots may inspire other young people to take an interest in aviation, but Mack Rutherford also hopes they will be moved to try other seemingly impossible tasks, no matter their age.
Mack will be flying a Shark ultralight plane, one of the world's fastest microlight aircraft and the same one used by his sister. The small, 717-pound plane can cruise at speeds of up to 186 miles per hour. He will start in the Bulgarian capital Sofia, then fly south to Africa, head north to Oman and cross Russia, the U.S., Iceland and the U.K. before finishing back in Bulgaria. He expects the journey to take two to three months. Zara's trip took five months due to weather delays.
The current world record for the youngest person to circumnavigate the globe solo is held by Briton Travis Ludlow, who was 18.