Teen Recognizes Best Friend as His Mother's Alleged Killer on Neighborhood Security Footage
A teenager in Topeka, Kan., said he invited his best friend over to help him cope after he found his mother murdered at home, only to discover later that the friend was caught on security tape as the alleged killer.
Amadeus Ballou-Meyer, 16, was charged with the murder of Hester Workman, 46, in southwest Topeka last month. Ballou-Meyer is the best friend of Workman's son, Dillon Jay, 16.
Jay, who had been at work when the alleged killing took place, came home to find his mother laying in the garage of their home on April 24. Police arrived at the home to find Workman unconscious with severe trauma to her head, WIBW reported. She was pronounced dead at the scene.
The next day, Jay said he invited Ballou-Meyer over to his house as a distraction to deal with his mother's death. At that time, Jay said Ballou-Meyer hugged him and offered his condolences.
"I hung out with Amadeus the day after it happened," Jay told KSNT in a report published Tuesday. "He hugged me and told me he couldn't imagine what it was like to lose a parent."
Later that week, Jay told KSNT that he had watched a neighbor's security camera footage and saw Ballou-Meyer allegedly running from Jay's home with a baseball bat on the day of Workman's death. On April 27, Topeka police identified Ballou-Meyer as the suspect and arrested him on charges of felony murder, first-degree murder, burglary, theft and obstruction.
"This man's been to my house three days a week for months," Jay told KSNT.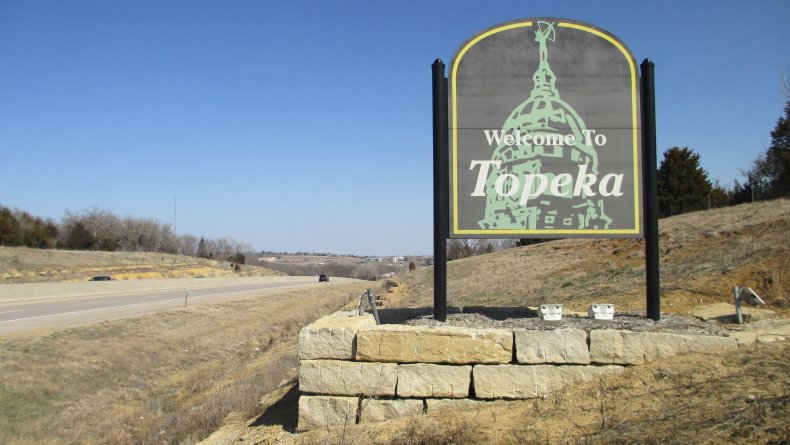 Ballou-Meyer made his first court appearance on April 29 via Zoom in Shawnee County District Court, WIBW reported.
Prosecutor Jessica Heinen, an assistant district attorney, recommended that Ballou-Meyer be detained until his next court hearing. The judge agreed, and ruled Ballou-Meyer to be "an extreme danger" to the public. The 16-year-old will be charged as an adult and remain in custody at a juvenile detention center until a court date on June 28.
Workman worked for the Kansas Board of Healing Arts, and was remembered as an "integral, beloved professional," according to KSNT.
"My mom worked hard for me and my sister every day, and I guess I didn't really appreciate that until after I couldn't anymore," Jay told KSNT on Tuesday.
Macie Watson, a neighbor of Workman's, told WIBW last month that the victim was a "very good neighbor" and that the incident shook their close-knit community.
"She was very quiet, very, very nice, very good neighbor, I would see her when she was working outside, she had a dog and I have a dog so we would talk to each other when we were doing yard work, just the normal neighbor interaction," she said.
"Topeka is not a huge city, but it's a big enough city to where something happens and you see things on the news and think 'wow, that's wild that that happened in Topeka,'" she added.