The school shooting in Oxford, Michigan, has drawn uncountable reactions since it occurred nearly three weeks ago.
Some reactions are from Oxford High School students themselves. One of them, a TikTok user by the handle of @Tina...Ha, posted a video on December 4 in which she recalled being in a photo taken with the alleged shooter, Ethan Crumbley.
Crumbley, 15, has since pleaded not guilty to charges of terrorism and murder. His parents, James and Jennifer Crumbley, were also charged and have pleaded not guilty to four counts of involuntary manslaughter.
The user, whose profile states she is a freshman, posted a seven-second video that mentions the photograph from two years earlier and mimics expletives.
The caption on the video, which has been viewed over 7.2 million times and has comments turned off, states, "I will forever be scared now with who I associate myself with."
That same user posted another video the same day, in response to a TikToker who commented on her original video and said: "Never underestimate a woman's ability to make a tragedy about themselves for attention."
The reply received a response from Tina, who posted a one-minute, 24-second video specifically citing that comment.
"Not only are you being sexist, but you are also saying that my trauma – which I was at the school hearing four gunshots and people screaming, begging for my lives – my tragedy is just as bad as everyone else's tragedy," she responded.
All 1,800-plus students are dealing with the trauma of that day's events, she continued, and said that one of her best friends was one of the victims who was shot but survived.
"I'm not saying this for attention," she added. "I'm simply stating there are people out there that you don't know who could be killers."
"You literally lived through it; it's not you making it about yourself when it actually INVOLVES you," said one commenter on that video, which has since received over 314,000 views.
Most others agreed, saying the videos were meant to bring awareness to the situation and that some people's true intentions are never really understood.
Some others said her responding to the user only validated his thoughts, while others suggested she speak to therapists or other mental health experts instead of bring up the situation publicly on social media.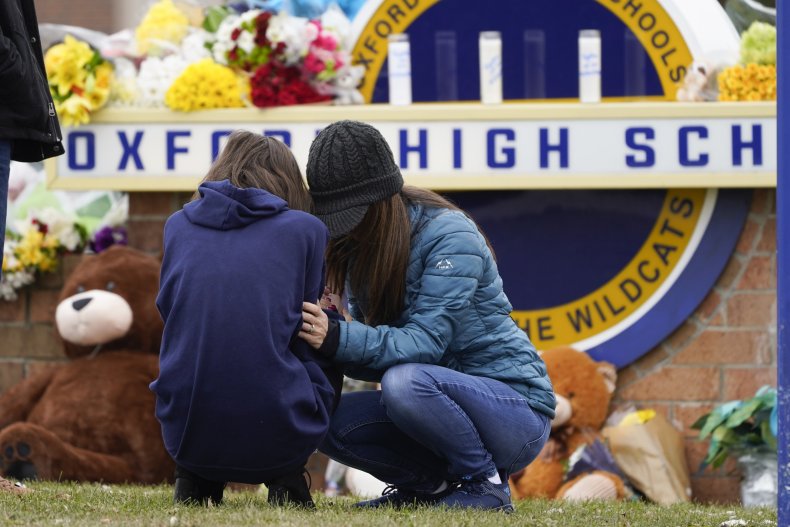 Oxford High School students remain away from one another in a school setting. While the district's pre-K to Grade 8 students are expected back January 3, the plan remains fluid at the higher level.
High schoolers were supposed to have their last day of school on December 17 before the holiday break. That obviously did not happen.
"Sadly, this holiday break will be unlike any other our community has experienced," said Oxford Superintendent Tim Throne in correspondence with parents and students December 17. "This will be a different and difficult holiday for many in our community.
"I hope you will have the opportunity to spend time with family and friends this holiday season, as we all need someone by our side right now. I also ask that you keep the families of the victims and those injured in your hearts and prayers. They need our continued support, friendship, and love."
Danielle Stublensky, public relations coordinator for Oxford Community Schools, told Newsweek December 20 that the "entire Wildcat community has been sharing in the grieving process" since the shooting.
"Oxford Community Schools is committed to providing emotional support and counseling to our community during this difficult time," Stublensky said. "Professionally trained crisis counselors and trauma therapists continue to be available to help process the grief and trauma we're all experiencing. This includes a crisis hotline and other resources available on our website, and we encourage our students, staff or family members to use these resources.
"We also want to remind our school community that any threats, violent content or inappropriate words or images found on social media will be forwarded to law enforcement and investigated thoroughly."
The TikTok user could be reached for further comment.