'Deal With It':Teen Slammed for Telling Mom She's 'Too Old' to Discuss Sex
A post has gone viral on Reddit after a teen shared how he reacted to hearing his mother discuss sex.
Redditor u/SocietyIsPosion wrote about the interaction on the subreddit "Am I The A**hole" in a post that has been voted on over 6,000 times and received more than 4,000 comments.
The 18-year-old explained that his father, 42, and mother, 41, got divorced when he was young and his father is now remarried. He said though he knows his stepmother, Laura, is trying to get pregnant but he is not interested in knowing much about it. He said the only reason he does know is because his father wanted to ensure he'd be OK with having a sibling.
He said his mom and stepmom have a good relationship and they recently got into a conversation about conceiving children in front of the Redditor.
"I wanted to go home and was disgusted listening to my mother talking about something related to sex but I tolerated it at first. I was looking at my phone as if I was not paying attention but couldn't avoid it," he said.
The teen said he started to complain to his mother that he wanted to go home, as she had come to his father's house to pick him up. His mother declined and said she'd continue talking to his stepmom for as long as she wanted and told him if he wanted to leave he could go to his room or leave on his own.
"That was the worst because then I could not go to my room without looking like a little kid doing what she told me to in front of Laura so I had to stay," he wrote.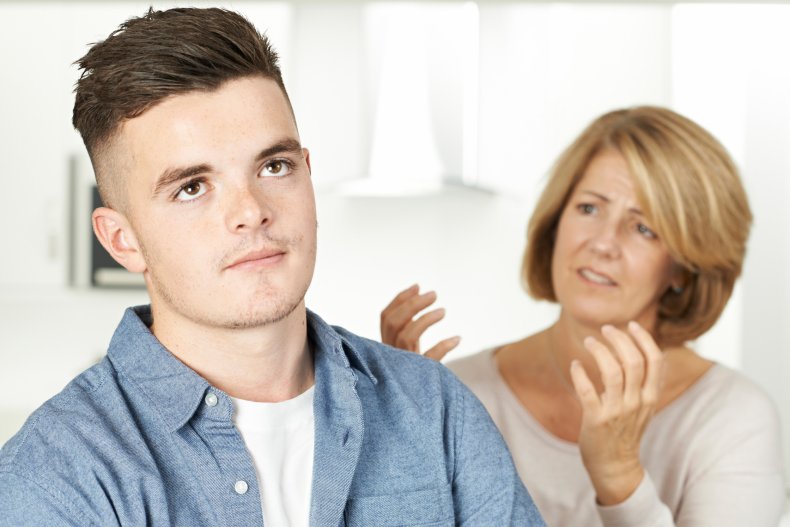 He said his "breaking point" was when his mother asked his stepmom how many times they were "doing it." His mother then asked her son's stepmother if her husband was using Viagra to which she responded he didn't need it.
The teen ended up yelling at his mother telling her she is "too old" to be discussing "stuff like that."
Shannon Chavez, a licensed psychologist and certified sex therapist in Los Angeles, California told The Healthy that couples in their 40s are having "some of the best sex of their lives." Conversely, men and women entering their 40s deal with hormone changes, Chavez told the outlet, that can cause changes in desire and physical comfort during sexual activity.
The Redditor said that after yelling at his mother she left.
Commenters slammed the teen for his behavior toward his mother telling him to "grow up."
"Imagine thinking 'old' people don't have sex. YTA and immature," one commenter wrote.
"YTA," another added. "Adults have sex. Remove yourself from conversations you don't want to hear, or deal with it."
Newsweek contacted u/SocietyIsPosion for comment.