Teen Spends 163 Hours Creating Folklorico Prom Dress Made From Duct Tape
Washington teen Larissa Leon's dress appears just like any other prom dress, that is until you factor in that it's made entirely of duct tape and weighs over 20 pounds.
Leon, 17, made the dress as an entry into Duck Brand duct tape's yearly "Stuck on Prom" contest, and has blown social media away with the intricate homage to her culture.
The competition asks that high school students to create their own prom dress or tuxedo made entirely from duct tape. The creators of the winning dress and tux receive a $10,000 scholarship each—which Leon hopes to use to study dermatology.
"I was inspired by the folklorico-style dresses that stem from both Indigenous and Spanish practices," she explained in her competition profile.
The dress took Leon 163 hours and 47 rolls of tape, and according to a TikTok video by the teen, she didn't sleep for four nights to finalize it. Leon started with the corset before moving on to the skirt, which used plastic tarp as backing to the black duct tape.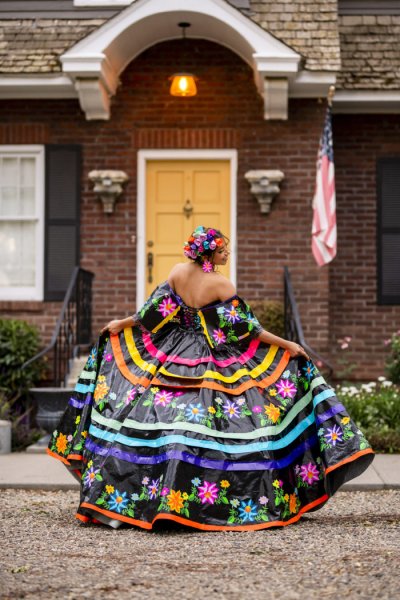 To recreate the traditional look of the dresses, she modeled flowers, lace and ribboning all out of duct tape. "I didn't really sketch anything, it was all from my mind and some Google searches. All the black part I did first then afterwards, I did all the designing the flowers and the ribbons which was probably the hardest part, especially the lace that's on top," she told local outlet YakTriNews.
According to her competition profile, Leon has "always been fascinated with designing and creating," and remembers "spending numerous hours in [her] room crafting, sketching and designing many art projects."
"As I started growing up, duct tape gained more popularity in the 2010s, I started becoming fascinated with making things out of duct tape. So I started making many things out of [it] like toys, clothing, mermaid fins, hair accessories and wallets."
According to her TikTok videos, Leon put literal blood, sweat and tears into the dress, as she passed out in pain after breaking her nail completely while making the dress. She also added that she had to be taped into the dress to wear it, showing the lengthy process in a video.
At 20 pounds, the dress may look fit for a prom, but it might not be the most practical. Leon showed her attempt to dance in a TikTok video: "As you can see, I was struggling," she wrote.
Voting for the Duck Brand contest closed on July 14 and voters have been allowed to cast their choice once every 24 hours. The winner will be announced on July 21.