Teen Stabbed Dad 20 Times Believing a 'Shapeshifting Reptile' Was Inside Him—Court Files
A teenager is in custody accused of stabbing his father 20 times with a steak knife in an attempt to kill him believing a "shapeshifting reptile" had taken over his body, court documents and police allege.
Multiple Arizona news outlets quoting a court filing reported that 18-year-old Isaiah Gentry was accused of carrying out the attack last March.
Police took the teenager into custody in Tempe, Arizona, this week nearly a year after the attack.
AZ Central said Gentry had been in police custody until February 12, when he was transferred to a Valleywise Health center.
On Wednesday, Gentry was taken back into custody and was charged with one count of attempted first degree murder and one count of aggravated assault.
AZ Central, quoting court documents, said Gentry believed he was the "messiah."
According to Fox 10, officers said the suspect admitted trying to kill his father because of a "shapeshifting reptile" that he thought had taken over his body.
He allegedly hit the victim with a statue before stabbing him multiple times in the stomach, arms, legs, torso and back.
The victim reportedly escaped out of the front door of a property but was chased by Gentry, with the pair allegedly ending up fighting on the ground outside.
The father eventually made it to a neighbor's house where he was able to get help, court documents were reported to say.
Gentry returned to his house and took a shower to wash off the blood, the filing reportedly stated.
Despite allegedly being stabbed 20 times, the victim's injuries were not life-threatening.
Gentry is being held on a $500,000 bond and will appear in court on March 17.
Newsweek contacted the Maricopa County Sheriff's Office for comment.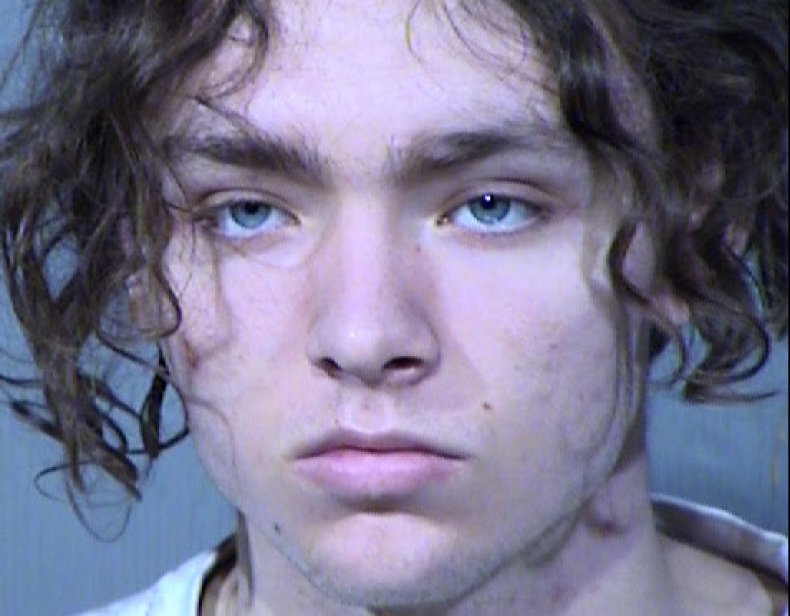 The notion of shape-shifting reptiles has existed among internet conspiracy theorists for years, some of whom believe politicians and Hollywood celebrities are in fact lizards with extraterrestrial origins intent on taking over the world.
Among the famous names conspiracy theorists have linked to the baseless and bizarre claims are the Clintons, the Obamas and Justin Bieber. Adherents believe they are lizard-like creatures who have been sent to Earth and are responsible for historic events such as the Holocaust and 9/11.
A poll conducted in 2013 suggested four percent of Americans believed in the lizard theory that shape-shifting reptilian people control our world by taking on human form and gaining power.
The survey, carried out by Public Policy Polling, asked 1,247 registered American voters. The margin of error for the overall sample was +/-2.8 percent.
There was no suggestion that Gentry adhered to any specific conspiracy theory.