A 15-year-old boy is recovering after he survived an attack by a bull shark in Florida last month.
Lucas Cruz was lobstering near Miami when he was bitten by the shark estimated to weigh 500 pounds.
"It doesn't feel anything like what you would think," Cruz told NewsNation Now.
"I thought I got hit by a boat. But then I looked above the water and realized there's no boat near us or near anybody in the water. So then I just realized it was a shark after that," he added.
Cruz lost 70 percent of his blood following the attack and suffered multiple bites to his legs, muscle damage, and a severed Achilles, according to the Boston Herald.
"I was wondering if I'd lose my leg," Cruz told the Herald. "I didn't think I'd die, but I thought I was going to lose my leg because it was pretty torn apart."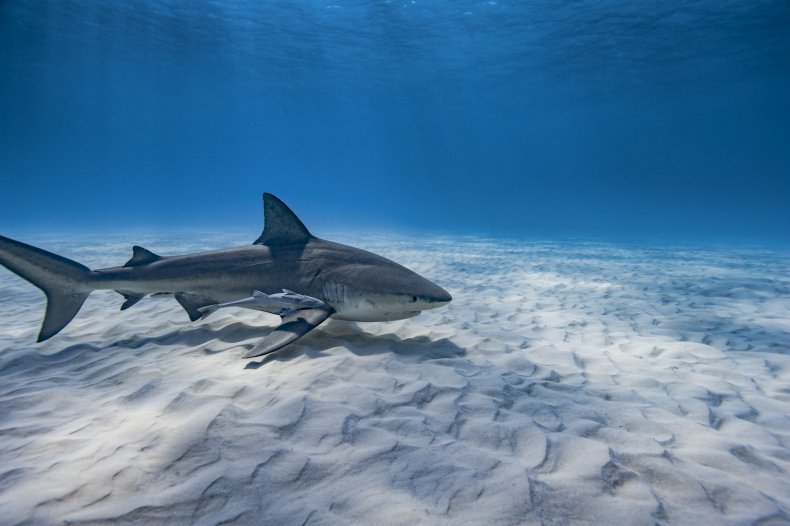 But doctors were able to reconstruct both of Cruz's legs and said that his outlook for recovery is good.
"He's a young guy, you know, we'll see what other reconstructive needs he has, in terms of skin and soft tissue," said Dr. Rizal Lim of the Burn and Reconstructive Centers of America, one of Cruz's doctors, NewsNation Now reported.
"But my guess is that he's going to be back to normal soon."
Cruz told NewsNation Now that he plans on going back in the water again eventually.
"Oh, I think I'll eventually go back in. I don't know if I'll go in as soon as I'm OK," he said.
"But I'll probably go back in because a lot of what we do throughout my family has to do with the water. So I think if I stopped going in the water as a whole, I think it would be missing out on a lot," he added.
In the U.S., bull sharks are found in waters off the East Coast and in the Gulf of Mexico, according to the National Wildlife Federation.
The organization said that bull sharks "are often considered to be the most dangerous sharks to humans because of their aggressive tendencies and ability to migrate up rivers."
In general, shark attacks are rare. Typically, fewer than 20 people die from shark attacks each year, according to the National Wildlife Federation.
Earlier this month, however, a surfer in Australia died after he was attacked by a great white shark and suffered a critical arm injury.