Who Is And Who Isn't Returning For 'Teen Wolf' Movie and Why
The prayers of Teen Wolf fans across the world have finally been answered. Paramount+ has confirmed a Teen Wolf movie aptly titled Teen Wolf: The Movie will be made, 5 years after the MTV series ended. The majority of the main cast is set to return for the film but unfortunately, already, three main characters will not be revived in the movie.
Newsweek has everything you need to know about who is and who isn't returning and why.
Who Isn't Returning To the Teen Wolf Movie
Arden Cho
One face that is definitely not returning for the Teen Wolf movie is Arden Cho, who played Kira in the original series.
According to a report by Deadline, Cho, the only actress of color among the four female series regulars, was approached to star in the movie but ultimately declined when she was only offered half the salary of her female co-stars.
Dylan O'Brien and Tyler Hoechlin
Both Dylan O'Brien and Tyler Hoechlin have not been officially confirmed as reprising their roles of Stiles and Derek respectively for Teen Wolf: The Movie.
Their names were noticeably absent from Paramount+'s announcement but fans should not give up hope just yet, as Paramount+ has confirmed names are still set to be revealed.
O'Brien's Stiles Stilinski was the best friend of Tyler Posey's Scott McCall and at the end of the series, it was suggested he would be heading to law school in Washington D.C.
It may come as a bit of surprise to fans O'Brien is currently absent from the cast list, considering that in 2020 he told Variety he was eager to reprise his role as Stiles in some form.
He said: "I would jump at the chance to do any kind of thing. We'll come back together for something at some point."
Despite being largely absent from the final season of Teen Wolf and eventually turning into stone in the finale, fans were also hoping Hoechlin's Derek would make a return for the long-awaited reunion.
At the moment, why exactly O'Brien and Hoechlin are not starring in Teen Wolf: The Movie remains unknown.
O'Brien has recently been filming The Vanishings at Caddo Lake alongside Eliza Scanlen and Lauren Ambrose and Hoechlin is currently starring as Clark Kent/Superman in The CW's Superman & Lois, so it is possible scheduling may be the reason for their absence.
Newsweek has contacted Cho, O'Brien, and Hoechlin's representatives for comment.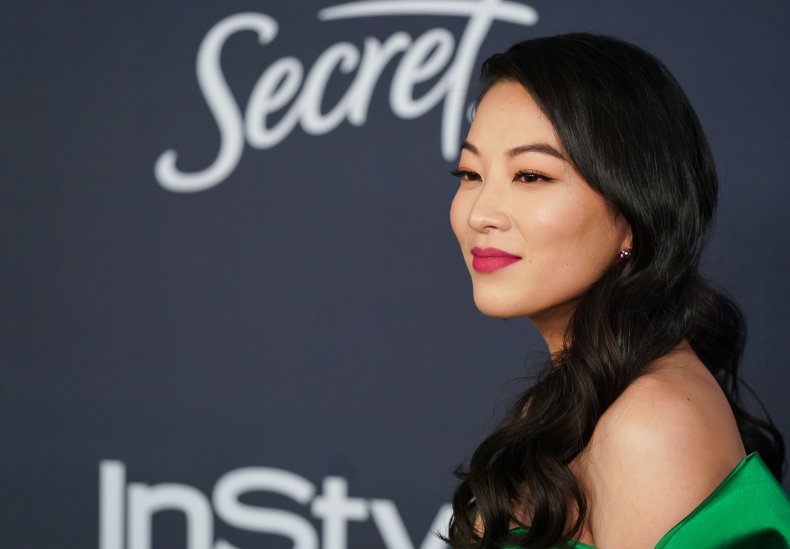 Here's Who Is Returning to The Teen Wolf Movie
The good news is, the majority of the main cast are set to reprise their roles in Teen Wolf: The Movie.
At the end of Teen Wolf on MTV, the door was left wide open for the story of Beacon Hills' residents to continue.
In the end, Scott, Stiles, Lydia (Holland Roden), Derek (Tyler Hoechlin), Malia (Shelley Hennig), Chris Argent (JR Bourne), Sheriff Noah Stilinski (Linden Ashby), Jackson (Colton Haynes), Ethan (Charlie Carver) and Peter Hale (Ian Bohen) defeated Gerard Argent (Michael Hogan) and Tamora Monroe (Sibongile Mlambo) in the battle for Beacon Hills.
Despite their victory, Monroe was able to escape, meaning her threat was not completely diminished. She ultimately returned, pledging to kill every single supernatural being that walked planet earth.
As the series came to a close, Scott and Argent saved a young werewolf named Alec (Benjamin Wadsworth) and invited him to join their pack to fight against Monroe and the hunters. The show ended with Scott's pack stronger than ever, with the threat of a full-out war on the horizon.
The full list of confirmed cast members returning are:
Tyler Posey as Scott McCall
Holland Roden as Lydia Martin
Shelley Henning as Malia Tate
Crystal Reed as Allison Argent
Orny Adams as Coach Bobby Finstock
Linden Ashby as Sheriff Noah Stilinski
JR Bourne as Chris Argent
Seth Gilliam as Dr. Alan Deaton
Colton Haynes as Jackson Whittemore
Ryan Kelley as Deputy Jordan Parrish
Melissa Ponzio as Melissa McCall
Dylan Sprayberry as Liam Dunbar
Crystal Reed's return for Teen Wolf: The Movie is set to be very interesting, considering her beloved character Allison Argent died in the third season.
Speaking to Entertainment Weekly, Tyler Posey shared he was most excited about playing an older Scott McCall.
He shared: "I think what I'm most excited for is to see them age. We were in high school for what seemed like 10 years. I'm excited to see them age and get out of high school. High school was such a character in itself on the show, so I'm excited to see how it's going to be without that sort of character of a school involved. It will be interesting."
Melissa Ponzio who played Melissa McCall in Teen Wolf has taken to Instagram to share her excitement, using the hashtag #ThePackIsBACK.
Alongside a photo of Paramount+'s official announcement, Ponzio wrote: "YO!!!!!!! #TeenWolfMovie you guys!!! You heard it here first, and when I say first, I mean not the first BUT STILL!!! Cast & Crew are very excited to be back together and we are fully aware the biggest reason is your continued support and love for #BeaconHills and beyond...We're gonna get to work and we'll see you later this year on #ParamonutPlus...I'll be sure to post BTS shots as soon as I can.#ThePackIsBACK."
Sprayberry who played the role of Liam also shared the same image on his Instagram, with the caption: "The pack is back for the #TeenWolfMovie, and so am I. See you on #ParamountPlus later this year!!"
No release date for the movie has yet been announced.
In the meantime, fans have been sharing their sadness online about O'Brien's, Cho's, and Hoechlin's absence.
One fan tweeted: "so no thiam???? and no stiles???? no Kira but somehow Allison will be there????? suddenly I don't like the idea of this teen wolf movie."
A second fan added: "Not sure how I feel about Teen Wolf: The Movie going ahead without Dylan O'Brien. Stiles Stilinski was the heart of the show and season 6B really struggled without him.
A third fan added: "IF STILES ISNT IN IT .... I'm not saying I won't watch but I'll be very very upset."
Teen Wolf is streaming on Paramount+ now.