'Teenage Dream': Katy Perry Shows Her Dirty Mind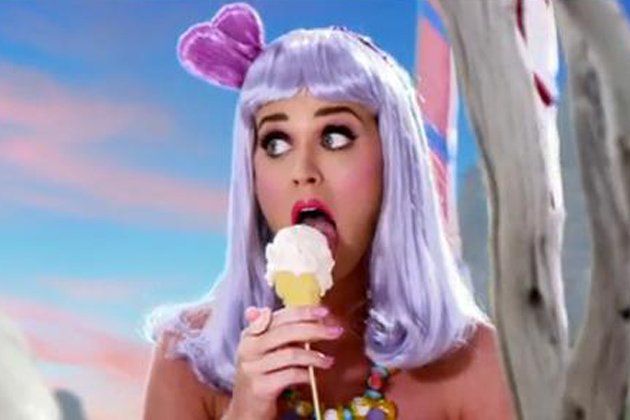 The most head-spinning aspect of Katy Perry's new record is how much, on first hearing, it can come across as a fearless enterprise. That this feeling dissipates quickly upon reflection shouldn't surprise listeners; after all, Teenage Dream is a pop album that wants to rule the charts as well as the blogs, which means it's trying as hard as any focus-grouped product to cast a broad-spectrum spell. But misdirection can be a pleasure in itself, and for a while at least, Perry is bold and skilled enough to make some magic happen.
For starters, no one has been this profligate with song sequencing since Phoenix opened Wolfgang Amadeus Phoenix with "Lisztomania" and "1901" back to back. Perry goes one better by kicking off Teenage Dream with three radio-ready jams—more or less guaranteeing that the back half is going to droop. But then again, in Perry's world, worrying about a future comedown is for squares too afeard to show off their genitals (as we'll soon learn). And so first she delivers the amazing title track, with its fuzzy, digital downstrokes and clearly enunciated syllables establishing Perry's conflicting calls for dreamy fantasy and erotic impatience. Then comes the dizzy, oh-no-we-didn't number "Last Friday Night," the hook of which half-laments the debauched excesses of last weekend while lacing up its boots for the next one. Finishing off the troika is the most straightforward song on the album: the über-familiar prerelease single "California Gurls," which bangs down the highway with nothing like subtext dragging on its engine.
Surprisingly, the album doesn't come to a complete crash-and-burn halt after this heedless sequence. "Fireworks" actually lathers its faux-orchestral figure up into some dance-floor fun, while "Peacock"—just try to guess what the "beak" Perry wants this nervous animal to show her represents—mines pompom simplicity better than any single since Gwen Stefani's "Hollaback Girl" (which it maybe resembles too closely, if you're the kind of person who gets offended by appropriation in pop). The next offering, "Circle the Drain," targets the failures of a disappointing ex, and would have fit nicely on Kelly Clarkson's underappreciated My December. Whereas Prince once auditioned for the roles of all your family members, in addition to being your sexytime partner, Perry's ambitions here are decidedly narrower. She wants to be "your lover, not your f--kin' mother." OK then.
Some people will look upon Perry's reductive desire to rattle headboards and then wonder aloud about tween "hookup culture" while clutching their pearls. That's understandable, in its way, even if it suggests a foul double standard. What, The-Dream can celebrate spending five stacks on a "makeup bag" for his cheated-on girlfriend and be deemed a brilliant songwriter, but Perry can't ask her boyfriend to shut up and show off his goods? The only problem with Teenage Dream is how it seems to lose confidence in the bravado toward the end, as though Perry were backing away from her dirty-mind persona. "Who Am I Living For?" shuffles along with a dour beat and a cliché-studded lyric that gropes for meaning by way of the Biblical story of Esther. But Perry doesn't sound good—let alone convincing—when she's asking others for strength.
Peddling quasi-inspirational dreck may be a record executive's dream for her, but as Perry suggested with the title of her first album, she's at her best when she's boasting like One of the Boys. Thankfully, she regains her toughness on Teenage Dream's final songs. "Hummingbird Heartbeat" gives us one more view of the singer tangled up in rapture, while the piano ballad "Not Like the Movies" puts over a sweet contradiction: it's a song about the difference between seductive dreams and cold realities that peaks just like a Hollywood tearjerker. Maybe next time, Perry will pull off an entire album this sly. For now, though, Teenage Dream is a solid-enough fantasy representation of that ideal.