Teenage Girl Falls to Her Death Off Busy Flyover After Crashing Vehicle
A 17-year-old girl fell to her death off a busy highway flyover in Houston after she was involved in a vehicle crash early Wednesday.
Houston police received a call shortly after midnight about a major single-vehicle crash at the Sam Houston Tollway/North Freeway interchange, one of the busiest areas for drivers traveling to the metro area.
The Houston Police Department told Newsweek the car was driving inbound on the ramp when the driver failed to maintain a single lane and hit the left concrete barrier.
Witnesses told authorities that the young driver fled the vehicle after the crash, likely out of safety fears from the cars driving past, and hopped over the barrier wall.
Police said the girl may have been disoriented and confused after she crashed her vehicle and potentially didn't know there was a drop on the other side of the wall that she jumped. Police said they believed the teen, who was pronounced dead at the scene, likely died on impact.
"It seems like maybe she was trying to get away from other traffic on the freeway. You know how it is at night, she might have been trying to get away, maybe didn't know what was below, unfortunately," Lieutenant Mark Contreras told KTRK-TV.
The driver's identity has not been released.
Police said an investigation into the incident remains ongoing and are asking anyone with information to contact the department.
The Sam Houston Tollway is known to be a dangerous interchange for drivers.
On Monday afternoon, four westbound lanes were shut down after a six-vehicle crash. Police said Northwest Fire Department and EMS both responded to the scene and all drivers were treated. It was unclear what led up to the collision.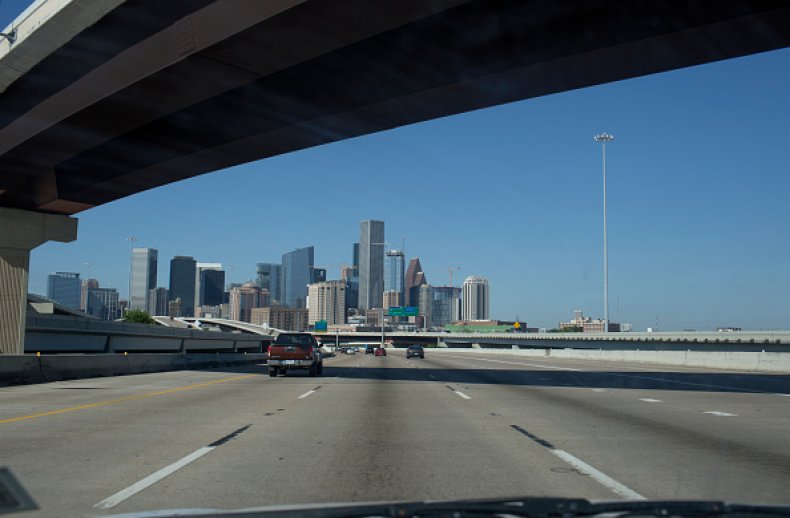 Over the weekend, a 5-year-old child died in Houston after she was ejected from a car being driven by a man who police believe was drunk.
Witnesses driving on Highway 59 told police they saw a Honda weaving in and out of the southbound lanes on Saturday afternoon before the car hit an 18-wheeler. The driver of the Honda continued to drive and allegedly hit a red Mercedes and a box truck after, reports said.
The little girl was reportedly ejected from the car after hitting the third vehicle.
The Houston Fire Department took the girl to the hospital in critical condition where she later died.
A 4-year-old and 2-year-old were also in the Honda at the time of the crash. Both were taken to the hospital with non-life threatening injuries.
It is unclear what the relation between the driver and the three young children is. Police say the man was arrested and charged with murder following the multi-vehicle crash.
Update 10/13/21 3:41 p.m. This story was updated with comments from the Houston Police Department.