An American Airlines flight attendant has been accused of hiding a camera in an airplane bathroom to spy on a teenage girl, according to her family.
The Lewis and Llewellyn LLP law firm said a 14-year-old girl was waiting to use the bathroom on an American Airlines flight from Charlotte, North Carolina, to Boston Logan International Airport on September 2.
While she was waiting to use the bathroom in coach, a male flight attendant allegedly told her she could use the bathroom in first class as "it'll be quicker."
The girl's family told Fox26 that when she arrived at the first-class bathroom the same flight attendant stopped her and said he needed to go inside to wash his hands as garbage collection was about to start.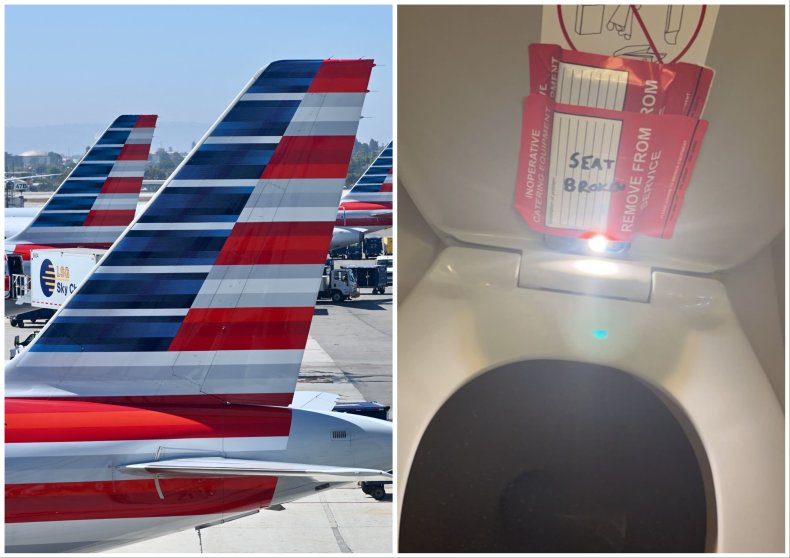 According to the network, the girl recounted that the flight attendant was in the bathroom for around a minute and when he came out he told her the seat was broken.
The girl's father said when his daughter entered the bathroom she saw red tape that indicated the seat was broken, but while inside she noticed a phone was being held up by the tape.
She took a photo of the phone that was taped to the toilet seat, which also showed its light on.
The flight attendant is then reported to have reentered the restroom after the girl was finished inside.
When the girl returned to her family, she told her mother about the phone that was supposedly recording inside the bathroom.
The mother then warned a woman in first class who was about to use the bathroom, stating: "Don't go in there. My daughter's just been in there, there's a camera in there."
Both parents later claimed that as of Saturday, September 16, American Airlines had not contacted them since the alleged incident.
A statement by the family sent to Newsweek by the Lewis and Llewellyn legal firm read: "On September 2nd, while on American Airlines flight 1441 from Charlotte to Boston, our 14-year-old daughter was targeted and victimized by a child predator who filmed her while using the bathroom.
"There is no doubt in our minds this was perpetrated by the lone male flight attendant on board, who directed her to use the first-class bathroom from coach, entered just before her 'to wash his hands'—then telling her the seat was broken and 'not to worry about it'—and reentering directly after she left. This sequence of events has been corroborated by other passengers on board. After using the toilet our daughter realized a largely obscured iPhone had been affixed to the back of the toilet seat to record her, and courageously took a picture of this with her own phone. Very specific features on the hidden phone perfectly matched the one subsequently recovered from the flight attendant by law enforcement, and airline representatives confirmed the official stickers used to secure and hide the phone would not have been accessible to anyone other than crew.
"These events have left our daughter—and the entire family—shocked and profoundly disturbed. It is hard to fathom that a flight attendant—charged with ensuring our safety and security, and to whom the flying public is legally bound to obey—appears to have targeted and exploited our child in obtaining child pornography during a flight. That someone like this was allowed to be in that position of trust—and could follow through with such reckless behavior unchecked—should shock every parent.
"We are immensely grateful to the Massachusetts State Police who met us upon landing, and to the FBI and U.S. Attorney's office who continue to investigate this crime. It is our sincerest hope that through these efforts nothing like this can ever be allowed again."
One in nine girls and one in 20 boys under the age of 18 experience sexual abuse or assault in the U.S., according to the Rape, Abuse and Incest National Network. It added that 82 percent of all victims under the age of 18 are female.
Family attorney Paul Llewellyn of Lewis and Llewellyn LLP told Newsweek: "It is shocking that a sexual predator could brazenly prey on a minor while she used the bathroom on a flight. This outrageous act must never occur again."
An American Airlines spokesperson told Fox News Digital: "American Airline flight 1441 from Charlotte to Boston was met by law enforcement upon arrival.
"We take this matter very seriously and are fully cooperating with law enforcement in their investigation, as safety and security are our highest priorities."
Newsweek has contacted American Airlines via email for comment.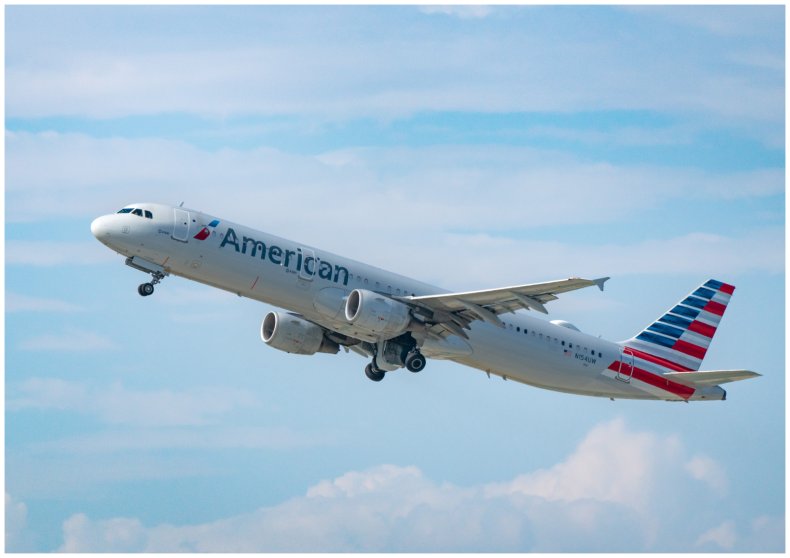 Update 9/18/23, 9:53 a.m. ET: This article was updated with comment from the Lewis and Llewellyn legal firm.