Teenage Girl Shot at High School Carnival in Virginia: Police
A high school student was wounded after a shooting broke out at a carnival that was held on school grounds on Friday, police confirmed to Newsweek.
The incident took place a little before 9:30 p.m. in Woodbridge, Virginia, which is just southwest of Washington, DC, at the "Kiwanis Karnival" at Gar-Field High School, according to Fox 5 DC.
Local police officers assigned to work the event as off-duty security reported hearing gunfire near the entrance to the school. Arriving at the scene, they found a 14-year-old girl clutching her abdomen where she had been shot. The ensuing panic at the carnival following the sound of gunshots lead to another bullet striking a vehicle as attendees fled. The driver of the car was not injured.
The teenager, whose identity has not been publicly disclosed, was airlifted to a nearby hospital for treatment. The Prince William County Police told Fox 5 that she is expected to recover.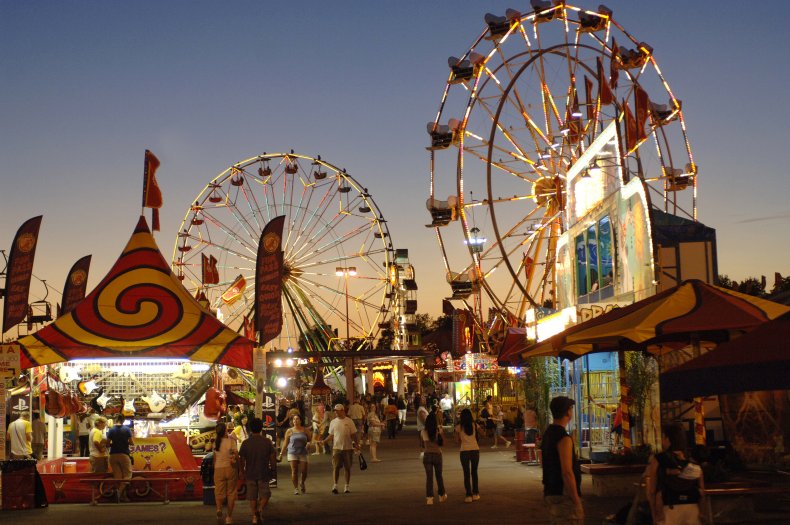 "It was just tons of teenagers and parents with their kids," attendee Austin Green told local CBS affiliate WUSA 9. "As we were getting on the ride, that's when we heard the shots ring out. One second everyone is kind of frozen, then the next thing you see everybody running back towards the parking lot."
Detectives investigating the incident believe that the shooting occurred after two groups of carnival attendees got into a verbal dispute while leaving. The alleged fight escalated to shooting, injuring the 14-year-old girl, at which point both groups fled the scene.
The victim was found not far from the place where the shooting took place. Police do not currently know if she was a part of or knew either of the groups, or if she was merely a bystander to the violence.
"The suspect was described as a Black male, possibly in his teens, wearing a red hooded sweatshirt, black pants, and white shoes," the Prince William County Police said in a statement sent to Newsweek. "Detectives are asking anyone with information regarding this incident or if anyone has videos or photos leading up, during, or after the incident to contact police. The investigation continues."
The carnival has been an annual institution in Woodbridge for over 20 years, according to WUSA 9. Despite the violence, the carnival continued to operate the following day on Saturday night. Some attendees that night noticed an increased police presence in response to the shooting.
"Even before you get a ticket, they're standing here," parent Margaret Okomah told WUSA 9. "I saw four at the entrance."
Update 4/17/22, 6:00 p.m. ET: This story has been updated with additional information from the Prince William County Police.