Teenage Republicans Denounce QAnon in Open Letter Backed By Lawmakers
Teenage Republican groups have denounced the QAnon conspiracy theory in an open letter backed by a handful of lawmakers as believers in the radical ideology appeared to be gaining a small foothold in the party.
Posting their joint letter on Monday, representatives from six Teenage Republican groups said the QAnon conspiracy theory was harming the GOP and curbing its ability to "reach out to new voters" and build on its base.
The young activists also warned that QAnon could "cast a dark shadow" over the Republican party in the 2022 midterm elections should the conspiracy theory centred on a supposed ruling cabal of Satan-worshipping pedophiles not be separated from the GOP.
"As leaders of the next generation, we are responsible for calling out and denouncing rhetoric that is inconsistent with our values, and damaging to held expand the Republicans base," the open letter read. "This includes QAnon and other similar conspiracy theories."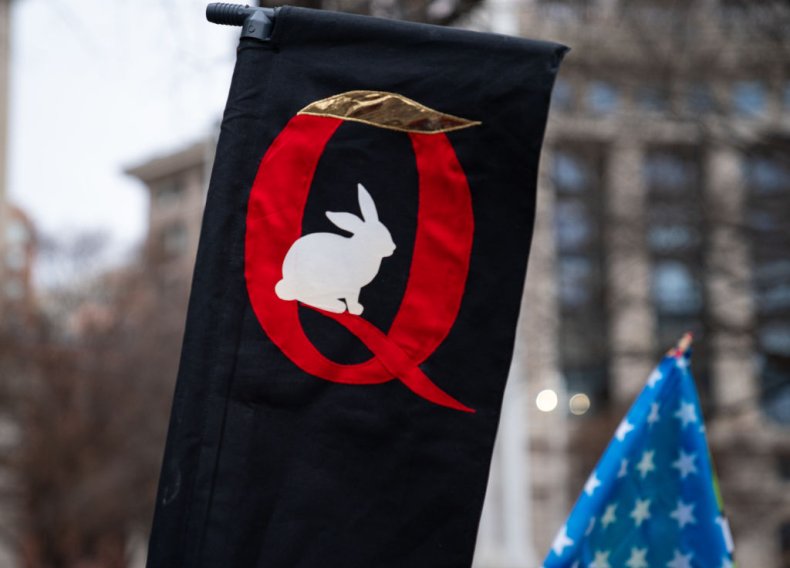 The signatories of the letter posted by the Massachusetts Teenage Republicans later added: "Conspiracy theories, like QAnon, harm the Republican Party's ability to reach out to new voters and isolate our base. Over the next two years, our party has an incredible task to take back both chambers of Congress. We cannot allow QAnon to cast a dark shadow over our party while we engage in this battle."
Teenage Republican chairs and vice-chairs from Mississippi, Georgia, Virginia, South Carolina, Massachusetts, and North Carolina were among those who put their names to the letter. At the time of writing, 11 activists have signed the document overall.
Lawmakers were also quick to offer their support for the letter as various splits have emerged between rival factions of the GOP over the past few weeks. Reacting to the letter, Rep. Adam Kinzinger (R-IL) tweeted: "The next generation will save this country. Good work."
Congresswoman Jaime Herrera Beutler (R-WA), one of the GOP lawmakers to vote in favor of former President Donald Trump's second impeachment, added: "I appreciate these teenage Republicans telling others their party stands for truth."
The former Florida Governor Jeb Bush also shared a copy of the letter on social media without comment. Newsweek has contacted Massachusetts Teenage Republicans for further comment. This article will be updated with any response.
The teenage Republicans denounced QAnon with the support of the Gen Z GOP group as Rep. Marjorie Taylor Greene (R-GA), a supporter of the conspiracy theory, continued to cause headaches for the party on Capitol Hill.
House Democrats moved to curtail the congresswoman's committee assignments as it was reported that House Majority Leader Steny Hoyer had given House Minority Leader Kevin McCarthy (R-CA) an ultimatum: remove her committee assignments or we will.